Discord is the best platform right now, to sell or promote any brand, it is interesting to see that users have found various methods to earn from their discord server.
If you don't know what discord is, congratulation you have been living under a rock till now, but No worry it's not too late. Discord is an instant messaging platform popular among gamers for calls and chats. Discord was initially mainly targetted gamers and content creators as a platform for communicating via Voice and Text chats.
Disclaimer: This post is not promoting any special practices, For Educational purposes informing the audience that users have also used such a type method.
How does Discord Company Make Money?
Before learning How To Earn from Discord, we need to understand how the company actually gets paid for providing a free service.
Discord was started in 2015-16 as VoIP and content delivery network and it has various competitors like Raptr, TeamSpeak, Skype, Bigo and many more.
Discord has over
20+ Million users Daily
500+ Million Messages Sent every 48 Hours
400+ Million Active Users
Discord is just like WhatsApp, it free features provide almost everything you need to be satisfied with the voice calls and text chats with no lags. Discord works on a freemium-based model, base services are free for the users.
But you can still support the company and enjoy the premium features that it offers can also be accessed
Free Version
Connect with your friends through free voice chats
Add as many friends you like, but there is a limit of 500 or 1000 as far as I know.
Run it both on mobile and desktop, just like WhatsApp
Requires the most basic CPU Usage.
and many more…
How much is the Company Making?
As we talked about before Discord Work on a freemium-based business model. Its starting plan for premium is $4.99 for the Discord classic per month and $49.99 per Year
If we have to make an assumption by taking 10% of the population who actually paid for the basic premium services.
$4.99 x [ 10% of 20 Million Users ] = Nearly $ 9 Million every Month
These are just assumptions, not actual statements or leaks.
How You Can Make Money From Discord?
As we have talked about before, Discord provides a special feature called creating Groups / Servers where you can create your own community and friends users have all in one place.
Once your Discord Community is marked as active, you can later promote / Advertise on these channels.
1. Selling Servers
During Discord's early ages of 2017-18, users made various Discord servers mainly labeled PayPal Rewards, GiftCard Servers, and Invite for Reward servers, which had over 5K or 10K+ members and no wonder these types of servers were sold for around $500 – $1000 or sometimes more.
[ Although this is not allowed on Discord for Selling any Discord servers, various users still do it secretly ]
2. Patreon Page
Certain discord servers after reaching 5k or 10K members, follow this strategy to make a Patreon page / in other ward supporting them indirectly to still be motivated about the server, which helps them grow the server indirectly.
No wonder certain Discord servers, mainly being Discord Support Bots like YAGDB, Tatsumaki and many others are making $1000+ every month.
If your server is based on a gaming community-based niche and you have a particular goal even you can start a Patreon page.
3. Ethical Practices
It must be shocking to know this, but If you are hearing this for the first time, then you have joined Discord quite late when all the drama went down.
During the rise of popular games like Fortnite, Valorant, and various. Users found discord as the best way to promote themself and sold 100's or maybe thousands of accounts that were cracked and the sources of getting these accounts were ethical practices.
Various news articles also made a post about these trends which also including Forbes.
Source: https://www.forbes.com/sites/daveywinder/2020/08/27/heres-how-fortnite-hackers-make-1-million-a-year-epic-games-passwords/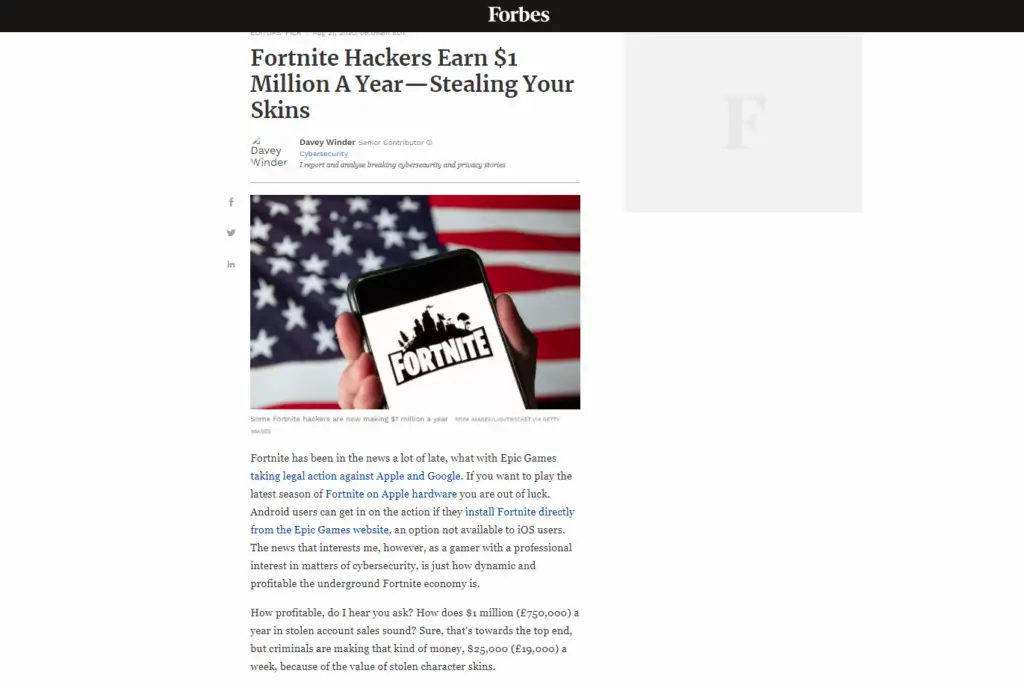 Fortnite is just an example, Telegram being the main hub for this type of practices, various Telegram users switch to Discord as it was providing more users to promote its product.
4. Brand Deals / Advertising
If your Discord community is popular and active, you can use the platform to advertise your brand deal or sell spots for other users to advertise themselves. This can includes
Promoting Website
Promoting Other Discord Servers
Promoting Merchandise
Promoting Social Media
Promoting any Tournament or Events
Raiding any Users to help the user grow
Discord right now is a box full of magic and high potential, with every month Discord, is coming with an amazing update targeting even the mobile community to switch to its platform. I am sure, users might have found various other methods to promote or to earn from Discord.
Was this article helpful?