Text-based communication can quickly become monotonous and even confusing since it lacks the ability to convey facial emotions. That problem is easily fixable by making use of the various emoticons, emojis, and GIFs that are available. When emojis are added to the messages, they add on a significantly greater level of vibrancy and relevance.
The chat service that is offered by Discord is unparalleled, and the emotes that it offers are well-known for the simplicity with which they may be modified.
You can add these emojis a dash of your unique persona in order to make them stand out from the rest of the crowd. These amusing extras can be utilised with a wide number of various instant messaging programmes, and they come in the form of add-ons.
To make use of any Discord emote in any channel, you will be required to have a paid subscription to the Discord Nitro service. You can even create your very own emojis and modify their ability however you see fit.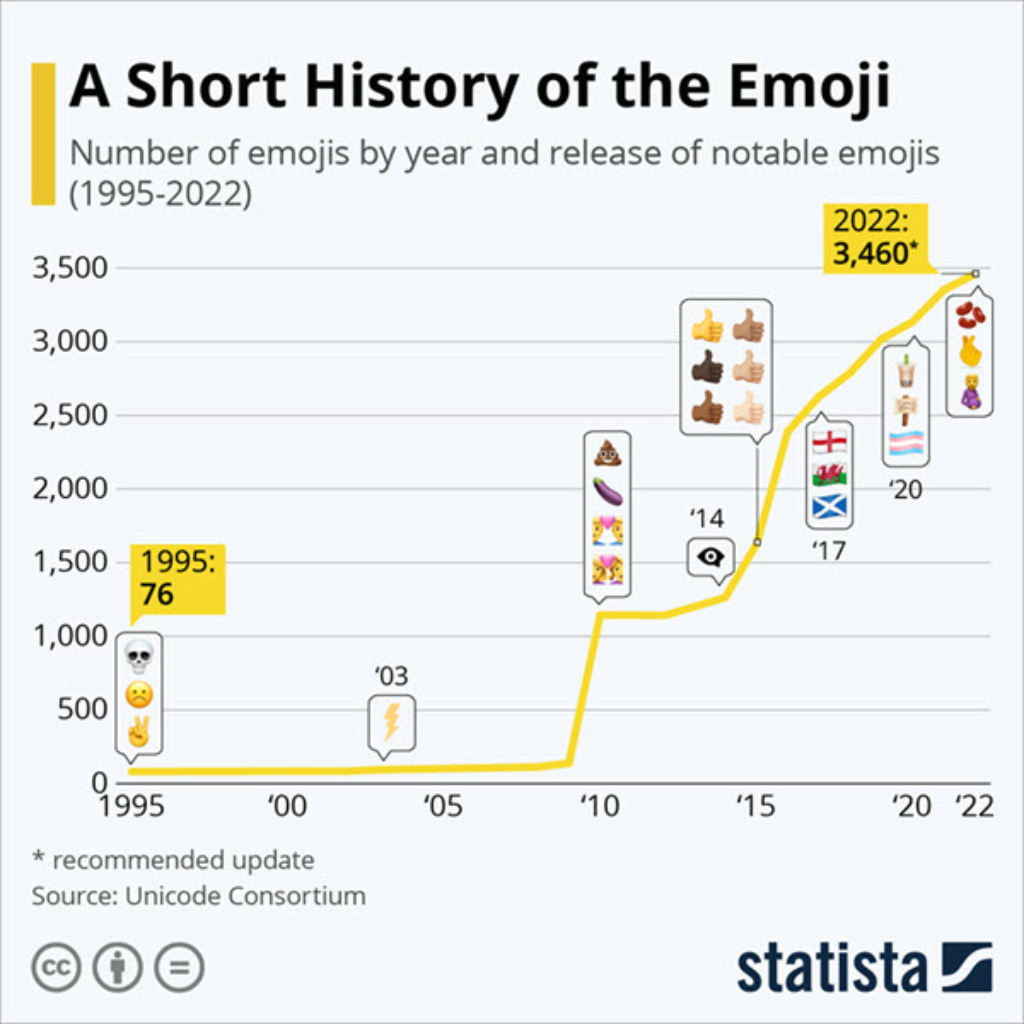 In the following paragraphs, we will provide you with a list of emoji makers for Discord, along with the features that are available in each of those makers. With the help of these Discord emote makers, you'll be able to create emojis that are entirely unique to you.
Despite the fact that users of Discord Servers have the option to have public or private discussions, there are a number of elements that can keep the communication feeling fresh and engaging at all times.
One way that things can be made more fun is by using a variety of emojis and emoticons in different contexts.
Although there are emojis that are standard that we use when text talking, Discord takes one step further by allowing users to create their own emojis. This is a unique feature that sets it apart from other messaging platforms.
On Discord, you have the ability to generate your very own unique emotes, which you can then use in your text-based conversations, as well as announcements, reactions, and videos.
However, what do all of these emotes on Discord exactly mean? What exactly is the value of using emotes in Discord? How do I create my own emotes in the Discord server? We will cover everything there is to know about Emojis and Discord Emotes in this guide
Emote In Discord & Its Importance
Emotes on Discord are a great way to personalise and enhance the experience of your server while also adding some extra fun.
If you want to send an emoji by itself or embed it in your message, click on the emoji icon to the right of the chatbox. Then, select an emoji to insert it into your text.
A helpful hint for typing out complicated emojis is to type out a description of the emote first, then type the emoji itself. For example, if you type "smiley" or even just a couple of the beginning letters, you can access the emoticons that look like smiley faces ().
How to Make an Emoji From Any Picture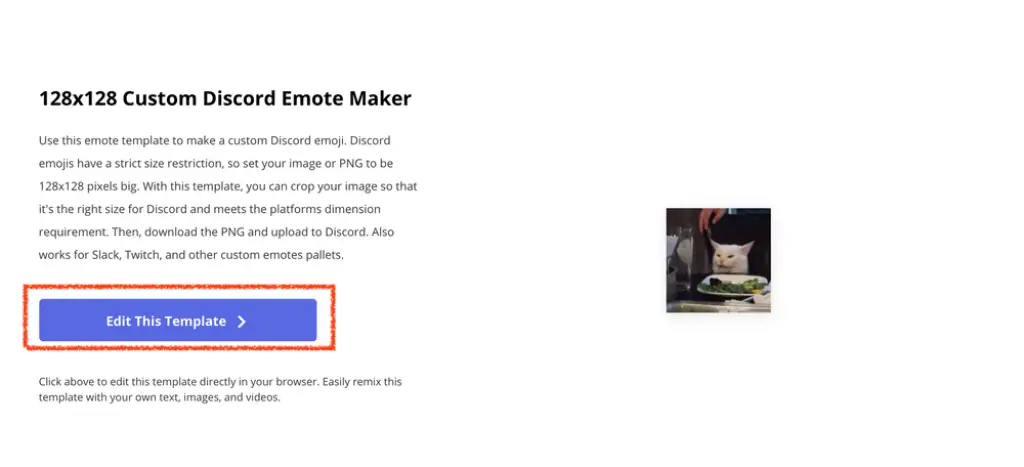 When creating a custom emoji in Discord, you are free to use whatever picture you choose. You can use a picture that you took, one that you found using Google Image Search, a transparent PNG image, or even a moving photo. Utilizing the dropdown menu that is located under the "Export" button will allow you to upload a short video clip and then convert it into a GIF.
If you want to turn a picture or GIF into a Discord emoji, I suggest utilising the Kapwing Discord emoji template. This template will automatically resize any picture or GIF you upload so that it has a square format that is 128 pixels by 128 pixels. To check that the PNG file you generate is compatible with Discord's requirements, navigate to the template's landing page and click "Edit this Template."
The dimensions of the Discord emojis are quite little. After you upload your file, it will be shrunk down to 32×32 pixels in size automatically. Before you upload an image to Discord, you should scale it to 128 by 128 pixels, as this is the maximum aspect ratio allowed. Emoji files cannot be more than 256 kilobytes in size, as this is another constraint imposed by technology. Check out the complete documentation for Discord right here.
How to Make Discord Emotes using Adobe Photoshop?
One of the best ways to make Discord Emotes is with Adobe's Photoshop.
open up the Adobe Photoshop programme on your computer.
Click "File" and then "New."
Now, we need to set some basic settings for the final image.
set the size of the resolution to 128 by 128 pixels. Then set the resolution to 72. Last, make the content in the background "Transparent."
You can now create an Emote from scratch or import an image and customise it to your liking.
We'll look at how to use an image in Photoshop to make a Discord Emote.
Click "File," then "Open." You can open any image, but one with a face is best.
Make on the "Magic Wand." Click "Select Subject" in the Options Bar.
Now, click "Window," then "Layers." Click "Add Vector Mask" at the bottom of the Layers Panel. This will separate our subject from the background and also make the background clear.
You can isolate the "Face" of the image stand out even more. First, select the "Mask Thumbnail" option next to the layer thumbnail in the Layer Panel. What's the point? Any part of the image can be made black or white to hide or show it.
In Photoshop, use the "Lasso Tool" to select out any part and then use the "Paint Bucket" to fill it with black.
After making the necessary changes to the image and editing it, click on Mask Thumbnail, right-click on the image, and then click "Apply Layer Mask."
This image has to be used in our Discord Emote template.
Click "Select" followed by "All." Click "Edit" and then "Copy" next.
Open the Discord Emote template we created in the beginning and then click on 'Edit' and then 'Paste'.
If the image is larger than the resolution we want, you can resize it by selecting 'Edit' and then 'Free Transform'.
When you are done, click on "File" and then "Save As." Give the file a good name, and don't forget to save it as a PNG.
List Of The Top Discord Emoji Makers
16. Emoji.gg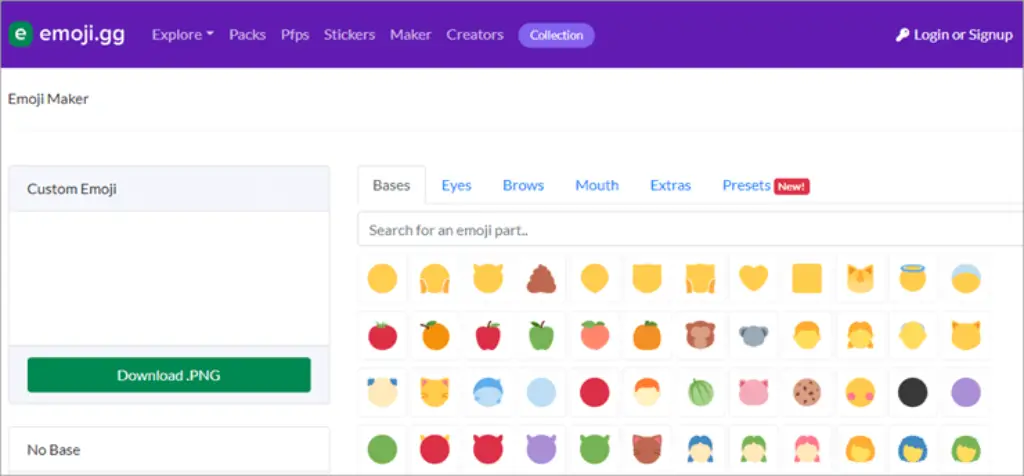 Best for making personalized emoticons where you have full control over the process.
This emoji maker for Discord has been around for a while. To create the best emoji for Discord, you don't even have to download it. And while you are working on its website, you can have control over the whole creative process. It has an easy-to-use interface, and there is a tutorial in the toolbox that shows you how to create a whole new emoji.
When you're done, download the emoji to your system and then upload it to your Discord server.
15. Kapwing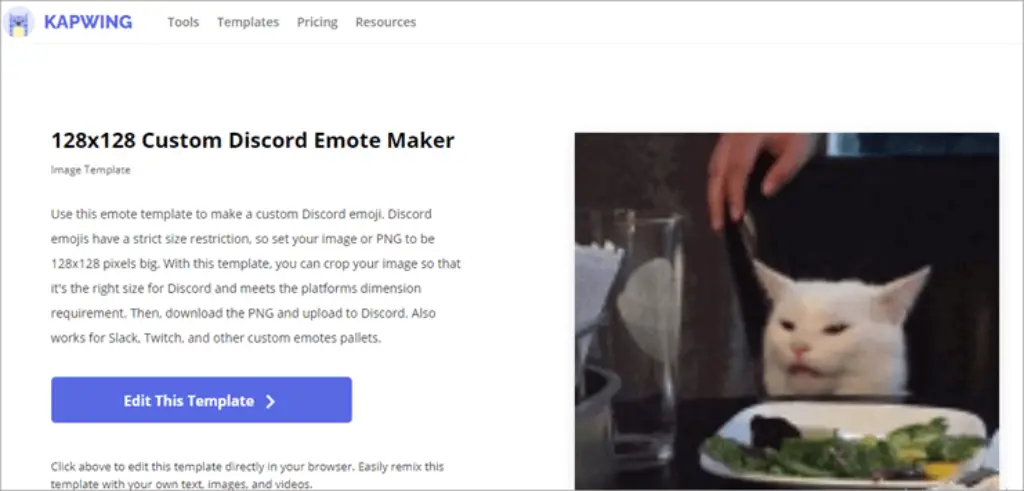 Kapwing is an amazing tool for making emoji for Discord. It has a wide range of features and tools, as well as templates and filters, to help you create a unique Discord emote. You get a layout that you can change to work with the size of the emojis on Discord.
You can use Kapwing's many tools to do anything you want with your emoji. It's like the Photoshop app for emoticons. When you're done, you just need to upload it to Discord. We love it so much.
14. MakeEmoji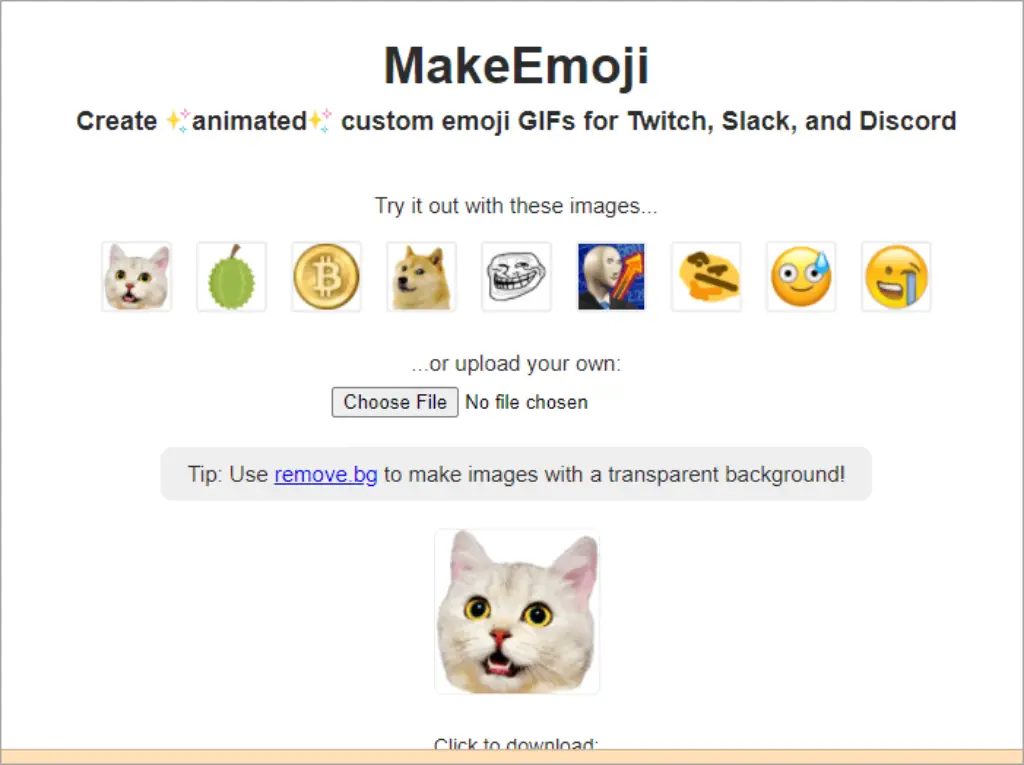 MakeEmoji comes with a number of design tools that make it easy to make animated emojis for Discord. You can either download and use their custom emojis or make your own. You can also upload an image of yourself and convert it into an emoji.
You can also turn a meme or gif out of it. It can also connect to Slack. If you want a simple and easy way to make your own emojis, we recommend using MakeEmoji.
13. Bitmoji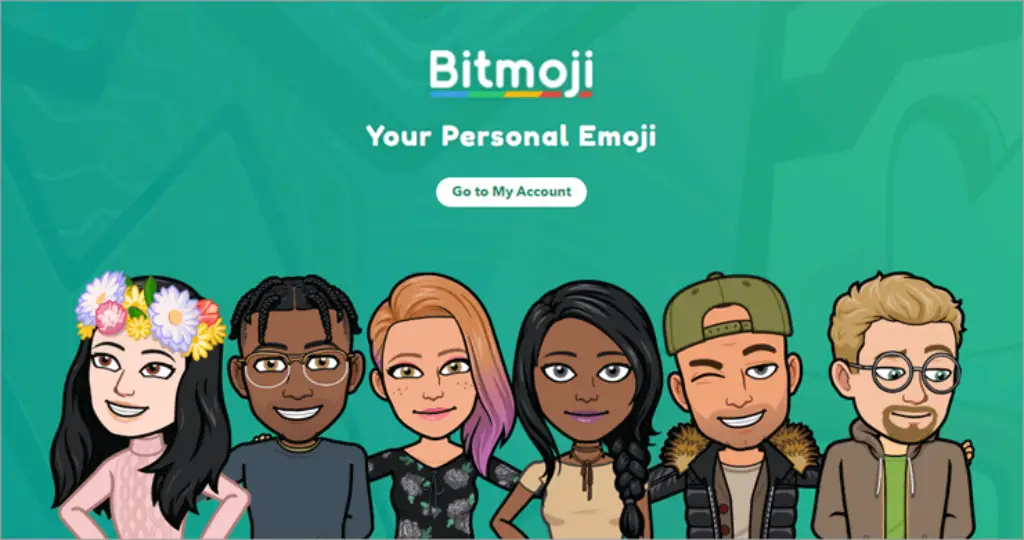 Bitmoji is one site that has extremely become one of the most popular options for users looking to create custom emoji for usage in Discord. You can easily use the app everywhere you go if you download it from the play store on either Google or Apple devices.
You have the ability to create your own emojis and avatars for use in Discord chats and games. You can also link it to Snapchat, which will unlock a wide variety of additional features.
12. Labeley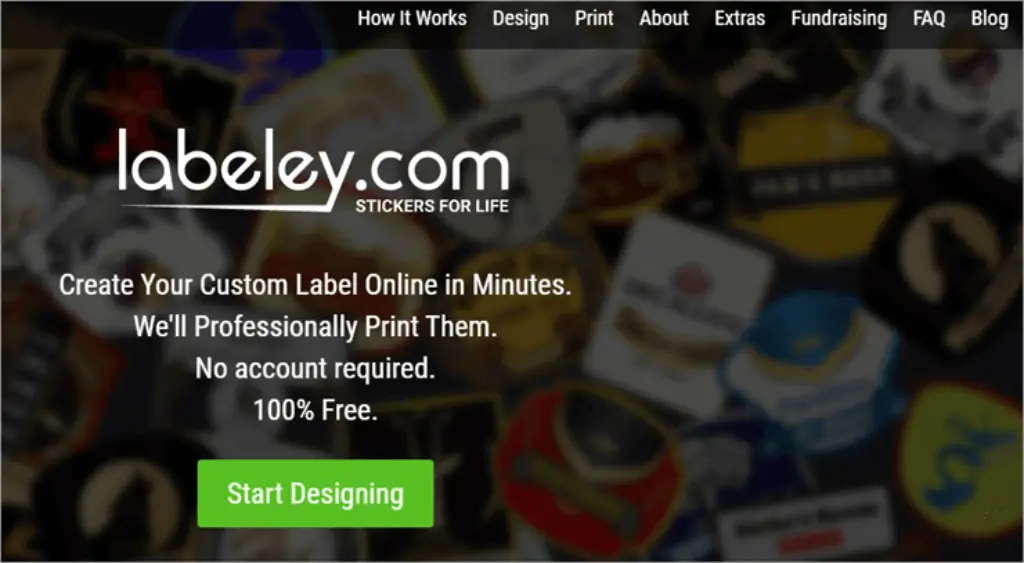 Labeley is a free online application that allows users to generate unique emojis and labels in a matter of minutes. Simply select the category you wish to work in and then click on the button labelled "Just Started Now."
You are able to create a label for a number of different industries, emojis, or even business cards. You also have the option of having them printed at a small expense.
11. Zmoji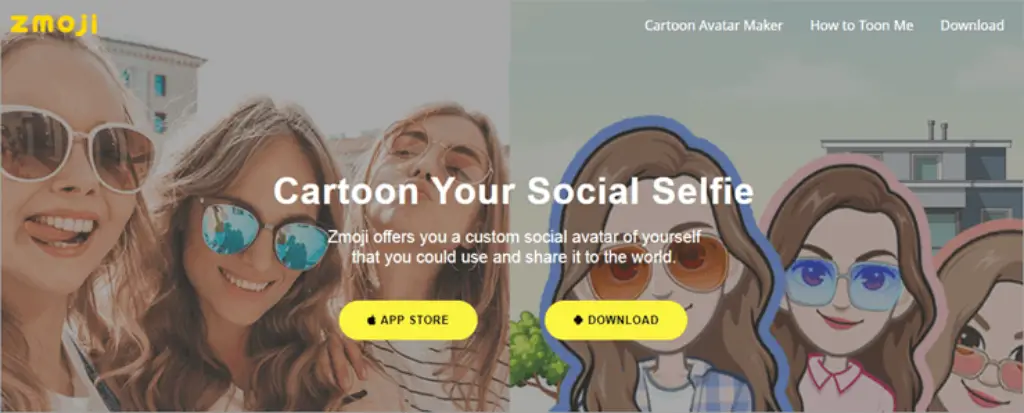 This application is comparable to Bitmoji in many ways. You can use it to create emoji for usage in Discord, or you can turn yourself into a toon or social avatar. You may get it from either the Google Play Store or the Apple Play Store and download it there. Site: https://www.zmoji.me/
You can also customise the emojis to your taste using the available options. When you are finished, save a copy to your computer, and then post it to the appropriate channel on your Discord server.
10. Own3D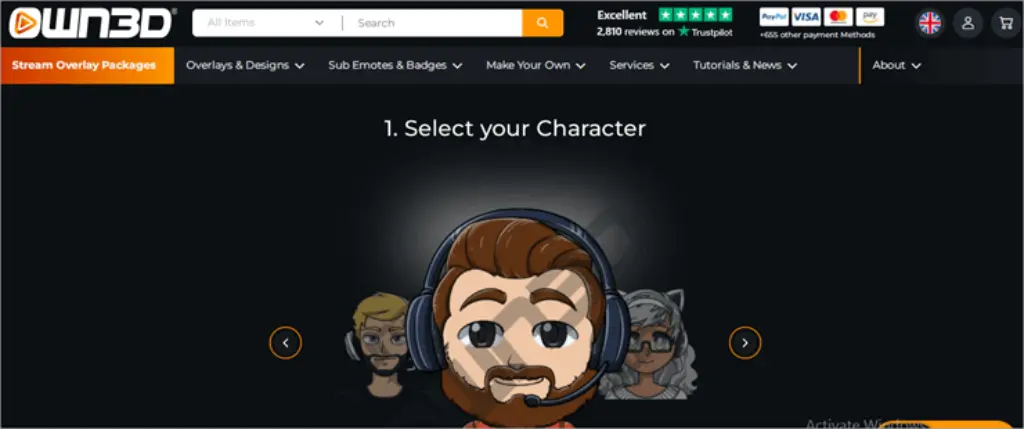 Through the use of OWN3D, you are able to customise each and every way of your emojis to turn them appear exactly how you want them to. It comes with a wide range of options that can be customised.
You can ask them for help if there is a certain customization option that you are looking for but cannot find it, or if you are having trouble making use of the features that it offers.
9. EmotesCreator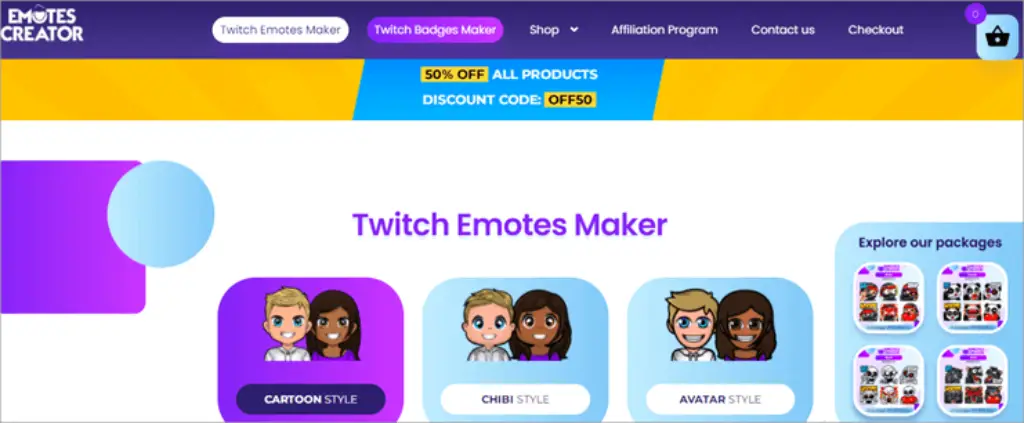 You want a custom emoji that no one else on Discord will have, unique? EmotesCreator should be used to create it. You have complete control over the appearance of the emojis, down to the smallest details, such as the eyes and clothing they wear.
You can also add accessories to your character, such as glasses, caps, beards, and so on. Additionally, you have the ability to add texts and various other items in order to personalise them.
8. Photopea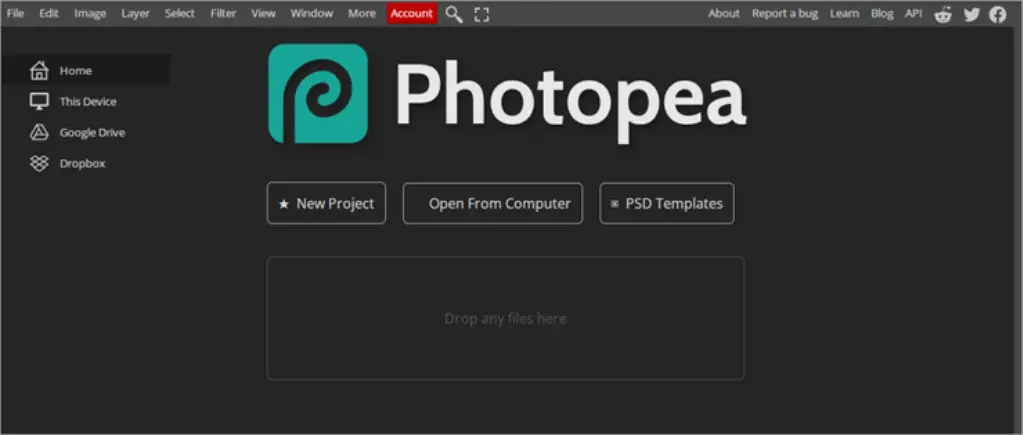 In the world of emotes, Photopea is comparable to Photoshop. The ability to convert images into emojis can be accomplished by uploading them from your smartphone, Google Drive, or Dropbox.
You have access to a wide variety of editing tools that you may use to customise your emotes. Additionally, you are able to save them in a variety of file formats. Make sure that the size and format of your Discord emotes are compatible with those of the emoji that are used on Discord.
7. Sticker Surge

Sticker Surge is not as user-friendly as some other apps, but it is entertaining and easy all the same. You can either pick an emoji from its extensive collection or create your own from scratch.
You have the ability to create server stickers that may be used by anyone on your Discord server. Make your own personalised stickers if you want to have something that is just for you. In addition, if you want people to be able to create your stickers, you might consider making sticker packs.
6. Discordmojis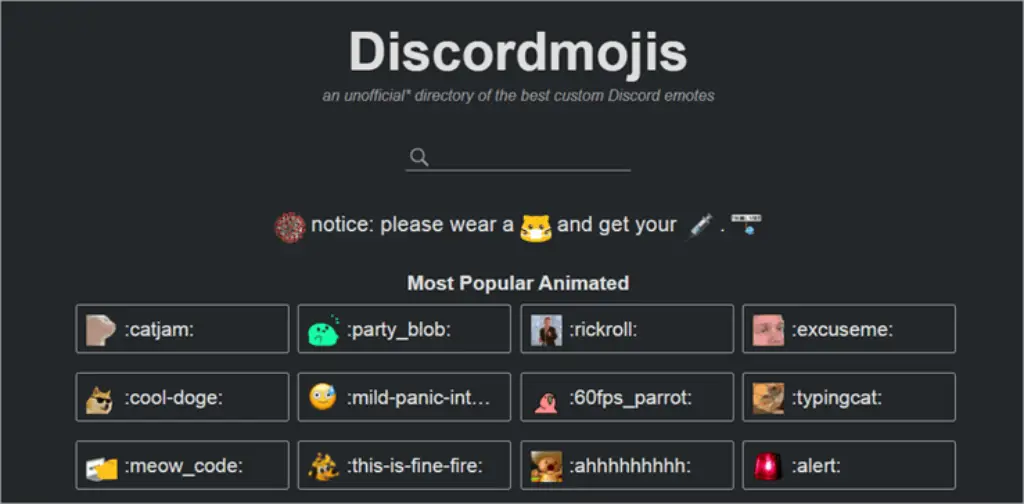 There isn't any emoji maker for Discord quite like Discordmojis. It comes with a collection of emojis, both static and animated, that is so vast that you won't need to create or customise any of them.
If you delve deeply enough into the site, you will find one that is suitable for your preferences here. If you like an emoji, you can download it by clicking on it. After that, upload it to the server you use for Discord.
5. Fiverr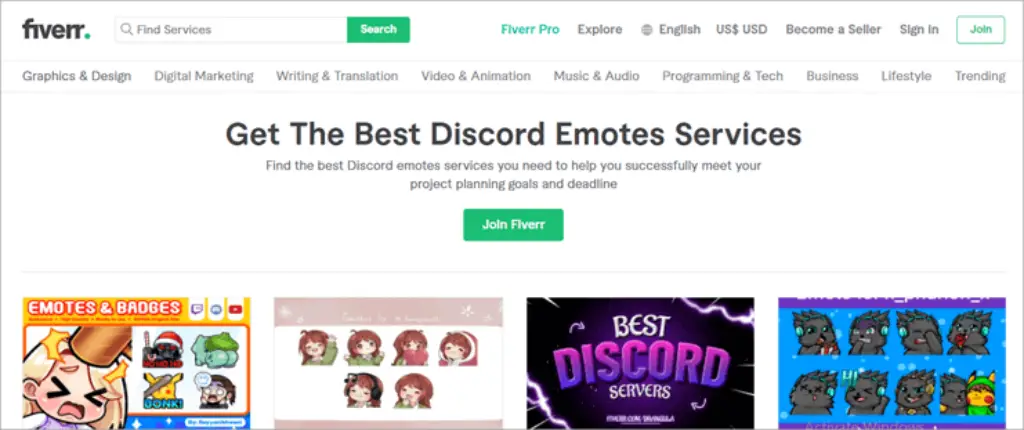 If you are a Discord professional and generate money from your account, it is imperative that it look out from the other accounts in terms of its appearance and be unique from them. In that scenario, you really ought to invest some money into Fiverr. It comes with a team of professionals who are able to create something original and unique for you at an additional cost.
4. Discord Nitro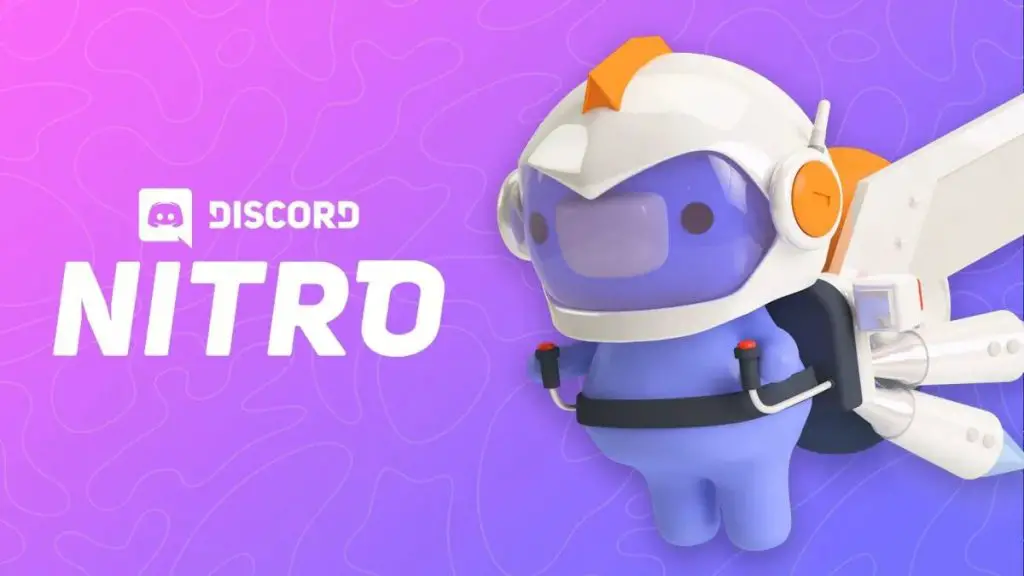 Discord Your experience of Discord will be significantly improved if you use Nitro. It is possible to upgrade the emojis so that you can upload larger files with them.
On your profile, you have the option of using either a pre-made emoji or one that you have created yourself, as well as an animated avatar. Nitro has a significant number of other services in addition to those listed below.
3. Emoji Maker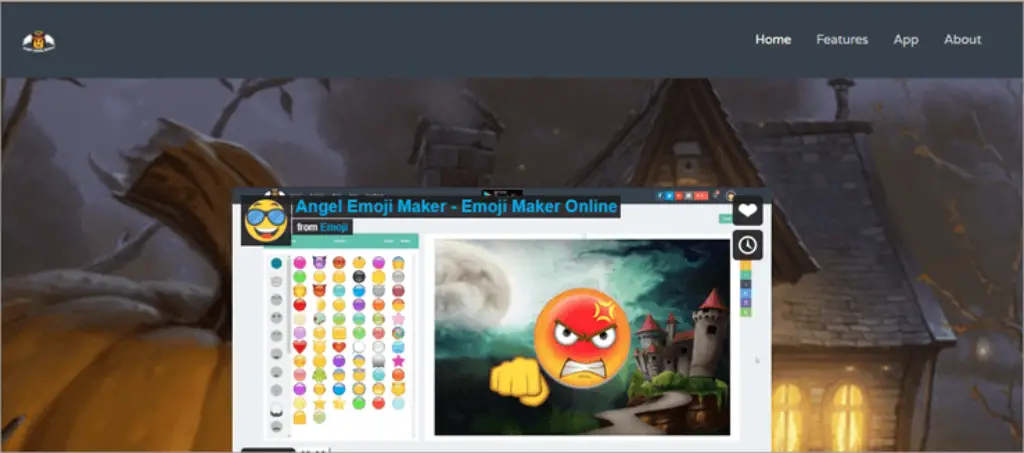 Emoji Maker is a tool that possesses a wide variety of attractive graphics and useful features. You are able to not only create an emoji that is unique to you, but also convert anyone else's or your own face into an emote.
In this section, you have the option to save the emoji you create in the Discord emoji size, or you may choose to save it in any other size and ratio you like. You may also use it on the go by downloading its Android app to your mobile device.
2. Discord Street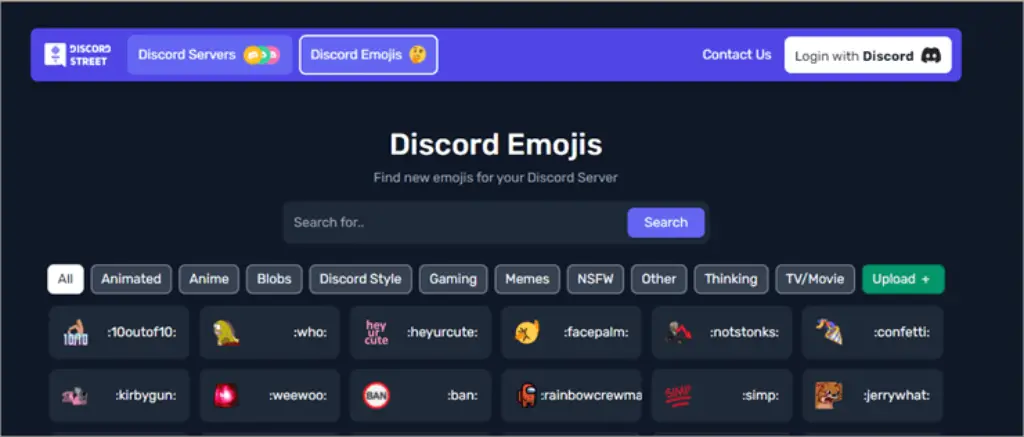 Emojis and Discord servers can be found in the directory known as Discord Street. In this location, you will find all of the servers, and you will also have access to a comprehensive library of emojis organised into a wide variety of categories.
You have the option of downloading these emojis to use on your system or uploading them to your Discord server. You also have the option to upload an emoji from your local system to the server if you have one that you would want to utilise.
1. Etsy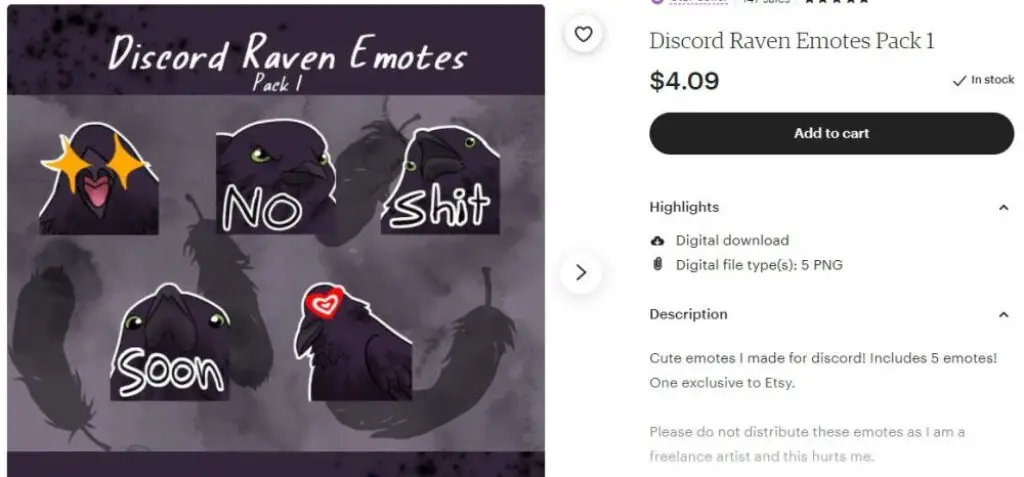 Etsy is an online marketplace based in the United States that primarily focuses on the retail sale of handcrafted goods and household decorations.
Conclusion
Emotes make using Discord's messaging system a more fun experience for users. Your lengthy texts will have real-time expressions added to them, and your conversation will become more customised and engaging as a result.
We have provided a list of the nine finest tools for creating Discord Emotes in the post that was just referenced. There are free versions of some of these tools, while paid upgrades are available for others. Despite this, each of them offers powerful tools as well as a variety of customising options for the creation of Discord Emojis.
The integration of emotes into your Discord is a fantastic choice, particularly for gamers of video games who frequently use Discord as a channel for communication. The amount of fun you have while gaming will unquestionably increase if you use emotes.
Frequently Asked Question
How do I make emojis for Discord?
You can upload custom emoji for usage by everyone on the server by going to the "Server Settings" menu and selecting the "Emoji" tab from there.
It is important to keep in mind that the names of emoji must be at least two characters long and can only contain alphabetic, numeric, or underscore characters. Emojis must be under 256KB in size
How do you get animated emojis for Discord?
The only head you need to do to add an animated emoji on Discord is find a nice and spicy gif, then navigate to Server Settings > Emoji > Upload Emoji >, and then select the gif file!
Is annual Nitro worth?
Simply for the benefits you get from Nitro on server boosts, it is worth paying for the service. On the other hand, if you only use Discord a few times a week to communicate with friends and play games, then it is possible that the service is not worth for you.
You can do pretty much all you need to do with the help of Discord's basic features, which are already pretty excellent on their own.
Are Discord Stickers Nitro only?
Even if they don't have Nitro, members of the server community are able to make use of your custom stickers in the same way that they do emoji.
If they have Nitro, they will be able to use custom stickers from any servers that they are a part of in any direct messages or other communities that they participate in.
Can I create my own emoji?
Way, an organisation known as the Unicode Consortium is responsible for maintaining the standard set of emoji that are utilised by apps and platforms.
Version 11 of the set currently contains more than 2,700 characters, and more are expected to be added in the near future. However, if you do not find the specific character that you require among the available options, you are free to create your own.
Was this article helpful?