We'll show you how to create a Poll in Discord in this post. A poll is one of the best ways to find out what other people think, what they like, and how they feel. Most of the time, people will give you honest feedback, especially if the poll doesn't ask for personal information.
People who are part of the Discord community and want to know how other people in the community feel can use the poll feature. There are a few ways to create polls on the platform. Folks can, for example, use bots to easily make polls or create advantage of what channels have to offer. Now, let's look at how to use the above methods on a desktop computer to create polls in Discord.
Use emoji reactions to create polls in Discord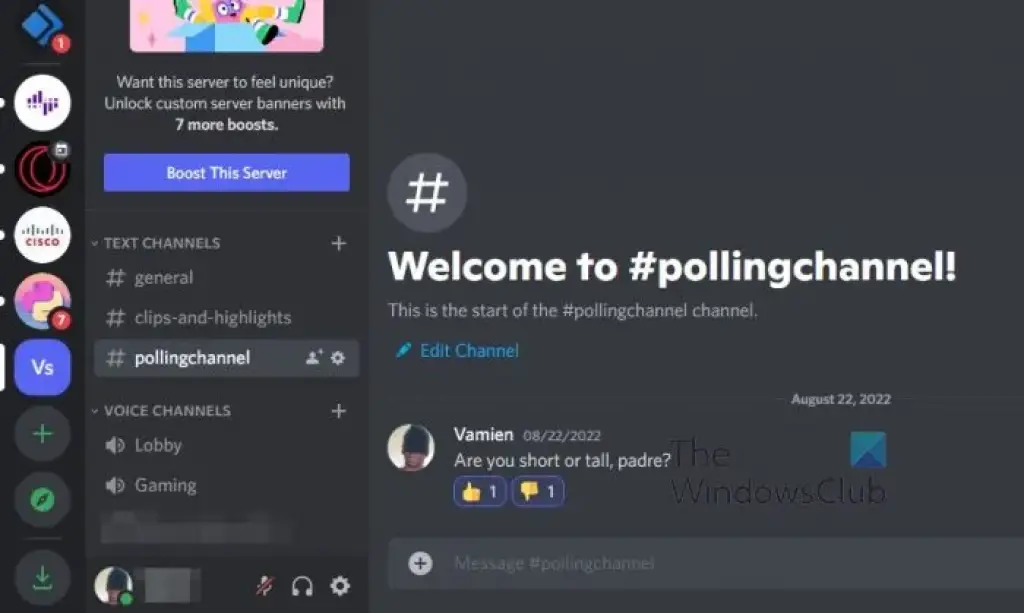 The first thing you can do to solve your problem is create a poll with emoji reactions. This method doesn't use bots and, at least from our point of view, is the easiest.
On your computer, open the Discord app.
Check out the app's left side.
From there, you can click on the server's initials or profile picture to use it.
The next step is to create up a channel.
Just click the plus sign by TEXT CHANNELS.
Give the channel a name, and then hit the Create Channel button.
Now you need to click the Settings icon next to the channel's name.
Choose the Permissions link from the menu on the left.
Scroll down until you see Read Message History, and then click the checkbox.
To finish this section, click Save.
Last, go to your channel and type a question for a poll. Hit the Enter key, then add emojis to the question so that users can interact with them.
That's it! Your poll is now set up and ready for people who want to give their opinions using simple emojis.
Make Discord polls using the Simple Poll bot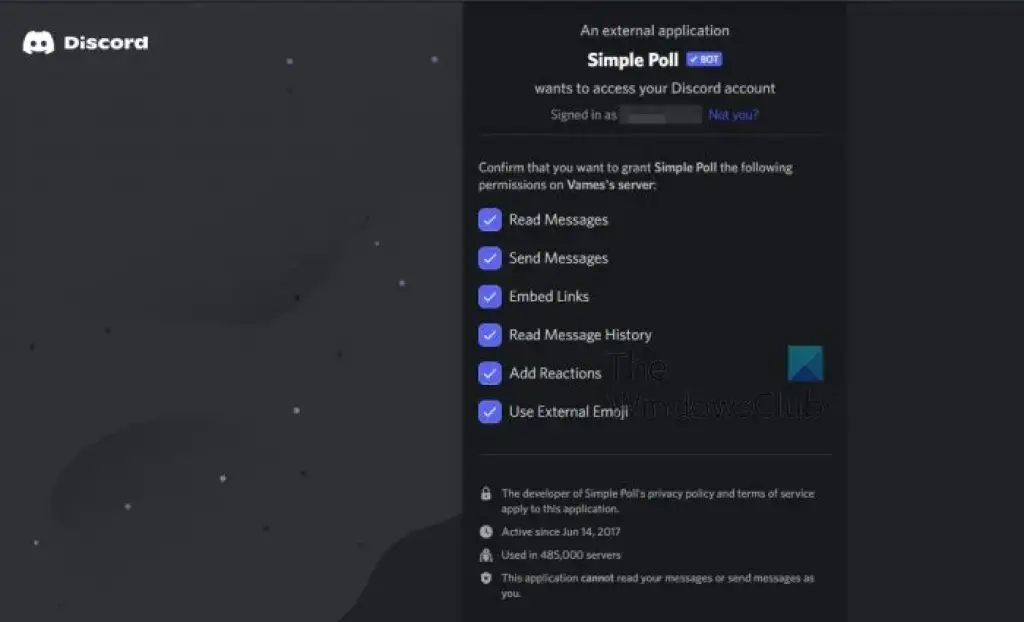 OK, so this time we want to use a Poll Bot because having choices is always great. Not only that, but these bots usually have more features than emoji reaction polls.
So, you need to open your web browser first.
Go to the URL where Simple Poll is hosted.
When you get there, click the pink Invite button in the upper right corner.
If asked to, sign in to Discord.
Then, choose the server where you want to add the bot.
Click "Continue" to keep going.
After reading over the permissions, the next step is to click the "Authorize" button.
You must open a channel from your server in order to use the poll.
From there, you can create different types of polls by using the following commands:
Yes/no reaction poll: Type in +poll: Which colour do you like best?
Multiple-reaction survey: Type in +poll: "Which colour do you like best?" [brown] [blue] [purple]]
Type +strawpoll to get to the poll. "What's your favourite fruit?" [plums] [grapes] [peaches]
The Simple Poll bot can now be used to make a poll.
How to use a poll bot

Using a bot to make polls can be helpful because it can sometimes make polling friends a little faster and create tidier than typing a message that gets a reaction by hand.
There are many polling bots for Discord that work just fine, and you can find a lot of them on sites like top.gg, which is a hub for Discord bots.
Simple Poll, Easy Poll, and StrawPoll are three of the most popular polling bots that you can invite to your server. There are also bots like InviteManagement and Announce that are more all-around and have polling features that people like.
After you invite a bot to your server and give it the permissions it needs to work, you can usually turn it on with a command like "/poll." After you type the command, you will be asked to type a question and any possible answers.
Most of the time, these poll bots will give you results that are similar to what you might be able to type yourself. However, depending on how complicated the poll is, using the bot might feel like a little less work.
In the end, it's up to each server owner to decide what method they want to use to make polls, but most of the automated options for polling friends in Discord aren't very complicated. Most of the time, they can be replaced by the person taking the poll taking a few extra seconds to type in the reactions they want to go with each polling option.
Are there polls on Discord?
Yes, you can add a poll to Discord, and there are several ways to do it. For instance, a user can use emojis to make a poll or create to bots if they want to try out more features.
How do I add a simple poll to Discord?
Start up the channel you want the poll to be in on your server. From there, type a question into the channel and hit Enter to send it through. Lastly, you can add emojis like thumbs up and thumbs down. Users can take part in the poll by interacting with emojis.
Does Discord require a PC?
Discord isn't just for Windows, so you can get it on iOS and Android devices as well. Since the mobile app has many of the same features as the desktop app, you won't need to leave your phone very often unless you want to use certain features.
Was this article helpful?