Looking for a Discord Bot for your server's automatic moderation, then these are some of the best Discord bots that various big audience servers run on their community for automatic moderation, avoiding spam, and Discord raid control. If you want to keep your server safe without working as a Discord moderator, then you add a moderation bot.
There are various Discord bots and scripts available on Github, with various amazing features. Several companies have also made their own version of the Discord bot for full control of Moderation. We have compiled some of the best Discord mod bots that various servers use initially.
MEE6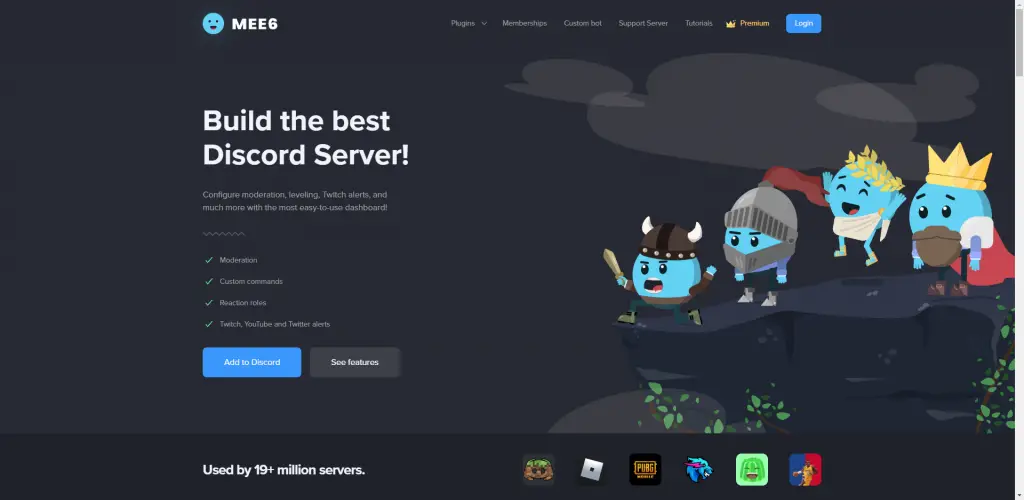 MEE6 is one of the best Discord bots, and also is one of the most popular moderation bots. It handles a lot of things a mod team would typically be in charge of. You can customize it to automatically moderate on your server in a number of different ways using MEE6 commands feature.
You can assign a custom-based MEE6 bot to invite a welcome message for the MEE6 Discord bot to display in a chosen channel when a user joins or leaves your server, or have MEE6 send a private message directly to the user.
Dyno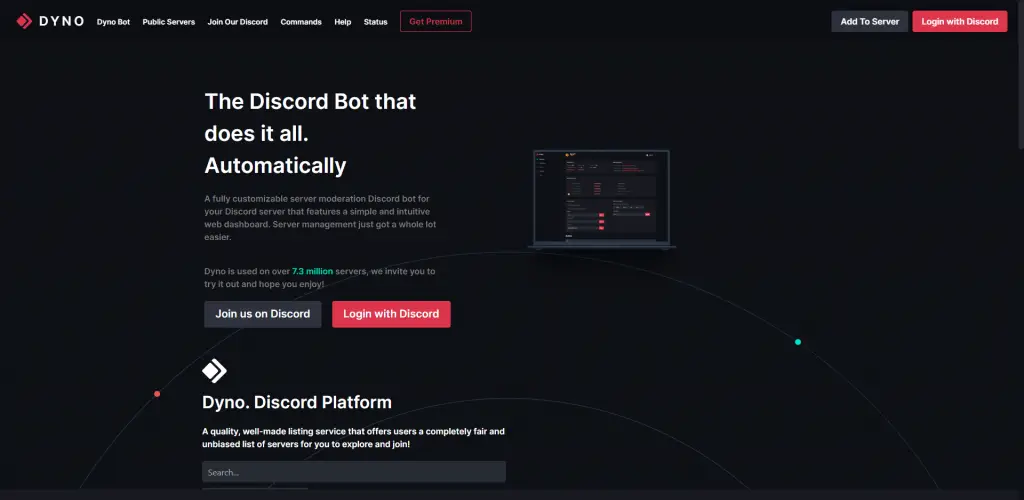 Dyno is a popular Discord moderation bot used on more than 800,000 servers. It has 35 different moderation bot commands that let it warn, mute, deafen, kick, and ban members. It can also work as a role bot to assign roles to users who cause trouble and limit their activities.
Outside of moderation, Dyno can assign roles automatically, allow you to create custom commands, enable ranks members can join, allow you to make announcements to the entire Discord server, assign AFK statuses, and more.
ProBot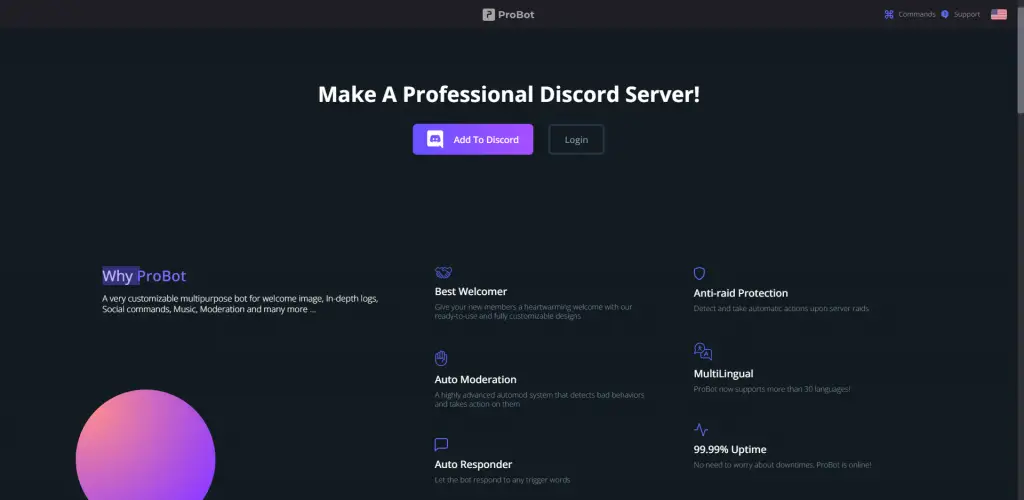 ProBot is a relatively new Discord moderation bot but is also another trending bot with various amazing features for free that also include welcome bot messages, auto-response, and anti-raid protection.
It can work as a Discord welcome bot that sends new members a custom welcome message that includes the member's avatar and name.
Tatsumaki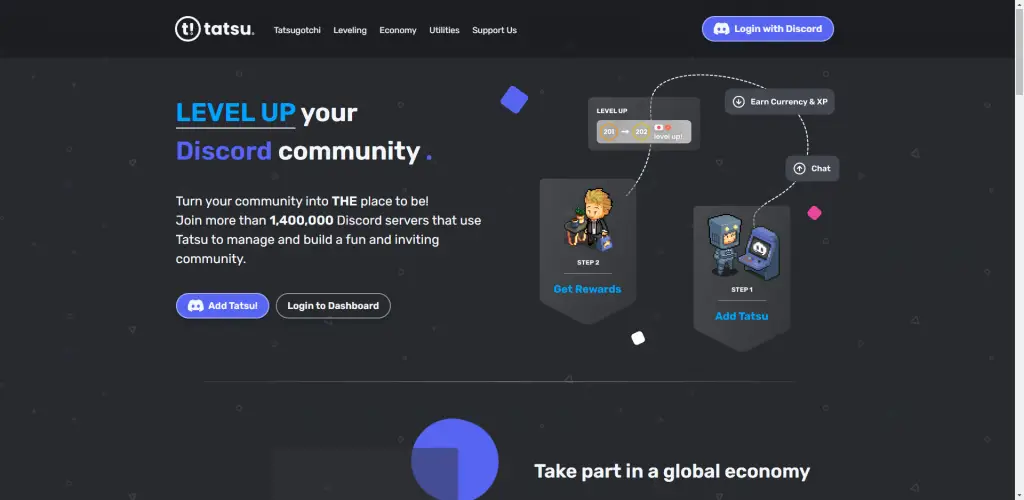 Tatsu provides an all-in-one Discord bot that includes moderation, a server-based economy, leveling, games, and logging. You can use it as a Discord welcome bot and set custom welcome and goodbye messages as users join and leave your server.
YAGPDB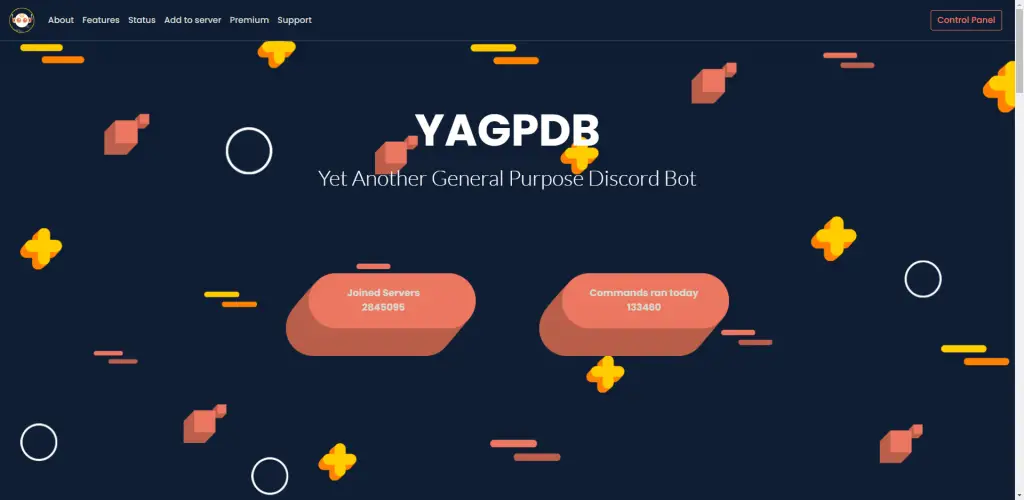 One of the best moderation bots that's also capable of serving up game facts.
If you're looking for a bot that does a whole bunch of things to a high standard, then YAGPDB (Yet Another General Purpose Discord Bot) is a great option. It has a bunch of self-assignable roles for moderation, letting you assign roles via reactions, assign multiple roles at once, or add roles to specific groups within your channel.
Arcane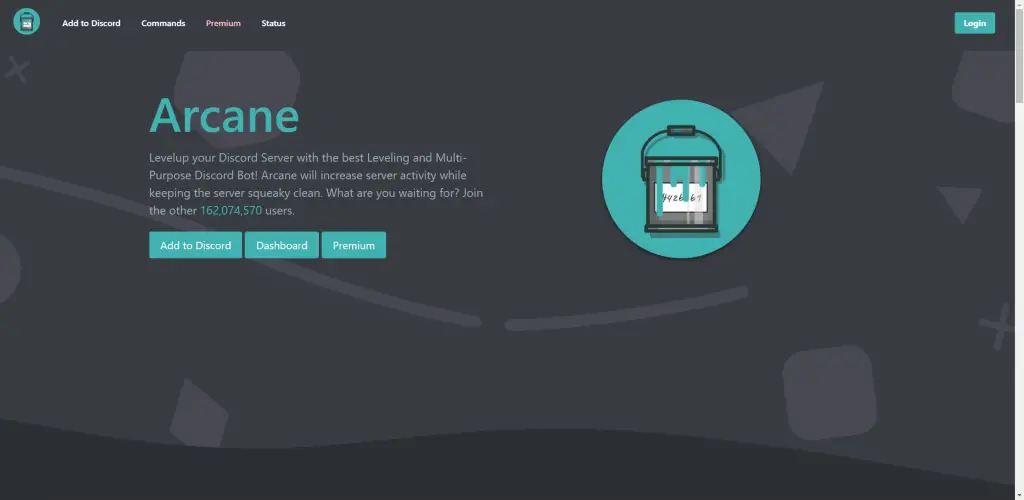 Arcane is a great Discord moderation bot for increasing user participation while keeping your server free of unwelcome content.
Arcane's Discord bot can also grant users XP for participating in channels and reward them with custom roles and other prizes. You can also use the Arcane bot for Discord reaction roles, which lets users pick a role when they choose a specific reaction to a message.
The Arcane bot works as an anti-spam bot that can warn, kick, mute, or ban a user from your server for using blacklisted words or posting spam content. Arcane can also lock a channel or purge its messages if a conversation has gotten particularly inappropriate.
Carl Bot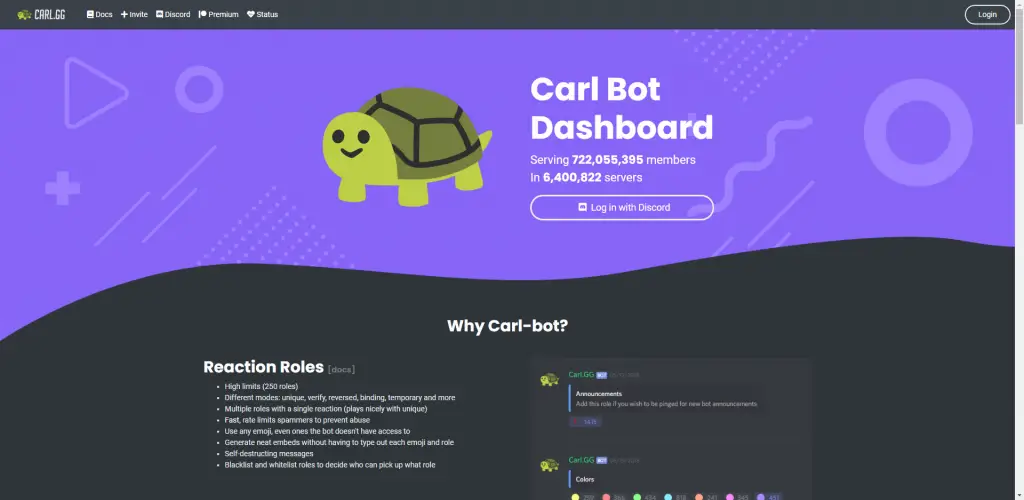 Carl Bot is brimming with automated functions that make it one of the best moderation bots out there, and it lets you log name changes among people on your server, so you can make sure no one is up to mischief. There are tons more features here. (Auto-feeds and DMs on name mention are just a few.)
Cookie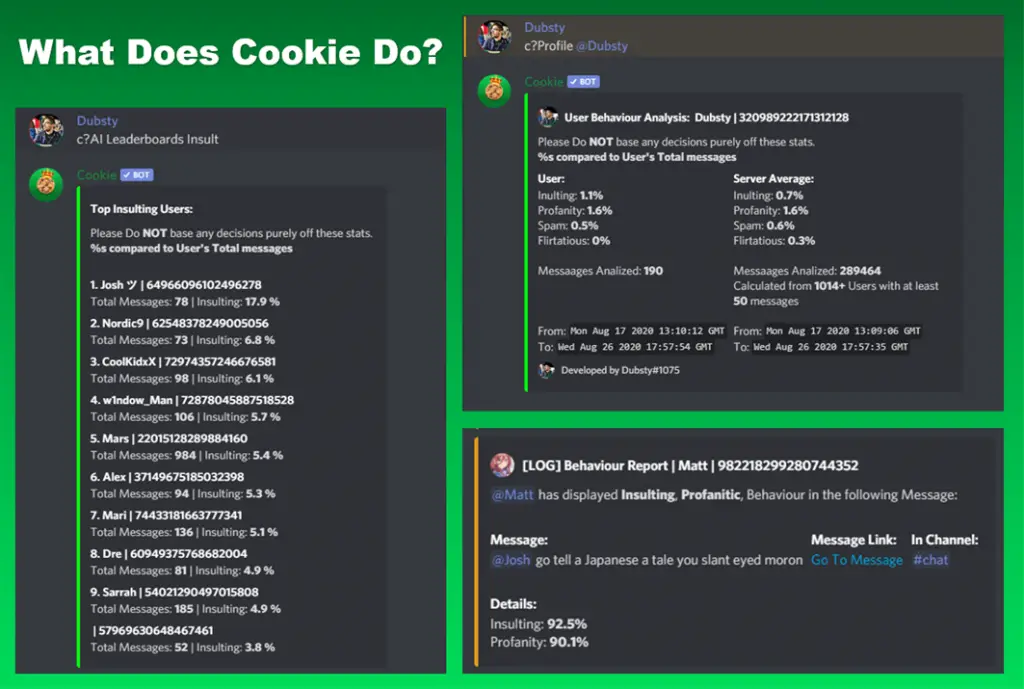 Cookie is a behavior-logging AI that detects profanity, slurs, unsolicited flirtation, and spam.
It logs conduct reports by cautioning you when a client has utilized any of the previously mentioned dialects and even gives a connection to the culpable message. It likewise creates lists of competitors for your server's top wrongdoers.
Visit Website: https://top.gg/bot/697404706687025252
Helper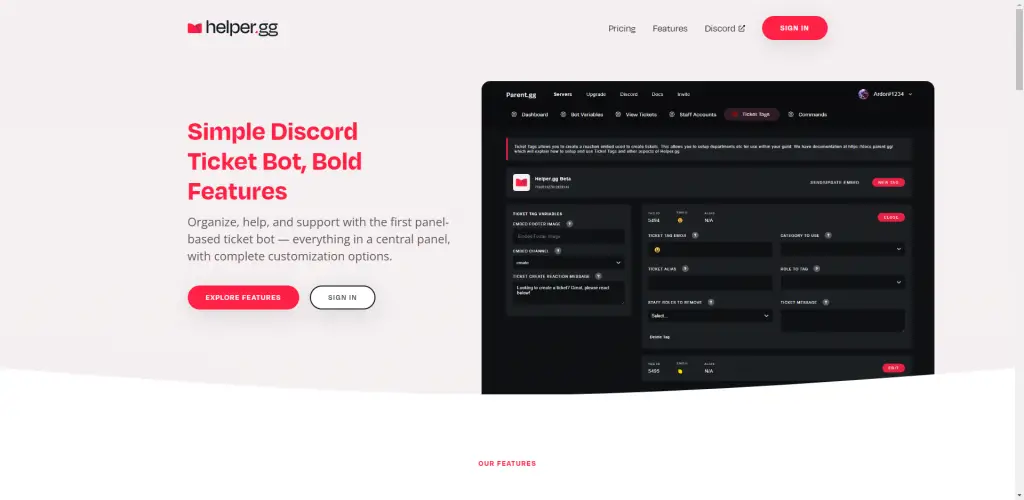 Helper.gg permits you to transform a Discord server into a ticket framework for your help group and correspondence. It's a board-based ticket bot with a lovely UI that makes it simple to oversee and answer tickets your clients make. Different astounding highlights are accessible on the premium arrangement
Pancake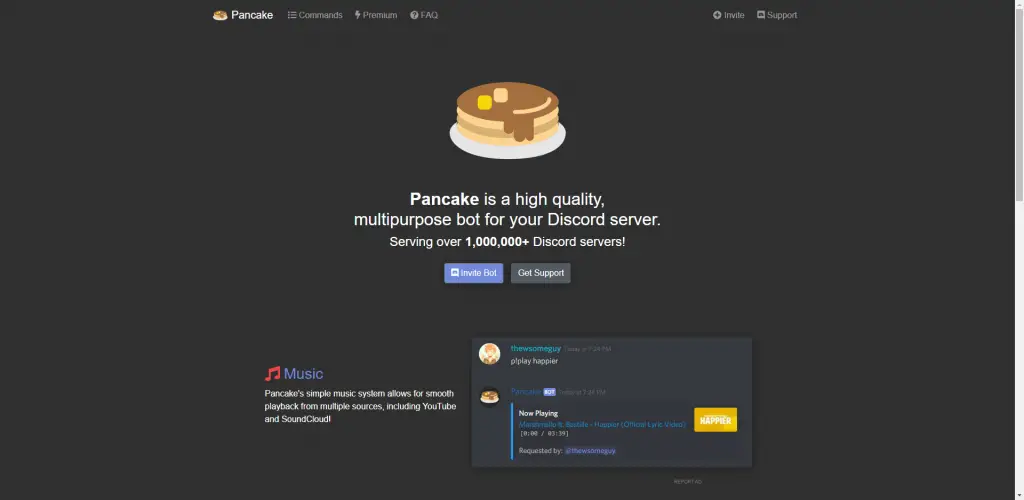 It's easy to use, with a good overall arrangement between fun orders for clients and broad control for administrators. It's another welcome-to-begin bot, so you don't have to stress over server facilitating.
An adjustable balance framework allows you to control all that from voice talk to client restricting, with a consent framework to set up your directing groups with various powers.
Double Counter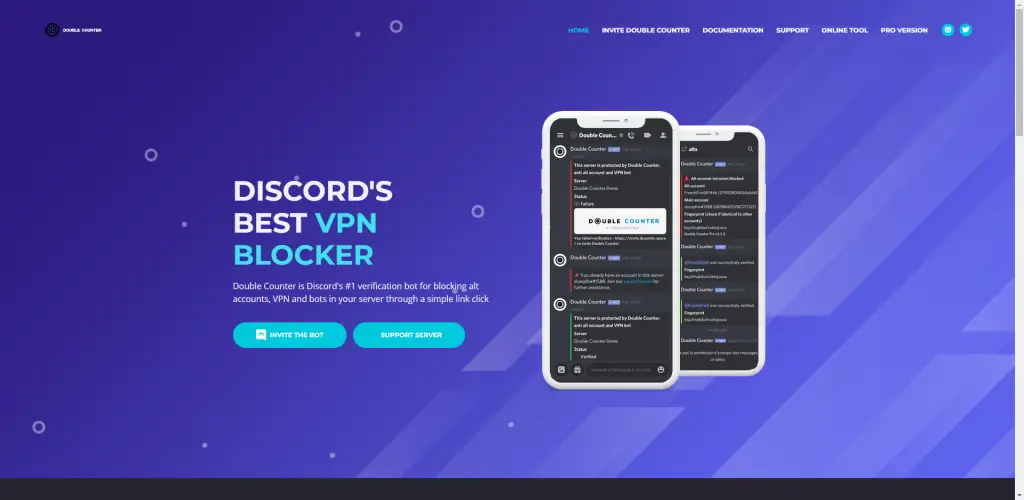 The Double Counter bot is the ideal expansion to your Discord server. It distinguishes IP addresses from prohibited records to keep them from making elective records and reappearing on the server. It likewise obstructs VPNs and strikes.
UnbelievaBoat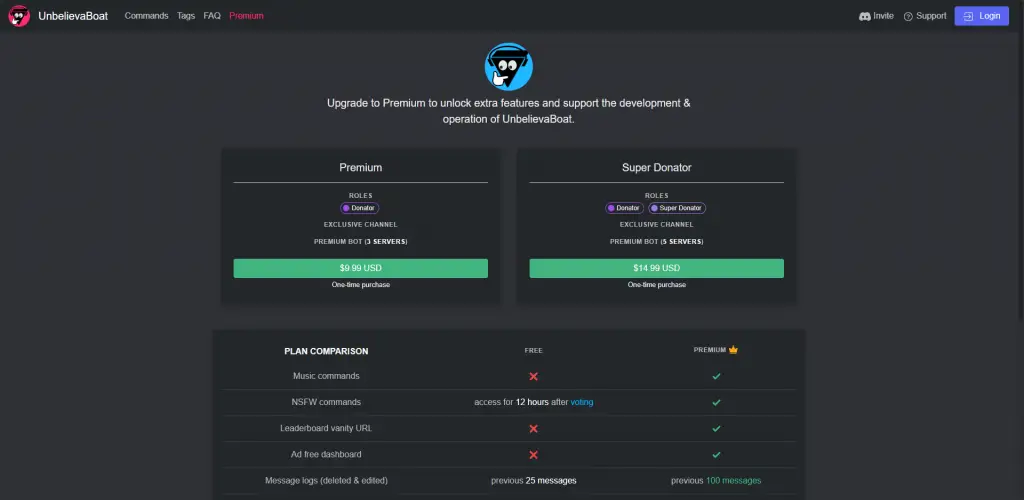 UnbelievaBoat is a multipurpose Discord bot intended to draw in server individuals with fun exercises. Luckily, these highlights incorporate a balanced framework you can use to caution clients and uphold boycotts. Each activity is doled out a case number so your mediators can follow along.
Confessions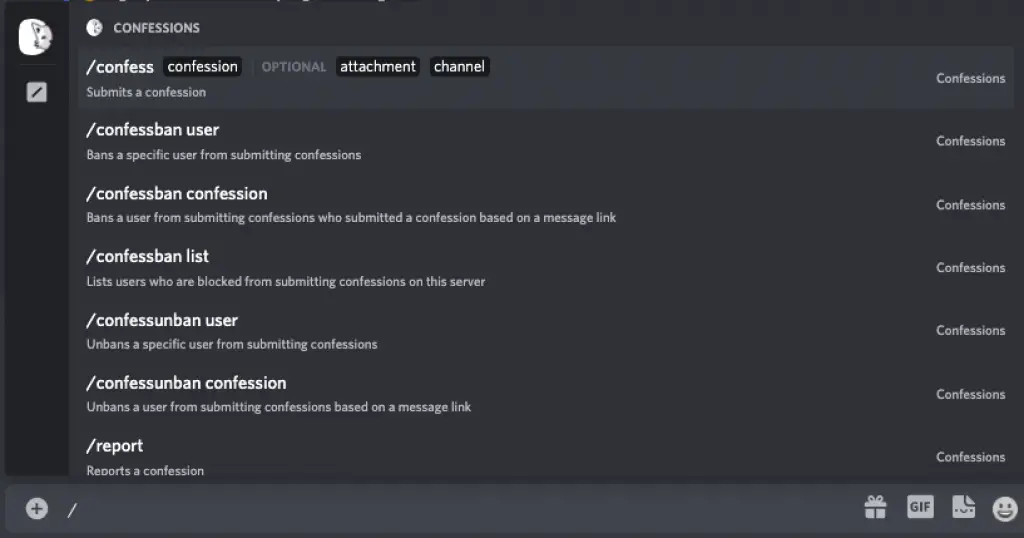 Confessions is a Discord bot that permits individuals from your server to secretly submit admissions about anything that they like! Secret pounds on others on the server, humiliating youth stories, murder admissions – and so on.
Confessions is likewise a great method for playing a caring criminal investigator game: clients can make an admission, and other server individuals can attempt to sort out what its identity was. Note that on the off chance that the channel mods get the "Exceptional" rendition of Confessions, they will have a log of individuals who submit admissions, so don't uncover an excess of data.
Pollmaster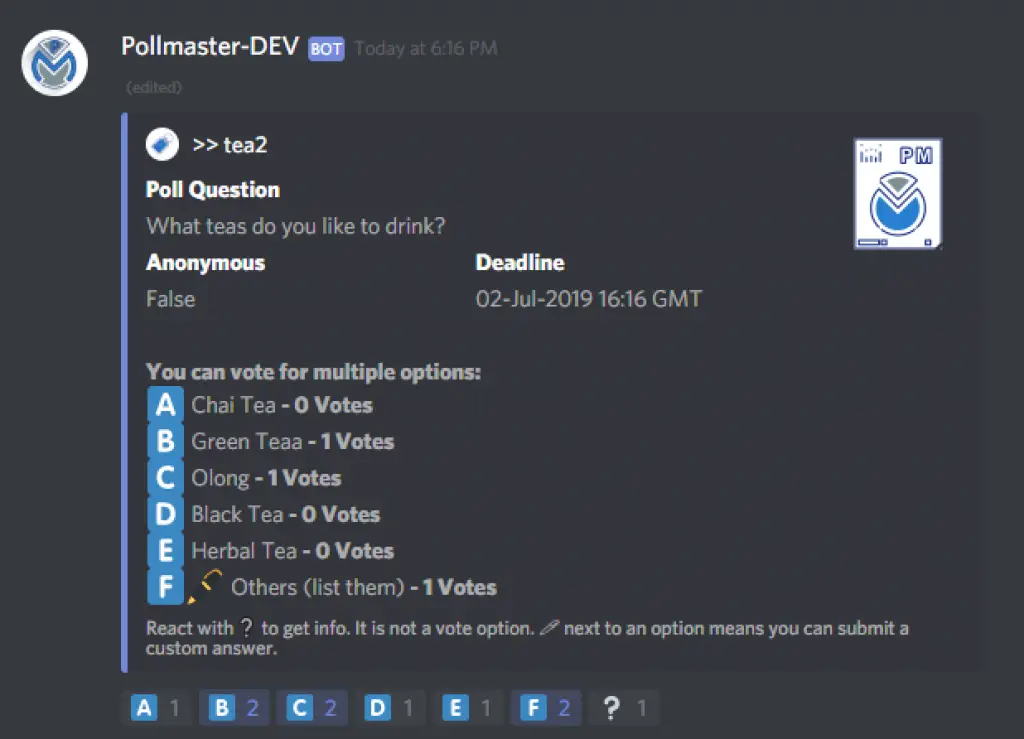 Pollmaster takes a little setting up, yet when you do, it's the most far-reaching surveying bot out there for Discord. There is a wide range of capabilities, such as unknown democratic, emoticon/response casting a ballot, and numerous decision surveys or surveys that let you settle on more than one decision.
You can set cutoff times for your surveys and even allot unique "loads" to people groups' responses relying upon their job on the server. Higher-positioning people get more votes, for instance.
Was this article helpful?