These are some of the best Destiny 2 Based Discord bots, which are popular and added on various Discord Servers. There are various good bots for Destiny 2, some might be custom-made by Discord Developers. Here are some of the best Discord Bot for Destiny 2 niche-based servers on Discord.
5. Charlemagne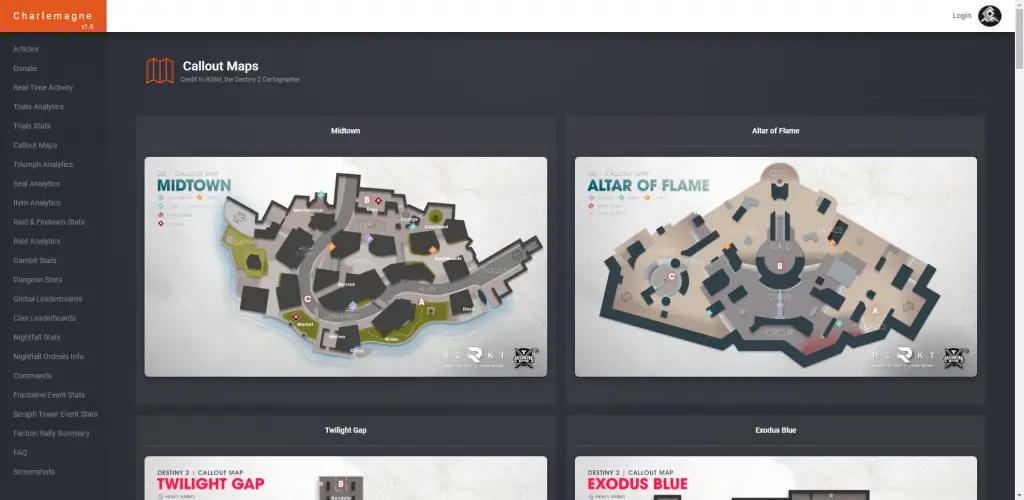 Charlemagne is the Discord bot that provides detailed access to Destiny 2 information. She is equipped with stats, clan ranking, and LFG. Charlemagne, A Destiny 2 Discord bot for clans and groups that play Bungie's Destiny.
Feature:
Full Destiny 2 support
The most popular Discord-based event scheduling and LFG system available (!lfg)
30+ different Destiny-related commands
500+ leaderboards for every server/clan who joins Summary of /pve, /pvp, /trials, and /raids stats
Details on what weapons you have used most (/weapons)
Weekly and seasonal stats for /pvp, /trials, and /ib
Full support for Destiny 2 clans
Twitter integration for Destiny Twitter feeds
Get notified for over 15 things, including TWAB, Xur, and Weekly Reset
Ranking against other server members Powerful clan management features (incl. /clan online)
Details on your /loadout Access to xgerhard's Destiny command (/xgerhard)
Visit Website: https://warmind.io/
4. Levante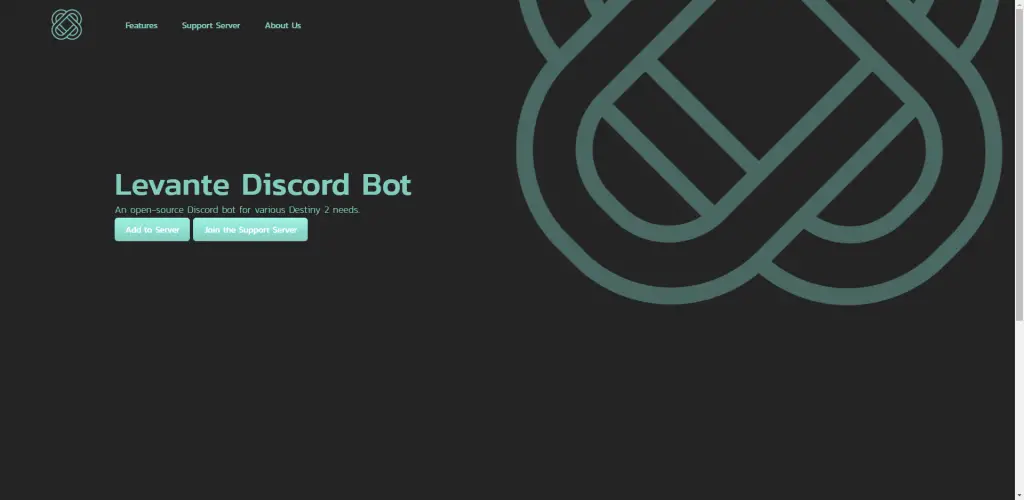 A bot used for various Destiny 2 stuff, like XP logging, rotations tracking, emblems, etc.
Features:
Give information about Destiny 2 Weekly and Daily reset.
Notify you when a Destiny 2 Weekly/Daily rotation is active.
Predict when the next rotation will occur.
View Emblems and provide announcements for when new emblems are available.
View your own or any other player's Guardian(s).
Track XP while playing Destiny 2. and more to come…
Visit Website: https://www.levante.dev/
3. Destiny 2 Raid/LFG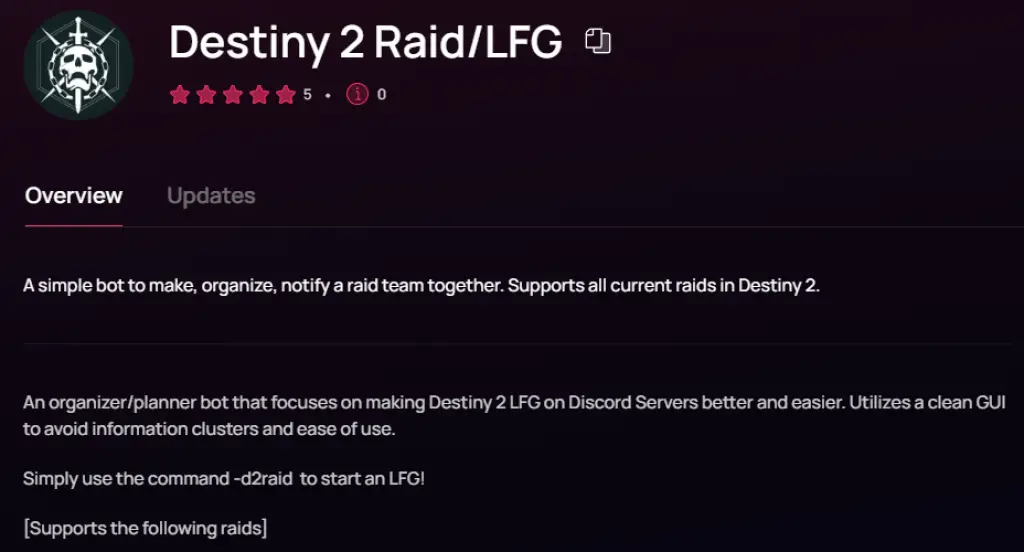 A simple bot to make, organize and notify a raid team together. Supports all current raids in Destiny 2. An organizer/planner bot that focuses on making Destiny 2 LFG on Discord Servers better and easier. Utilizes a clean GUI to avoid information clusters and ease of use.
Add Discord Bot: https://top.gg/bot/951290000861986857?tab=overview
2. Patch Bot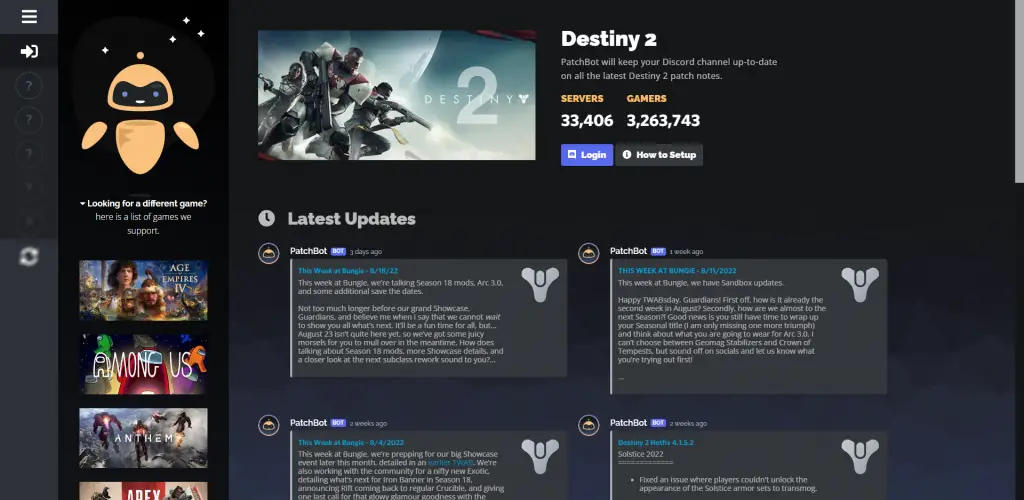 PatchBot will keep your Discord channel up-to-date on all the latest Destiny 2 patch notes. Subscribe to game updates and patch notes… delivered right to your Discord server!
Visit Website: https://patchbot.io/games/destiny-2
1. Indeedstor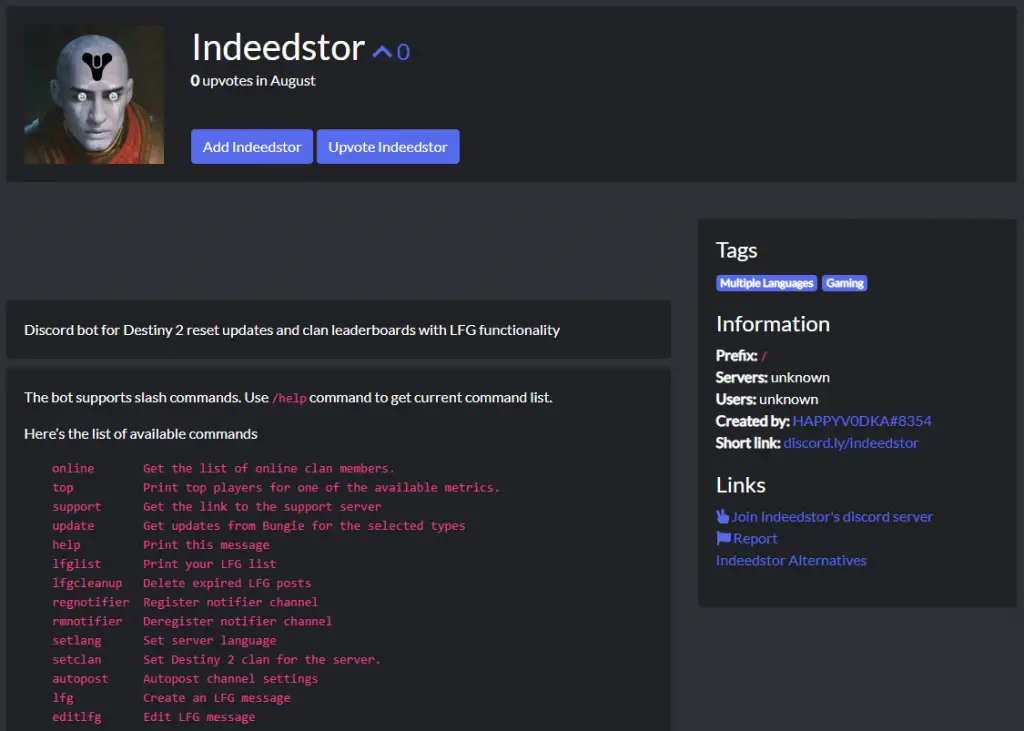 Discord bot for Destiny 2 reset updates and clan leaderboards with LFG functionality
Features:
Gets updates from Bungie's API, such as weekly/daily reset info, Spider materials costs, Xur's location and inventory (requires setting up a notifier channel)
Organizes LFGs
Makes clan leaderboards for every emblem metric available in Destiny 2 (requires setting up clan for server)
Supports multiple languages (same as Destiny 2, but some lines might be untranslated).
Visit Website: https://discordbotlist.com/bots/indeedstor
Frequently Asked Questions on Destiny 2 Discord Bots
Is there a destiny 2 bot for Discord?
Charlemagne is the name of the bot on Discord that offers comprehensive access to information about Destiny 2. She has access to her clan's ranking, her statistics, and the LFG.
Is Charlemagne Destiny 2 safe?
Charlemagne is a bot that monitors a great deal of information related to players in Destiny. Although it is not an official bot, this one should be trusted.
How do I add Destiny 2 to Discord?
You'll see the icon for Discord near the top of your clan page; group moderators will find it on the page where they modify the group. Then, proceed to follow the instructions provided through the interface of Discord. Note: In order for it to be completely functional, you will need to add both the webhook and the bot.
How do you use Charlemagne on Discord?
In the message line of a Discord server that supports the Charlemagne Slash command set, type a forward slash (/). Charlemagne Slash commands can be activated in certain channels.
What is a Warmind cell Destiny 2?
Warmind Cells are orange orbs that can take damage before exploding in a catastrophic manner when they are finally destroyed. If you have a Warmind Cell mod mounted on any piece of armour, certain weapons, such as the Seventh Seraph and the IKELOS, have the ability to generate Warmind Cells.
Was this article helpful?