If you don't want to be part of a Discord server anymore, you can leave the server to stop talking to it. We'll show you how to do this on desktop, on the web, and on your phone in Discord.
As soon as you leave a server, Discord stops sending you messages from that server. You also can't post messages in that server, and it will disappear from your sidebar.
Discord is home to a wide variety of servers, which can best be described as online discussion forums. You have the option of either creating your own server or joining another server by following the invite link provided.
After joining a Discord server, you are allowed to quit it at any time even though you are already a member there. You do not need anyone's permission to leave; all you have to do is get up and walk out the door. In this tutorial, we'll go through how to leave a Discord group without anyone noticing, as well as whether or not this is even possible. And how do you do it? Let's get right in.
10. Leave a Discord Server on Desktop or Web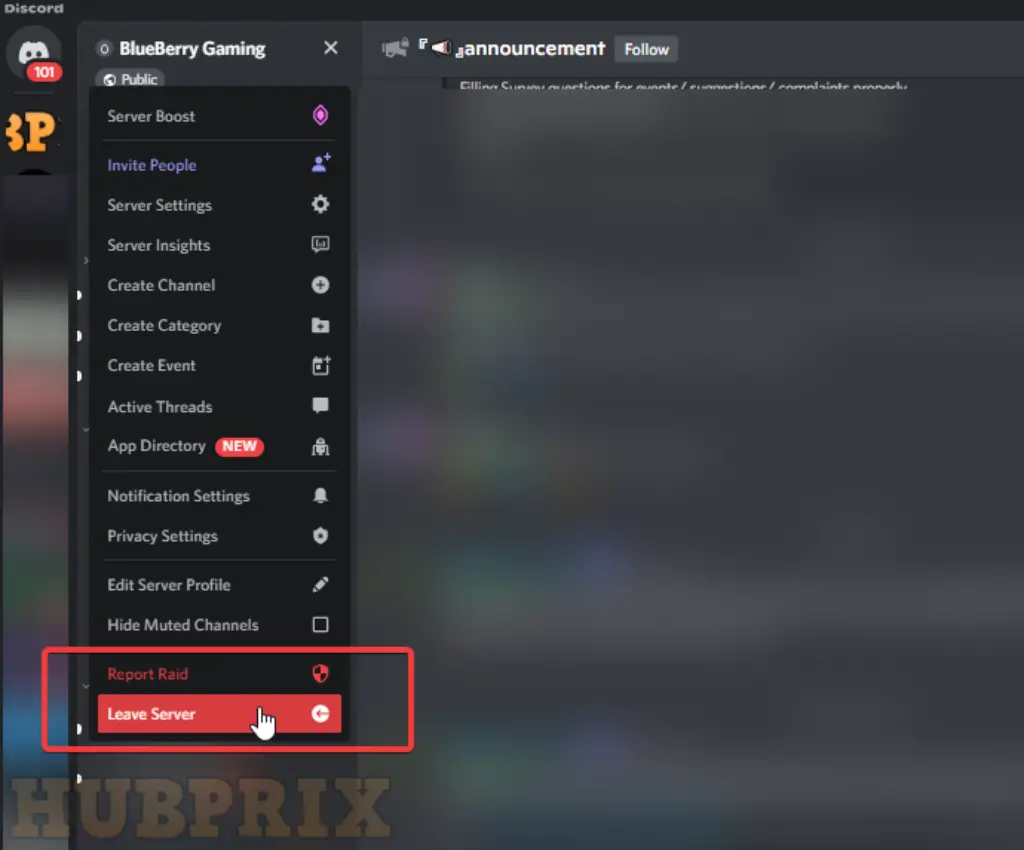 You can leave a server on a Windows, Mac, Linux, or Chromebook computer by using the Discord app or the web version of Discord. Both the app and the web version of Discord have the same steps for how to use it.
Step 1: Launch Discord on your computer as a first step. Then, choose the server you want to leave from the list on the left.
Step 2: The page for the chosen server will open. Click the down-arrow icon next to the server name at the top of this page.
Step 3: When you click the down arrow icon, a menu will pop up. From that menu, choose "Leave Server."
Step 4: A message saying "Leave" will show up. Here, you can confirm your choice by clicking "Leave Server."
Step 5: So, that's it. You have quit the server you chose, and it will no longer show up in the left sidebar of Discord.
9. Leave a Discord Group Chat Without Anyone Knowing
It is possible to leave a Discord group without anyone being the wiser, but doing so is not simple. When you leave a group in Discord, every member of the group receives a message informing them of your departure. However, you can get around this restriction by leaving the group when it is no longer active or by blocking all of the members of the group before you leave.
There is, of course, a button that you may click in order to leave a Discord group at any time, and you are free to do so. You are able to leave the Discord group covertly without anybody being the wiser if you aren't actively participating inside the group or if for whatever reason you want to leave but don't want to appear impolite to the other members of the group.
8. When the group is not actively engaged, limit your activity and depart
It's hard to leave without setting off an alarm in the Discord group, but you might be able to if you move slowly and don't draw attention to yourself.
If you're an active member of a group, you can't leave without someone noticing because they'll always feel your absence. If you don't want people to notice, that's not a good time or way to leave the group.
So, cut back on your group activities slowly. So, everyone will think you're not as involved, and when you leave the group, they might not even notice.
People who talk to you often or check the group members often are the only ones who might notice.
You have to look at it when you're online, and you should also look at the group messages before you leave. Don't leave when the group is busy and people are chatting or talking about something. If you leave at that time, everyone who is reading messages on the group will see the update from Discord.
But if you choose a time when the group is less active and you also do less, when you leave at the right time, when the group is not active, no one might bother to check.
So, another smart move is to leave as soon as someone else does. Then, if you see that someone just left and the group is still active, you can do the same, and if they've already checked the user who left, they might not notice you did too.
7. Change Your Profile Picture & Username
If you're a well-known member of the group, everyone will remember who you are, so when your username leaves the group, they'll know it's you.
So, just like you can get less attention when you do less in a group, you can also get less attention when you leave by changing your username and profile picture or avatar.
If you want to leave in this way, you need to take care of a few things as well. The first step could be to do everything in the first suggestion and then do nothing to get people's attention away from you.
Once you're not using the site anymore, change your username and password. Then, make sure no one knows you're the one with the new username.
When you change your username, Discord doesn't tell anyone, so you're good to go.
After adding a new profile picture, leave the group before sending a message with the new username. Members probably won't connect the new username to you and won't pay any attention to it when they see it (works in a group with many users)
But even if you change your username, people can still find you with your ID. So, if you don't stay still and wait until the group isn't as busy, someone might scare you.
And if someone uses your ID to find out who you are now, they might figure out that you just left the group.
6. Mute / Forget the Discord Group
If you're thinking about leaving the group because it's too busy and you get too many notifications on your phone, you don't have to.
Instead, it would be better to mute the group. So, you won't know when a message is sent to the group, and you don't have to open it if you don't want to.
It also helps you come up with a plan B so you don't have to leave the group. If you mute it instead, you'll still be able to see what's going on in the group, but it will be like you're no longer a member.
If you don't do anything in the group, the other people will forget about you or even think you're no longer there (well, until they check and find you still in the group)
When you mute the group, you can also save important files and messages. You can go back to the group and find and use any file or message you need to check or reference. So, you won't lose anything by staying in the group instead of leaving, which would likely lead you to delete the group as well.
When you mute a group, you can still see it on your list of groups every time you're on the platform.
Every time there's a new message on the group, it will load and refresh to the top list, just like every other group. But you won't get any notifications on the app or in your notification panel, so it's a fair trade.
5. Create a New Account Forget your Old Account
You can always use the fact that Discord is fun when it's busy and sad when it's not to your advantage. If you don't do anything on the group, no one checks it for new messages, and there aren't any members who always look at the group members to see who's left.
Also, if a group isn't doing anything, you don't need to stay on it, so you can ignore it and work on other groups.
But if you still want to leave the group even though you haven't heard anything about it, you can make a new account and delete the old one. Anyone who doesn't care about their account and doesn't mind making a new one can use this method.
But, like the other suggestions, you should take your time before you close your account. If the group is already dormant, it's easier because you can just stay dormant and start a new account where you can join new groups or do whatever you want.
But if the group is active and you are one of the most active members, it will seem strange if you stop responding to messages all of a sudden.
If other group members don't tag you in messages, they'll send you private messages to see how you're doing.
So it's a good idea to slowly stop participating in the group for a while. As you do less, you'll get less attention, until no one notices your username anymore. Then, you can make a new account and leave the old one in the group without any activity.
4. Archive the Discord Group
You may not feel comfortable muzzling the app group by yourself, even though you probably don't want to see or talk to the group much anymore. But since you might need the group files, messages, and other important information in the future, you can keep the group safe by hiding it.
It works the same way as not taking part in the group. So, if you are an active member, you must follow the same steps we talked about earlier to stop being a member.
But once you're sure that no one will bother you about your drop-in engagements, you can archive the group and keep everything safe behind the secure server of Discord.
If you ever want to join the group again and are ready to do so, you will check the archive and unarchive it. While you're away, Discord keeps updating the group, so when you unarchive it, you won't have to reload all the messages and media that have been shared so far; they'll already be there.
Also, archiving the group is better than muting it because it does more than just what muting does.
You won't see the group every time you log into Discord. Instead, you'll only see the groups you want. Any updates you put in the archived group stay there until you want to open them.
But remember that if the group isn't doing anything, this is the same as leaving, and if it is, it won't help much. So, if you want to archive the group, either you or the group needs to be inactive.
3. Disable Discord Group Notifications Entirely
If you can't leave without Discord telling other people, you can make it look like you've left by simulating the process. When you turn off all notifications on Discord, that's what you get.
When you stop getting messages from a group, you will soon forget that you used to be a part of it. If your only goal is to leave the group, this won't help much, but it will stop you from getting updates from the group or any other Discord group.
Some users don't like Discord groups and only joined because they had to, not because they love the platform. So, if you don't like any of the groups you're in, but you have to stay in them because of rules or procedures, you should leave.
Then, by all means, you can turn off all notifications from Discord on your device. So you don't know when someone sends a message to the group or when any of the groups you joined have news to share.
You can also turn off notifications with DND mode if you can't stand getting messages and calls all the time in a group.
2. Delete the Discord App Entirely Forget it
You could also get rid of Discord from your device completely. If you don't notice a difference when you don't have Discord, there's no need to tell people about your departure. If you delete the app, you won't get any more updates or notifications, and members won't be able to send you direct messages (DM).
But you'll still be in the group even if you delete the app from your device. So, you aren't really free until you leave the group. So, deleting Discord only removes the app from your device and disconnects you from the server.
Then, if you want to go back to Discord, you can download the app or software and sign in. All of your groups will still be together, and you'll be able to do everything you could before.
So, you can also use this option if you want to take a break from the app and keep things quiet until you're ready to get back on track.
1. Tips On Trying to leave Discord Group Ethics
Since you can't leave a group without anyone knowing, you'll still be able to leave the group and use Discord normally if you know how to do it properly.
There are many nice ways to leave a group chat. You should choose the one that sounds most reasonable and believable.
1. "I don't have much space, and this group chat is taking up a lot." This works well if there are a lot of videos and photos being sent in the group. They'll think it's a real reason, and it'll look better than just leaving the group suddenly.
2. You could also add that you've tried to delete a lot of videos and photos from your camera roll, but Discord is still taking up the most space and this is the only active group chat you have on Discord.
3. "I have a data limit, and Discord is using too much data too quickly." This gives them a real reason: Discord is using up your data too quickly, and you need to leave to stop it. But, of course, you could also say that you'll join the group again when you have more information.
4. "I'm trying to spend less time in front of a screen" is a good reason to leave a group chat because it's something that most people want to do. They'll know that reading and responding to group chats takes a lot of time and can be very distracting, so getting out of them will give you more time.
5. "I'm studying and need to get rid of distractions." If you're in a time of your life when you have exams coming up and the people in the chat know this, they'll understand why you need to leave the group chat to get rid of distractions.
Most people who have exams have to study hard for a set amount of time before, so if they know how hard things are for you, they'll understand.
Was this article helpful?