If you are a Gamer and you haven't heard about CSGO A.K.A Counter Strike Global Offensive then I am offended by you.
Anyways Jokes aside, this article is about LootBear review, and Yes, I have been using it for more than 3-6 months now.
First I will tell you why I am using LootBear
I love My CSGO Skins
I Don't Wanna Sell My CSGO Skins
I want to Earn from my CSGO Skins
From the above points, one thing is common, "Money". So today, I am bringing you a site called LootBear, which is a very popular trading platform for gamers, especially for in-game items trading and from this site you can also earn money online without having to do anything.
Is the Website Legit?

Yes, The website is Legit. I am clearly this question in the very beginning as obviously money is involved and we always are doubtful when something personal is involved.
What is LootBear App?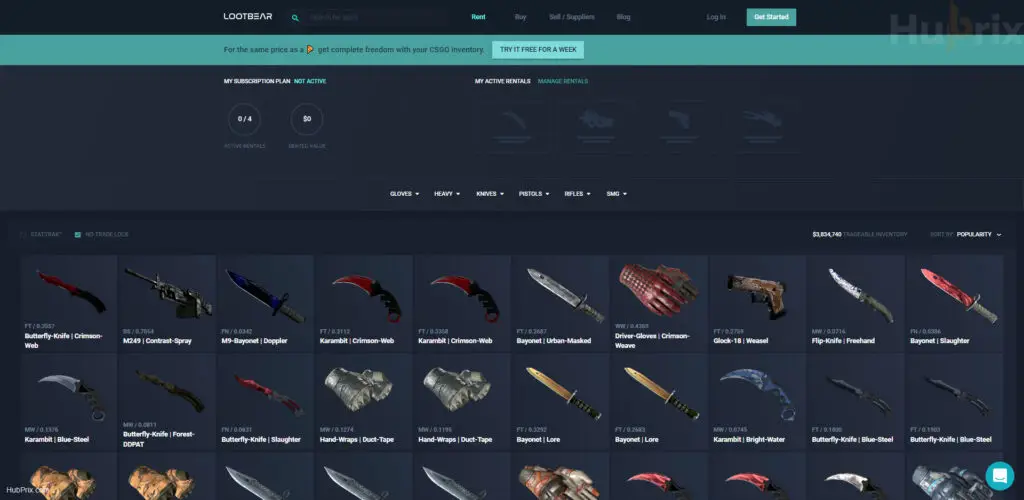 LootBear is a place where you can buy and sell for Counter-Strike: Global Offensive in a safe way. and is a very popular website amongst CSGO Gamers.
The platform was set up on March 1, 2013, which is about 9 years ago. Jimi Gecelter, Or Praiss, and Shai Gecelter run LootBear right now. Its headquarters are in Tel Aviv-Yafo, Israel. The only language the website is available in is English, but the interface is easy to use and has a design that stands out.
Many well-known Content creators use it to sell their in-game items. Lootbear is like a site called CS.Money or BitSkins, where you can rent, buy, or sell CS: GO skins, which is pretty much the same thing expect it offers more amazing features.
Special Security Features:
Special Risk AI: It uses hundreds of signals about each user and payment, as well as data from the network of 100,000+ businesses, which helps to know if the payment is likely to be fraudulent.
Insurance: If any of your things are stolen, you have the safety to get refunded
Identity Verification: You must go through a special identity verification like Social Security, or Passport in order to withdraw premium skins.
History Of Site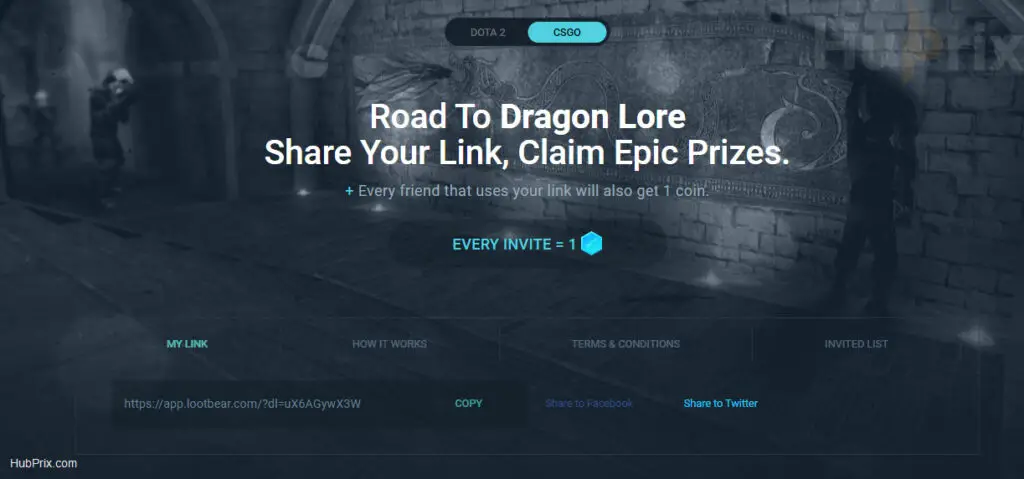 Their is no doubt Lootbear has been legit and one of the oldest third party marketplace for CSGO.
It first opened in 2013, just a year after Valve released the shooter. It's also a unique skin marketplace where users can buy, sell, and rent CS:GO skins from other players.
It has been called "Netflix Of CSGO skins."
TrustPilot Rating & Score

LootBear is soo popular that it has more than 2500+ Reviews on TrustPilot at an average of 4.6 Positive Rating, this is a good indication that the website is legit and user-friendly.
Getting Started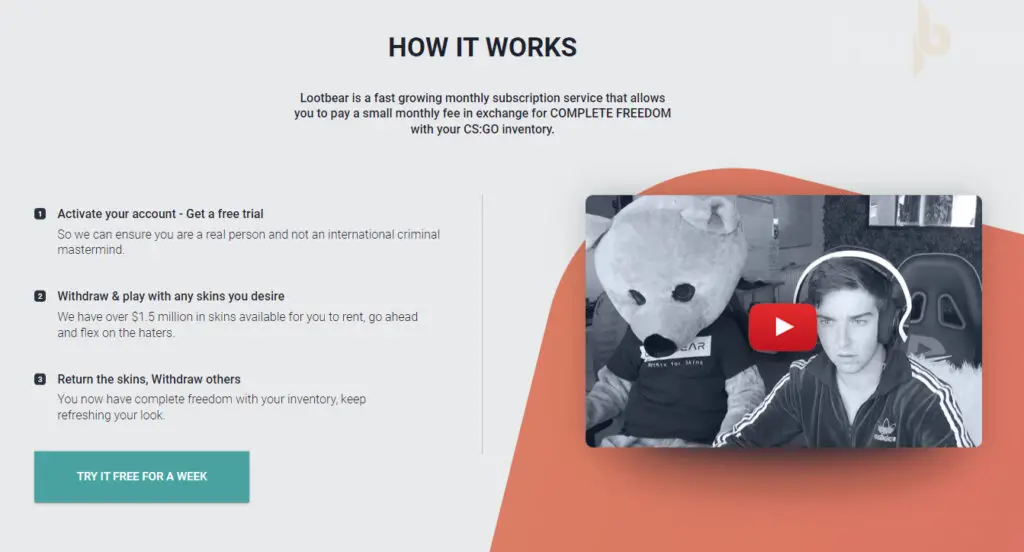 In order to get started, you need to create an account on the website.
They ask you for basic information like: Name, Age, Email, ID, Address, Password.
But yeah you need to link your Steam Account.
After you've filled out your profile details and other information, you'll need to give your PayPal ID in order to deposit or withdraw money.
After PayPal is verified, you can also give your Steam trade link for a better connection from your games.
If you are a buyer, you can just buy their cheapest subscription and rent up to $400 worth of skins for just $15 a month. You can sell as much skin as you can if you are a seller.
Note: Make sure you provide the correct PayPal details, if incorrect you might face a long process & delays to fix the problem (Security Issues)
Payment Methods & Transaction Fees
LootBear lets people sell their CS:GO skins directly to the site for a high fee.
Users who want to sell their skins directly to LootBear will have to pay a fee of about 40–50% of the skin's value. This is quite high compared to most other third-party markets, but it's still reasonable because selling on LootBear is quick.
When it comes to payment method, you have three options:
PayPal: 3% + plus a processing charge of $0.3
Credit cards: 3% + $0.3 processing fee
Cryptocurrencies like Bitcoin, Ethereum, and Litecoin is 10%.

When it comes to Withdraw Method:
PayPal in the only best method, as long as you have at least $20 in your Lootbear account, to rent and buy skins
Or You can transfer money back to LootBear balance, which is not worth it.
Advantages
For a short time, you can play with expensive skins.

Put your skins up for rent and make money.

Excellent place to buy CS:GO skins.
It's the only place where people can rent skins from other players.
If their skins are rented out often, users can get a good return on their investments.
Users who buy a subscription can rent any skin that costs less than $400.

Users can sell their skins right away for cash.

Offers 100% skin insurance, which is the best way to avoid getting ripped off.
Very good tech support and customer service
takes privacy of buyers and sellers very seriously.
You can buy, sell, or rent skins at low prices.
GDPR is followed by the website.
Very easy to understand and use.

PayPal has an easy way to withdraw money.
Disadvantages
When you sell skins directly to the website, you have to pay a high transaction fee.

People can't trade with each other.

Items can't be sold to other users directly for less money.

There are no ways to quit.
At the time of writing, the only way to get cash out is through PayPal.
Skins from other popular games like DOTA 2, Rust, and Team Fortress 2 can't be bought, sold, or rented.
You can only trade and rent CS:GO skins, not skins from other games.

Peer-to-peer trade is not linked together.

You can only make money if you can rent out or sell your skins.

No way for people to trade with each other.
Customer Support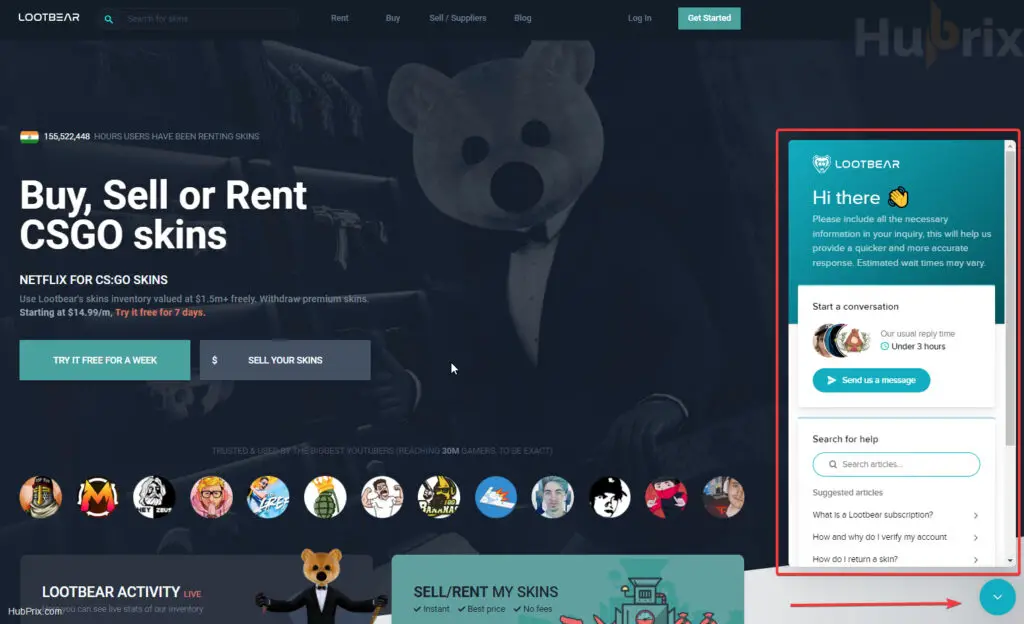 Live chat is one way to get customer service, but it isn't always available. Sometimes, you may have to wait up to 24 hours for a response. You can also send an email to the team if you need help or more information.
Still, the FAQ page is full and has a lot of explanations. If you've never used it before, you should read it first.
If you are still facing any problems, you can contact us as we do have some experience with some basic errors, but do remembers always be cautious of scammers.
Social Media Profiles
Was this article helpful?