adBTC is a Crypto Based Ad Network where you get paid in bitcoin or cryptocurrencies for survey promotion or faucets or via Banners, it has been active since 2006 and it is still one of the best trusted paying crypto Ad networks.
Unlike other Ad networks, where they scam after reaching good customer reach and loyalty, adBTC has been around for more than 6 years now and still paying its users to this date. Any user can join the program and get paid or promote their product very easily.
What is adBTC?
adBTC basically pays you for viewing webpages, it is very easy and simple to understand. There were some scripts and also bots made by users in the past, but later banned from the site.
You can either withdraw your amount from satoshis or use that amount to promote any of your websites or product.
How do you get paid?
You get paid and withdraw your earnings from the website after reaching a particular withdrawal threshold of $5, although you can withdraw less than the threshold limit, in the blockchain world, if you withdraw less than $4, you might earn less due to bitcoin fees, so it will be better to withdraw after reaching $10 or higher.
You can take your withdrawal payment in
Bitcoin
FaucetPay
ExpressCrypto
Payeer
Referral Market
adBTC offers a new and unique feature that has not been seen yet apart from adBTC itself, it basically provides a referral market, which is basically like buying other users' referrals earning, and reinvesting which may sound complicated at first
Say For example:
You have referred 10 users to adBTC and you are earning 100 Satoshis every day, You can sell those 10 Users which you have referred to the referral market at your own rate. This can be risky or have high investment potential, kinda like trading.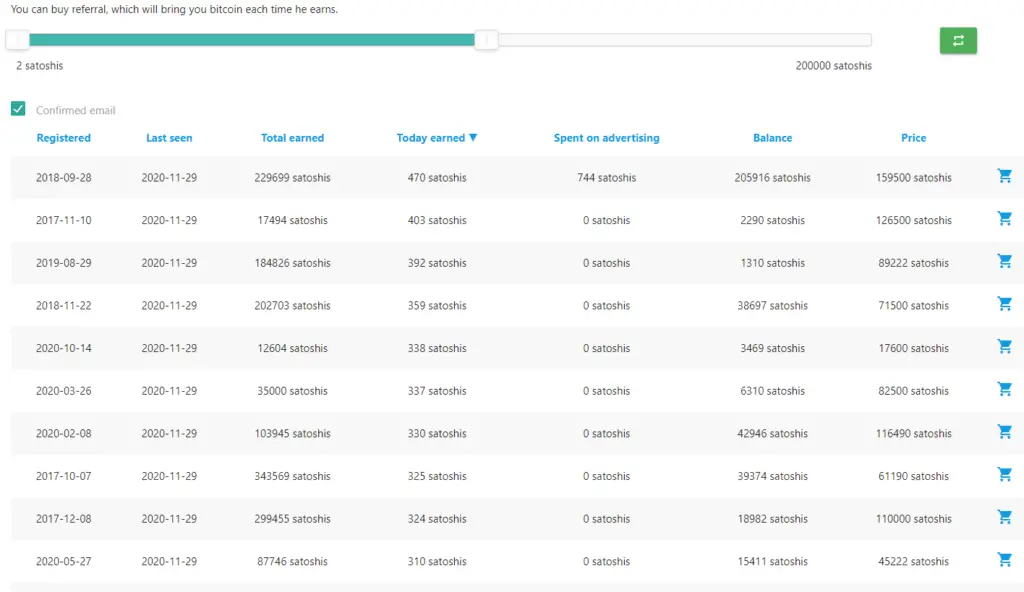 Features of adBTC
Surf Ads in Active Widow
After you click on the link on a new page, it will be opened and a given timer, you must view the ad and interact until the timer stops, in order to receive Bitcoins.
AutoSurfing
View ads back to Back to earn Bitcoins, you can repeat this process as many times a day you like, and this is one of the famous features of adBTC.
Referrals
You can refer users to adBTC and later sell them on the referral market.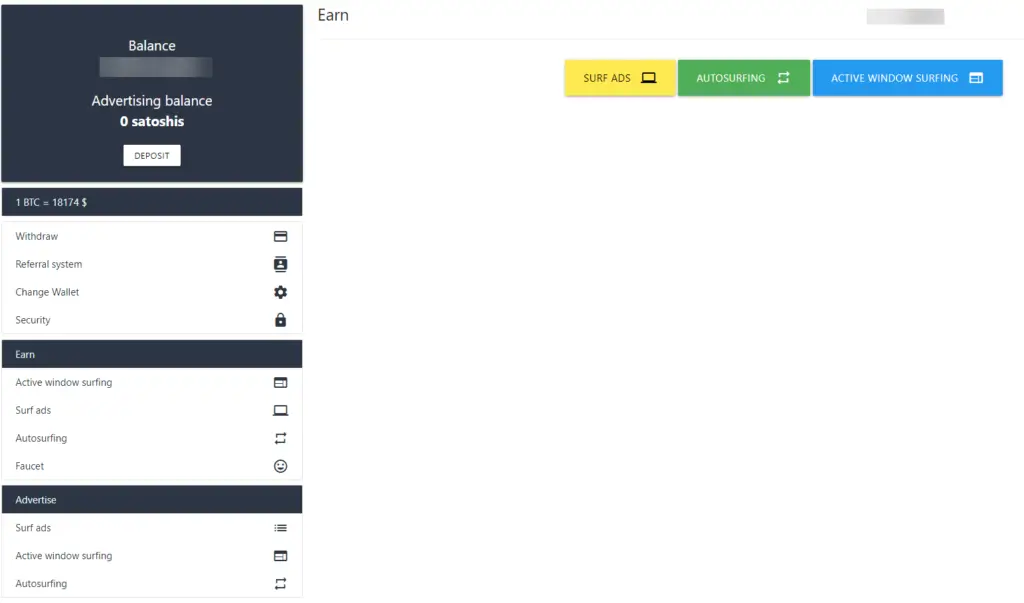 Advertising on adBTC
For Surfing Ads = Price starts at 12 satoshis per click with 15 seconds minimum duration
For Surf in Active Window = Price starts at 20 satoshis per click with 10 seconds minimum duration
For AutoSurfing = Price starts at 6 satoshis per click with 15 seconds minimum duration visit.
Conclusion
The best thing about adBTC is that you can watch and earn as many satoshis as much as you can with the auto surfing feature, and it is easy to sign up and earn. There is no restriction to any country and even the withdrawal process is quick and fast. Hence, it is worth trying.
Was this article helpful?