Bidvertiser is an Ad Network that focuses mainly on banners, pop-under, and slider-based advertising for various devices for publishers and Advertisers. Their ad network can be comparable to ads that Adsense provides and also can be called Adsense alternative choices in terms of how they work providing a mixture of CPC, CPM, and CPA ad types.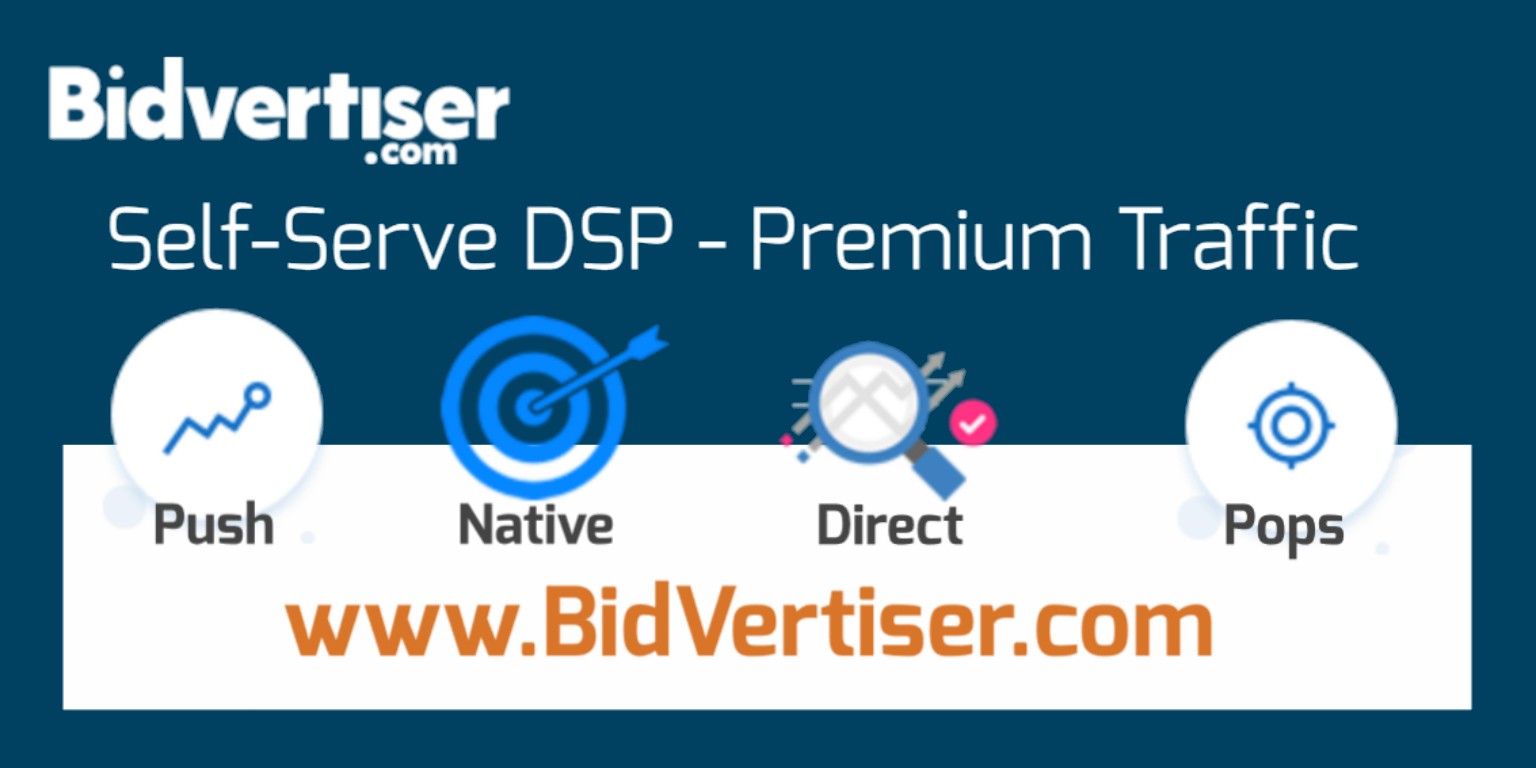 BidVertiser is a first-class, self-service demand-side platform that sends highly converting traffic.
You will find everything you need to turn traffic into money, from exclusive traffic to segmented targeting, different tracking options, and detailed analytics.
The ad network has been around for more than 10 years and continues to be a popular option for affiliate advertisers.
The ad network was made in 2008 to help publishers sell their advertising space directly to advertisers instead of using automated systems.
It was designed from the ground up by a team of in-house developers in Haifa, Israel. This gave BidVertiser full control over their systems.
This meant that they could quickly adjust to what their customers wanted and how the world was changing.
They now serve billions of impressions each month, which solidifies their position as a serious advertising player.
As an affiliate, you may be impressed to learn that the company has more than 1.5 million conversions every month. This is a number that keeps thousands of advertisers coming back every day.
BidVertiser's main office is in Israel, but they also have a support centre in the UK, a data centre in California, and data spread across AWS and Rackspace Cloud.
In this article, we'll talk about BidVertiser's demand-side platform for advertisers, which includes a global network of publishers and is made to help you get more conversions.
Type of Ads
Requirement
As a publisher, if you are interested in joining and applying your website to Bidvertiser, then you can feel free to join right now. As the website has no requirements and even the approval process is automatic and instant.
Traffic – None
Restricted Content – No Adult or Illegal Sites Promotion
Ad Type – Display Ads, Pop-Under Ads, Slider Ads, Desktop and Mobile
Restrictions
Bidvertiser does not allow or accept sites that display adult content or vulgar language, drugs, or adult content. Any site, if involved in hacking, pirating, or spamming content is banned from the network.
How to Get Started on Bidvertiser
As was already said, BidVertiser is a network for instant and automatic approval. It starts with the publisher signing up and filling out the form with information about the website (s). If the website doesn't have any content that is illegal, adult, or stolen, the publisher gets an email right away telling them to start using BidVertiser.
Check out the different ad sizes and types in the dashboard. There are ad templates that help publishers make their own layouts and find the best ad size for a web page. After that, make the ad code and put it in the HTML code of your site so that ads can start showing up.
Publishers get ad points from BidVertiser based on how well their ads do (CTR and conversion). Then, advertisers use these ad points to give the publisher's site a score when they place their bids. In short, a good site means good ad points, which means you can reach advertisers who spend a lot of money.
Frequently Asked Questions on Bidvertiser Review
How much does BidVertiser pay per click?
The cost of a click on a Bidvertiser ad can start as low as $0.05, while the cost of a thousand impressions on a Bidvertiser ad can be as much as $1, depending on the nation and the conversion rate. If you have ads, the amount of money you make per click is determined by the offers made by the advertiser.
How does BidVertiser work?
Ad, pop-under, and slider advertising are the primary objectives of BidVertiser, an advertising network that caters to desktop as well as mobile devices. The advertisements that they run are functionally equivalent to those that Google AdSense publishes in terms of the amount of revenue that they bring in for publishers.
How can I earn from BidVertiser?
After you have added the advertisements to your website, BidVertiser will pay you a commission only when a user clicks on one of the advertisements (CPC), views the advertisements for a predetermined amount of time (CPM), or completes a conversion such as a signup or a sale (CPA), among other actions.
Was this article helpful?