The operation of BitMedia is comparable to that of other advertising networks in that users pay the company to have their advertisements shown across the network and then receive traffic to those advertisements. One of the things that sets BitMedia apart from its competitors is the fact that it only accepts payments in bitcoin.
For instance, you would put money into the platform using bitcoin, and you would withdraw it using bitcoin as well. When a user navigates to a website that is part of the BitMedia advertising network, the engine behind the firm will select the advertisement that is most pertinent to the user's interests.
While the page is loading, the engine will check a number of parameters, including the advertiser's bid, the visitor's interests and preferences, the topic of the website and the publisher, and the topic of the advertisement. Only then will the engine decide whether or not to show the advertisement to the visitor.
Crypto Advertising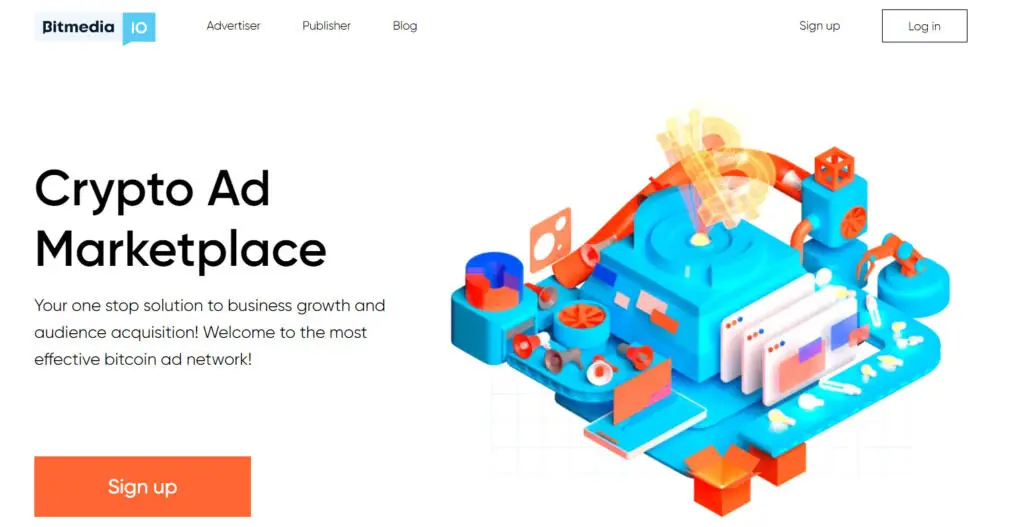 Do you want to reach your target market and advertise your business in the best way possible? Then all you need is Bitmedia. With Bitmedia's low-cost solutions, it's easy to grow your business. When you use the ad services that Bitmedia gives you, you get a lot of bitcoin traffic.
Traffic and leads of high quality
Bitmedia makes sure that you get traffic and leads that are good. When you work online, high-quality traffic is what will really help you grow. So, if real people visit your site, your business will grow a lot.
Ads That Work
This advertising platform is also great because its ads are very affordable. For the ads, you don't have to pay a lot of money. The ads are cheap and easy on the wallet, which makes them more attractive.
Helpful customer service
Strong customer support is one of the best things about any platform. There are times when you need help right away. At this point, you need a strong team of people to help you and point you in the right direction.
Options for Targeting
Bitmedia also gives you different ways to target your ads. This is really cool because it lets you target the kind of people who are more likely to buy from you. With these targeting options, you can also easily narrow down your audience to a specific niche.
Tracking and managing
The fact that you have full control over the ads is one of the best things about Bitmedia. You can get all of the information you need. Every click source is easy to track and manage.
Ad Network for Publishers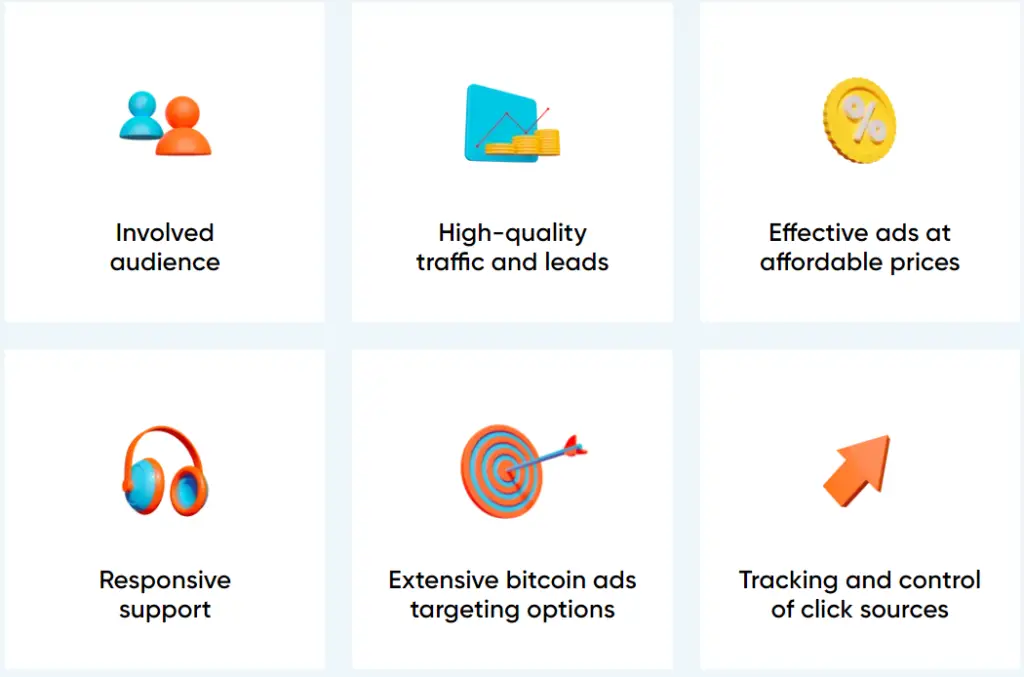 Bitmedia is also one of the best advertising networks for publishers. This is because it gives you a way to make money that is very safe and open. Bitmedia is great because they make sure that only the right ads are shown.
A lot of people and money
Bitmedia gives you a chance to make more money from your bitcoin ads. You will get some of the highest commissions on the market, which is great for publishers.
Instant Payments
One of the best things about Bitmedia is that you can get paid right away. If you want to get your money back, that's easy to do. Any of the bitcoin addresses you give can be used for the withdrawal.
Banner Integration
The banner integration tool that Bitmedia gives you is very easy to use, so you can start making money from your websites in just a few minutes.
Requirements
The sites  must not
Have made for the advertising purpose. This ad network loves content-centric sites.
Have hosted on free hosting platforms like Blogspot or Tumblr.
Promote illegal activities
The publishers must not
Click on their own ads
Offer gifts or money to visitors to click on ads.
Use bots or software to manipulate clicks
Multiple Ad Formats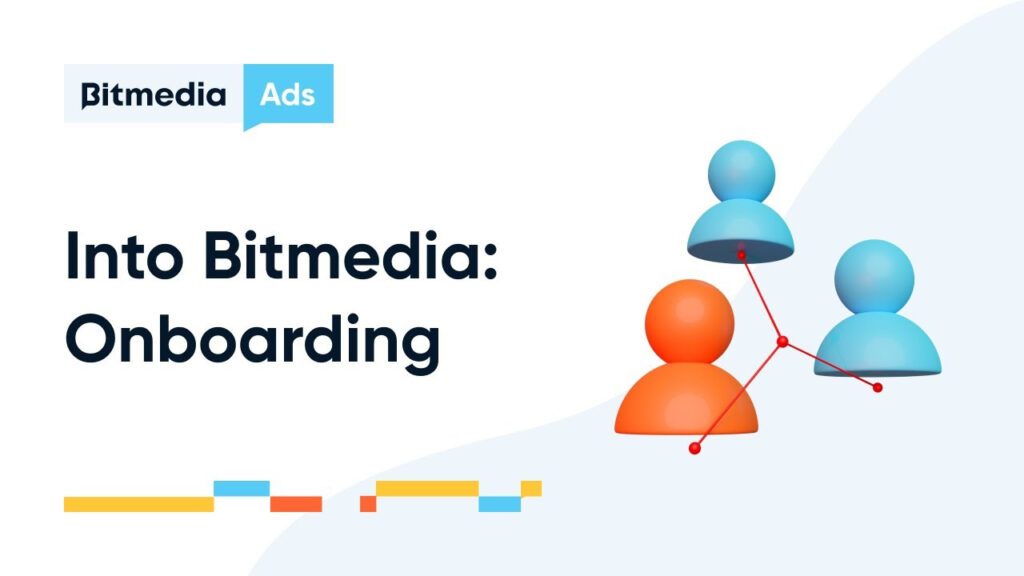 Bitmedia is a great platform that gives you a wide range of ad formats. Bitmedia is the right platform for you if you want to make ads that work. Some of the types of ads that Bitmedia offers are:
Text ads are the best way to get your message across in a clear and simple way. In these ads, there is a button and bitcoin banners that get people's attention.
Responsive Ads: If you want a more personalised experience, responsive ads are best. You can change the crypto banner to fit your brand. You can use your brand's logo and an image to make the banner look more interesting.
Image Ads: As the names suggest, these ads use pictures to get their messages across. It's also a very simple, but very effective, way to advertise.
Ads in HTML5: Bitmedia also gives you the chance to use HTML5 ads if that is what you want. You can also make ads that can be played, which are a great way to get more people to sign up.
Conclusion
Advertisers, publishers, and enterprises all have access to an extraordinary chance to expand their operations as a result of Bitmedia.io. Their advertising services are extremely reliable, and they also offer excellent support to their clients.
They offer a variety of formats for advertisements, allowing you to pick one that best suits your requirements. Joining the platform is a breeze, and configuring the advertisements takes no more than a few minutes at most. You will receive reliable payments from Bitmedia in addition to high-quality traffic from their platform.
This is an incredible platform, and every cryptocurrency business that wants to expand their operations should use it. They offer high-quality services at prices that are easy on the wallet. If you are seeking for the very finest crypto ad network, then Bitmedia is most certainly one of the very best options for you to consider.
Frequently Asked Questions on Bitmedia Review
What is Bitmedia?
Bitmedia is a cryptocurrency advertising platform that provides advertisers with many options. High-end publisher placements, giving you maximum control over the locations at which your advertisements are seen. Include the sources that have given you the greatest results. Models of pricing that are flexible—CPC or CPM, it doesn't matter!
Is Bitmedia legit?
The fact that 13 consumers have given Bitmedia a rating of 5 stars indicates that the vast majority of those customers are pleased with the products they have purchased. When compared to other advertising sites, Bitmedia comes in at number 24.
Was this article helpful?