Tower Of Fantasy is currently offering free Discord Nitro to its player base, along with few in-game items. As a Discord Nitro user, you can claim a Tower of Fantasy avatar gift pack. But wait, it gets better. As if you don't currently have the premium service, you can claim Discord Nitro for free for a month if you play the new MMORPG – a generous collaboration, one that's worth taking part in, if we do say so ourselves.
How long is the Free Discord Nitro Campaign Of Tower Of Fantasy?
Starting from August 11th, 2022 (2:00am GMT) to November 8th, 2022 (8:00pm GMT), Tower of Fantasy players can claim 1 month of free Discord Nitro. Make sure you read the terms and conditions, understanding the requirement before joining in the field.
Tower of Fantasy is already taking the world by storm, and is certainly proving to be a true Genshin Impact rival just a couple of days after its global launch. The multi-platform MMORPG is full of bustling content that can keep even the most seasoned of travellers busy for quite some time. Not only that, but the ToF launch event is one of the most generous we've ever seen in terms of events and freebies that you can grab. For instance, you can get the pre-order bonuses for six months after the game's release, alongside an assortment of gifts such as rare weapons. However, a Tower of Fantasy Discord Nitro collaboration means that subscribers to the service can get even more rewards.
[wpsm_woobox id="3906″]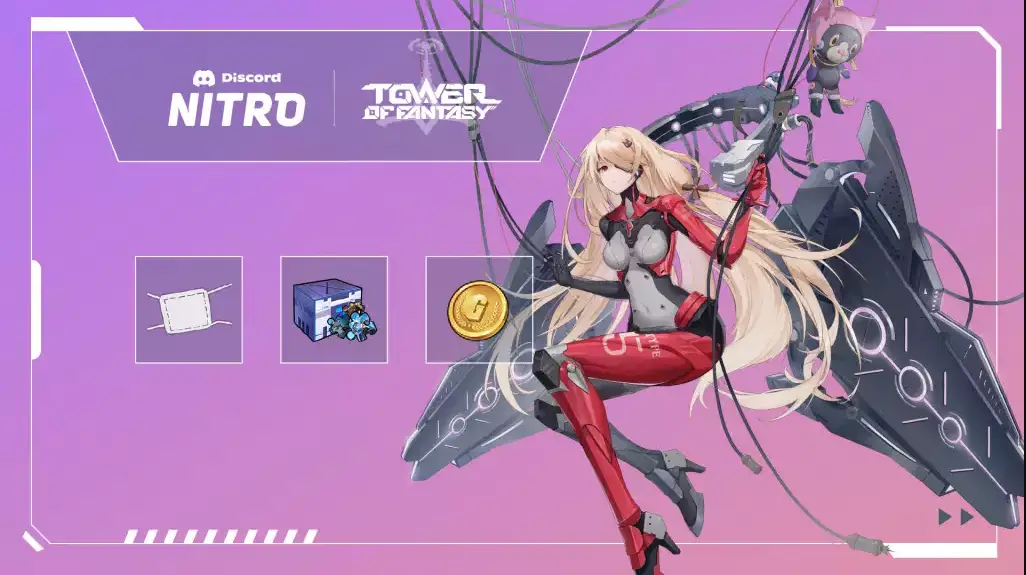 How to Claim Discord Nitro From Tower Of Fantasy?
All you need to do to claim the free Discord Nitro is play Tower of Fantasy and reach level 6 and you will receive your Nitro offer. After you receive the Discord Nitro code head to your Discord account and redeem the code from the Discord Gift Inventory.
Note: This promotional offer is only valid for new Discord Nitro users only, meaning users who have Discord Nitro prior won't be able to claim this offer. Although you might share your code with others who haven't used Discord Nitro yet. The offer will be running till November 8, 2022.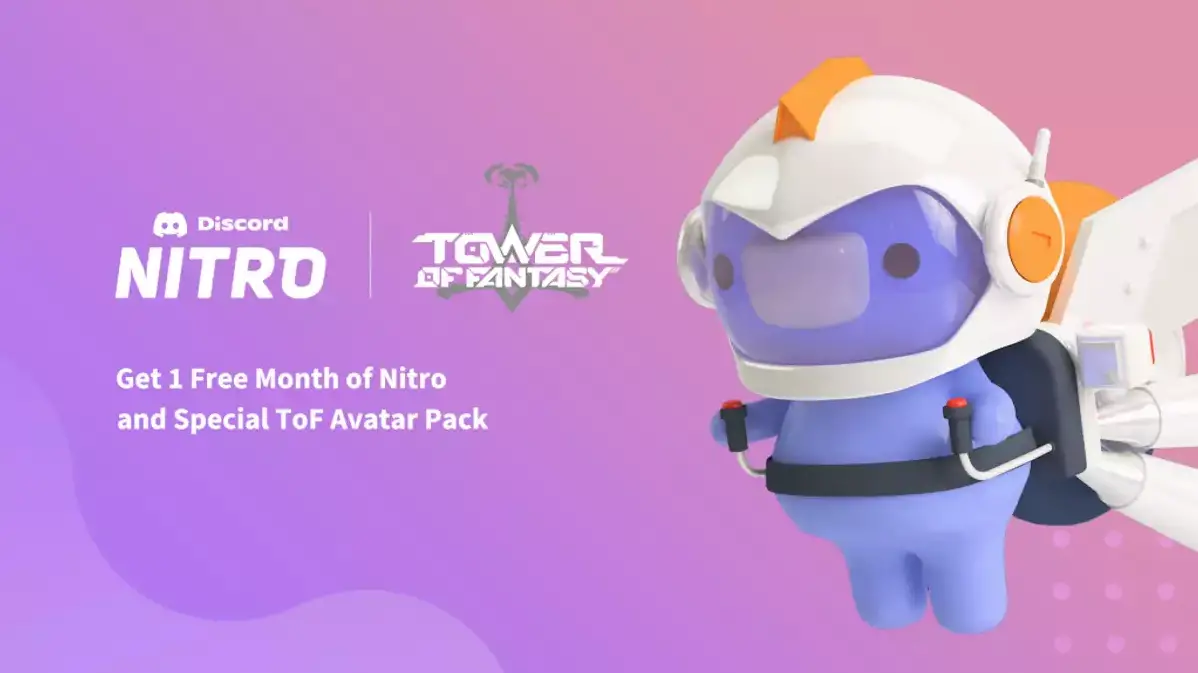 How to Claim Free Tower of Fantasy In-Game Gift Pack?
Hotto Studios is also offering a free Tower of Fantast in-game gift pack to existing Discord Nitro users as well. Even the Nitro Classic owners cannot claim this offer.
If you are an existing Discord Nitro user then, follow these steps to get free discord nitro for one month and the Tower of Fantasy in-game gift pack:
Login to your Discord account in which you have subscribed to Discord Nitro.
Once you log in you will see a notification at the top 'Hey, you have something waiting for you in your inventory! Don't forget to claim it before it's lost.' click on the "Take me there" button.
Or you can directly go to User Settings, and then select the Gift Inventory tab.
Claim the Tower of Fantasy Gift from the Gift inventory and you will receive the redemption code.
You can use this to redeem the Tower of Fantasy in-game gift pack.
Launch Tower of Fantasy and open the chat window and take cursor control.
Open the shop and go to the rewards section.
Click on exchange and paste the redeem code from the Discord Gift inventory and press confirm.
You will receive the free Tower of Fantasy in-game gift pack or your in-game mailbox.
To claim this gift reward pack you have to be active Discord Nitro user meaning can be either a monthly or yearly Nitro subscriber. Users who are using the free Discord Nitro might not be eligible for the offer.
[wpsm_woobox id="3906″]
Was this article helpful?