AdGuard is one of the most popular ad blockers in the market with over Million downloads, which is designed to block ads, pop-ups, banners, and various unwanted ads on a webpage and browsing safely and securely.
AdGuard is a premium service that has been around for years and blocks ads and tracks. The company protects up to five devices with features like ad blocking, anti-tracking, malware protection, filter list updates, and more.
Their software that blocks ads doesn't have any spyware or viruses that could hurt your computer. With AdGuard's all-in-one features, you can get the best security on the internet without worrying about what might be on other sites.
AdBlocker has a version for desktop and mobile users, with regular updates and sliders to enable and disable the app which is pretty simple and easy of use. The setup of this software is very simple, AdGuard can also create, edit, and add filters for particular sites where the tracker can be enabled.

Features
Silent Mode – It helps prevent trackers of users' online activities from hackers, botters, spammers
Parental Control – Helps in controlling and restricting children from visiting unwanted websites or installing any malware.
Ad Browsing security – Protect users from the collection of data that is sent to advertisers sometimes malware can also be installed, creating protection from these problems.
How does AdGuard Work?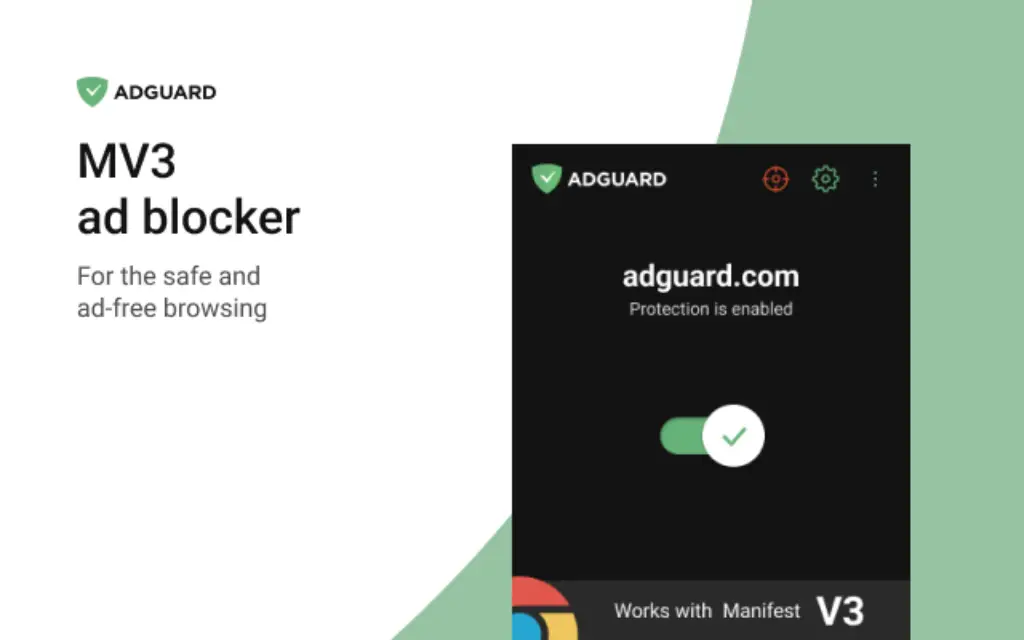 Ad-blocking technology is not new; it has been around for a long time. AdGuard is different because of how well it works to block ads.
AdGuard starts by scanning your browser and finding all of the ad-related parts that are loaded on every page you visit, such as scripts, images, CSS files, etc.
It then looks in its database for filters that match these things. For example, there are filters for tracking scripts, ads, and pop-ups.
Once AdGuard has found the right filters, it will make a list of rules to stop those elements from loading in your browser. This means that any ad on the page you are looking at will not load at all.
Many different kinds of ads can be blocked by AdGuard filters. Adguard has a lot of different filters, some of which were made by the company and some by users.
Depending on which AdGuard product you use, there are different ways to block ads. Extensions for browsers rely on the filtering tools that are already built into the application. AdGuard for Windows, Mac, and Android works separately from your browser and uses a different algorithm to filter ads.
Conclusion
This software is very useful for users who want to protect their data from advertisers or crypto ad jackets, for further protection from the dark online world. Incase, you are using torrent then this software can help you a lot.
Frequently Asked Question On AdGaurd Safe?
Is Adblock AdGuard safe?
Although I wouldn't suggest using Adguard in place of dedicated security software, the programme does make your time spent online safer because it can prevent dangerous attacks by preventing adware advertisements and other potential risks from loading in your browser or other programmes (depending on the AdGuard product in use).
Is AdGuard a Russian company?
In 2009, AdGuard Software Limited was established in Moscow as a company. AdGuard Software Limited's products were made available in Cyprus in 2014, which is also the year that the company established its headquarters there.
Is it safe to use AdGuard VPN?
Yes! AdGuard VPN provides exceptional protection in addition to lightning-fast connections. Your VPN traffic will appear as if it were just regular browsing thanks to the company's proprietary VPN technology. AdGuard VPN is now a full geo-unblocking powerhouse as a result of this (from Netflix US to censorship in China).
Does AdGuard block all ads?
AdGuard is the most efficient ad blocking extension available, as well as the quickest and lightest one. It prevents all forms of advertisements across all websites.
Should I trust AdGuard?
AdGuard is exactly what it claims to be: a well-respected privacy and security firm that puts in a lot of effort to protect users from some of the less desirable aspects of online life. Some people may question whether or not the company can be trusted, but looking at the evidence, it is obvious that AdGuard is exactly what it claims to be.
Is AdGuard Safe 2022?
Regarding the protection of your DNS settings, AdGuard is a good choice. On the other hand, it consumes a significant amount of storage space on the device and does not permit "acceptable adverts," which prevents tailoring. To prevent people from accessing their content who make use of ad-blocking software, publishers employ anti-adblocker detection techniques.
Was this article helpful?