BigMarker is a powerful webinar tool that was made to help people learn and share. It can hold as many as 1,000 people. Screen sharing, recording, and audio conferencing are some of the most important features. In addition, you can add a Twitter chat to your live webinar.
BigMarker has bulletin boards, the ability to share your desktop, and a community calendar. The tool is well-known for its ability to let people sign up for events. This comes with email invitations and a page for meetings that you can change to fit your needs. This is not a secret in the world of event apps. Most tools for webinars do the same things. On this level, BigMarker just does an okay job.
Features
BigMarker's full-featured webinar hosting services let you host webinars and other online events from a web browser, without requiring your attendees to download software or plugins. The best way to make an aspirational virtual event is to use BigMarker's leading live video platform. Plan everything about the live event, from how the panel discussions look to the call-to-actions and interactive Q&A sessions.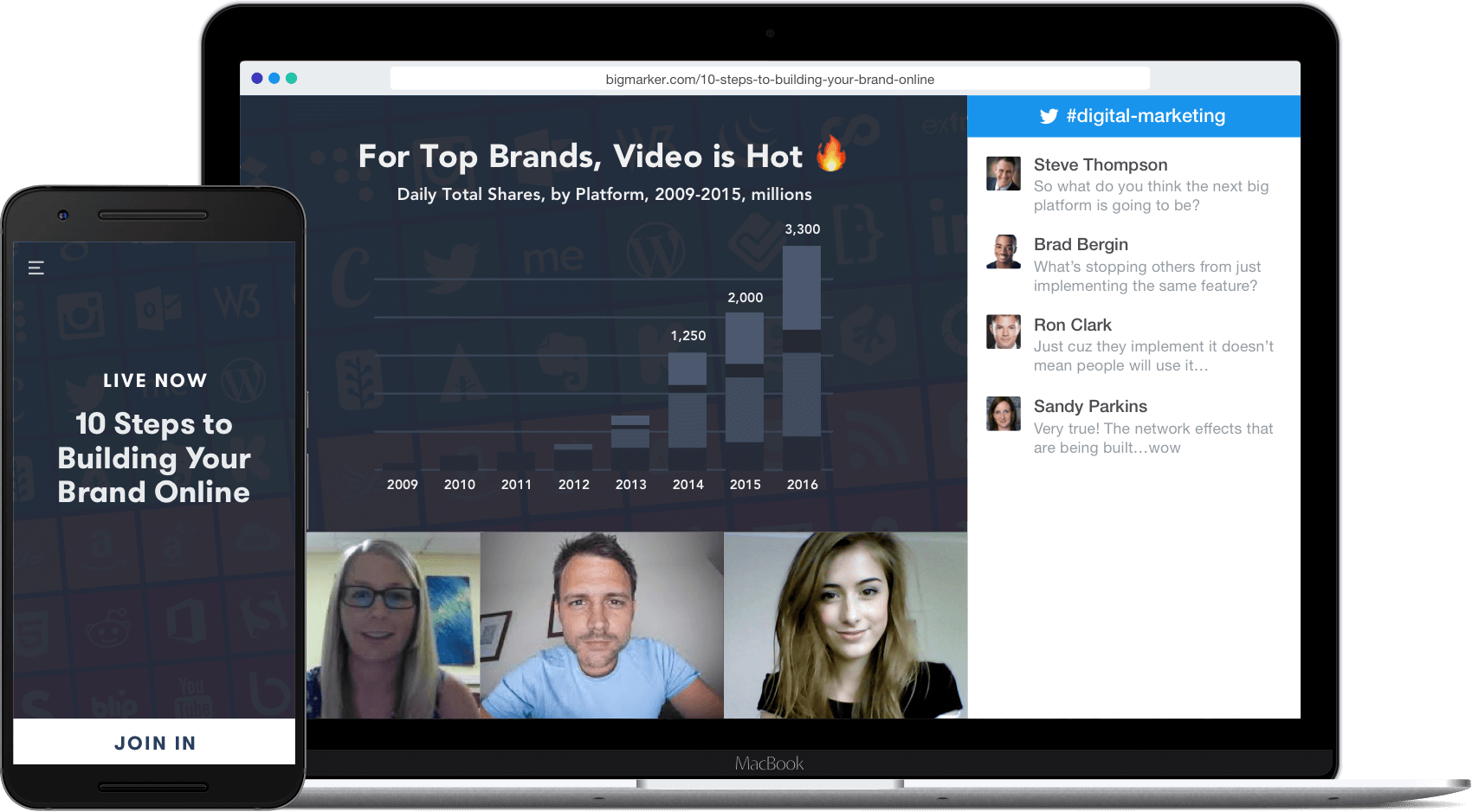 Event Management
The tool allows invitation sending through Outlook. Plus the chance to promote webinars via social media.
Each webinar has a landing page for registration and marketing. The designed landing page templates are a good starting resource. The templates only support limited colors and themes.
Branding
During this BigMarker review, we found the tool to offer branding. You can add company colors and logo to your webinar. This helps your webinar remain consistent with your brand and business website.
Whiteboarding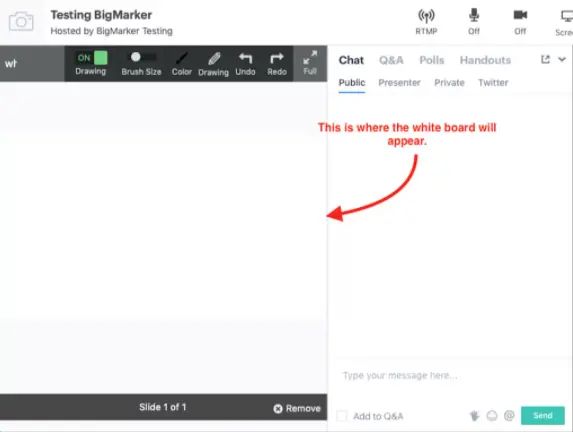 Capturing Data
As with other registration set-ups, you can choose the data to collect. This data can then be sent to other marketing tools. BigMarker has some good lead generation features. Plus the ability to integrate with CRM and marketing tools. This makes it useful for a broad range of webinar marketing tactics.
Types of webinars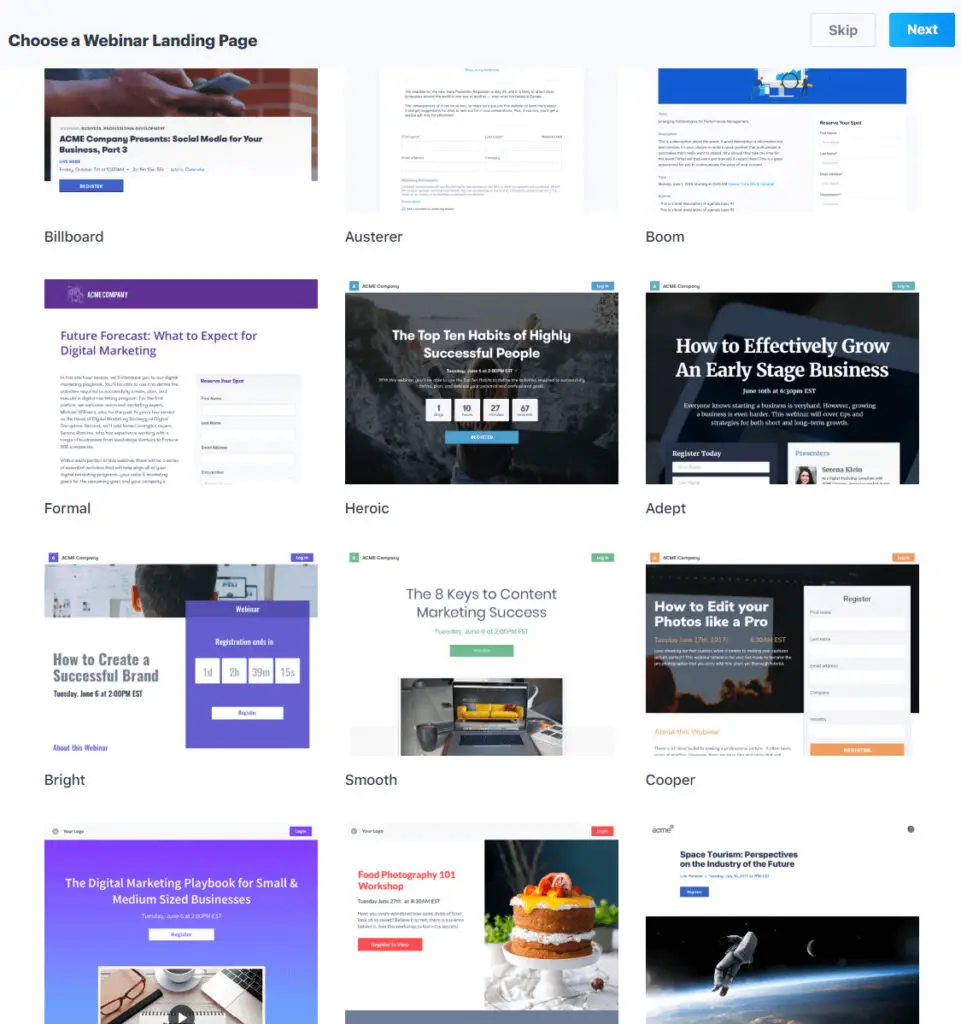 BigMarker lets you set up different kinds of webinars when you click "Create a new webinar."
If you do weekly webinars that are a lot like mine, you can just click "Copy webinar," and it will make a copy of your webinar with all of its settings and data.
In any case, these are the kinds of webinars that BigMarker has.
Live webinar: This is the type of webinar I use most often. I host weekly webinars. Once a webinar is over, I'll copy it and change the date to the following week. I always do live webinars because they are more likely to lead to sales.
Summit or series: If you need to give a series of webinars to your customers, you can use this type of webinar. This is part of my ongoing LIVE mentoring programme.
On-demand webinar: You can put these webinars anywhere on your websites and watch them at any time.
Live stream: With this type of webinar, you can stream it to Facebook, YouTube, and other video streaming sites.
Automated webinar: With automated videos, chats, polls, and offers, it lets you simulate a live webinar event.
Evergreen webinar: This lets you set up webinars that run automatically all the time.
24-7 webinar: This will be a webinar room that is always on. Any time is good for students to join. This webinar type is for you if you run a school with teachers all over the world and students who can join at any time.
Frequently Asked Questions On BigMarker Reviews
Is BigMarker com legit?
A single webinar or a whole series of webinars can be easily and successfully hosted using the BigMarker platform. Businesses who are concerned with thought leadership, training, and engagement are good candidates for using the platform because it enables the creation of channels and features all webinars within those channels.
What does BigMarker do?
BigMarker is the most customisable platform in the world, making it ideal for use in webinars, virtual events, and hybrid gatherings. We produce one-of-a-kind branded events by combining sophisticated marketing and interactive experience capabilities with cutting-edge video technology that enables us to create captivating video content.
Where is BigMarker located?
The headquarters of BigMarker may be found in Chicago, Illinois, in the United States.
Who owns BigMarker?
BigMarker.com was started by Zhu-Song, who also serves as the company's CEO. BigMarker is the most comprehensive marketplace for virtual events including webinars and conferences.
Was this article helpful?