AdFocus is one of the best URL shortening tools in the world which pays users for shortening, and it has been around for more than 3 years now and has been actively paying its users to this date. You can find these links actively being shared on forums, blogs, and emails and these are one of the best ways to earn money from the shorteners.
Requirements
In order to use AdFocus, you must also follow certain rules, in order to get paid. The site also soft bans users' accounts from getting paid if certain rules are not followed.
Placing links on adult sites, traffic exchanges, PTC sites, and auto refreshing sites.
Send pop-up/pop-under to shortened URLs
Clicking on their own links
Redirecting other shortening networks like adfly, bitly to AdFocus
using bots or any other software to manipulate the system
spamming shortened links at unwanted places.
What is the tool used for?
Converting big web addresses takes more than 30+ characters to convert into short URLs. And also while sharing these URLs, you can also earn some potential earnings which can be redeemed via PayPal or crypto. The payment of AdFocus is automatic or manual, every 30 days bases. You need to reach $10 for receiving payments.
The site also received some fraud reports in the past, where users did not get paid, some were fake, as users tried to manipulate the system, and in doing so they lost their previous earnings.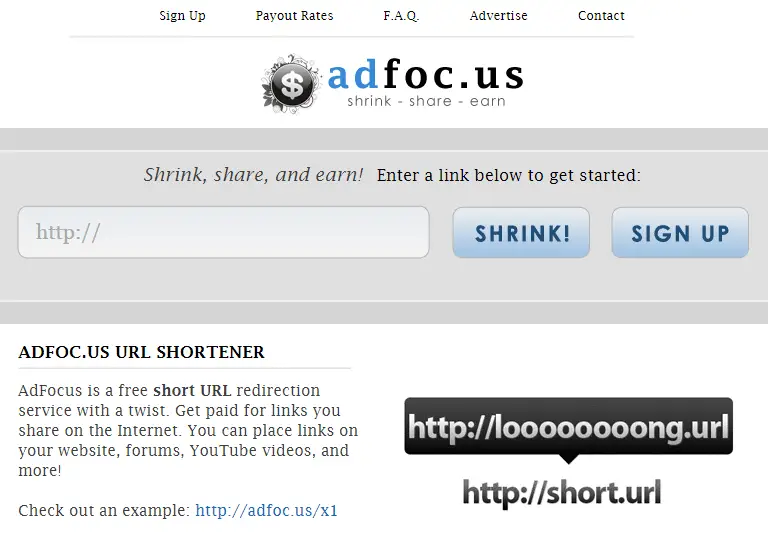 Is it Worth it?
AdFocus works well in various countries like the US, UK, and India, where there is a lot of web traffic, and using these links on your social profiles can increase your rate of CPC, and in short term, you can also get your work done and get paid.
Was this article helpful?