BigCommerce is one of the most widespread eCommerce platforms, and it allows you to host and administer your own online shop with ease. It makes the process of setting up your online store significantly simpler and equips you with the tools necessary to do it even if you lack any prior experience in this area. But wait, there's more.
Since the platform does not impose any transaction fees on the various major payment gateways, you can be confident that the money from your sales will go directly to you.
Why BigCommerce Popular?
BigCommerce is a fully hosted Software as a Service (SaaS) platform that enables you to develop, run, and manage your online store even if you have no experience of the related technical aspects of the industry.
BigCommerce is not only easy to use, but it also offers an outstanding technical support team that will walk you through the process of establishing your storefront every step of the way. BigCommerce has accommodations for everything, which makes it a strong competitor among other best e-commerce platforms in the industry. If you have any understanding of coding, you may customise your storefront by making tweaks to the CSS and HTML.
The platform is meant to both power and assist in the quick expansion of your online business. This software as a service (SaaS) platform assists you with everything related to conducting business online, including the establishment and design of your storefront, the management of orders and inventories, the handling of customers, the development of marketing solutions, and the management of products.
Users have reported that BigCommerce can be difficult to adjust, which may dissuade you from using the platform if you are just starting out in the e-commerce business. This indicates that you will have difficulty transferring the concept in your head to the design of your website without seeking the assistance of a professional, which will have an impact on the initial costs of your business.
Who uses BigCommerce?
Small Ecommerce
Businesses Large
Ecommerce Businesses
Medium Ecommerce
Businesses Enterprises
Features
Page Builder
When you create a BigCommerce account, your sample store will automatically be set up without any effort. BigCommerce picks up a template and creates your store instantly.
You can use the Page Builder to modify your entire eCommerce website and make it look exactly like you want it to.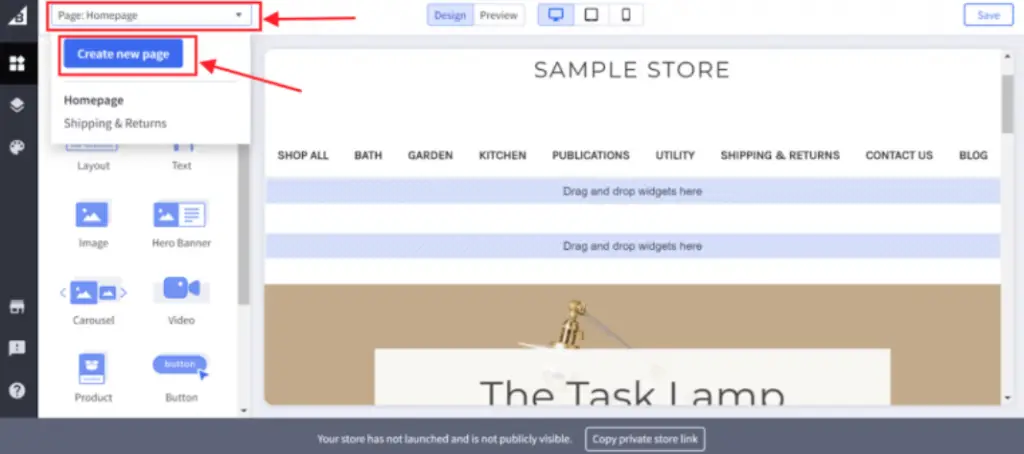 Why Should You use BigCommerce?
BigCommerce is made for business owners who want to reach big goals, especially those who want to move their offline business online or who have outgrown their current online stores.
With BigCommerce, you can sell as many products as you want, even if you have a lot of them and they are all different. This is very helpful for businesses with a lot of product categories and a lot of different options for each one.
If a medium-sized business wants to grow quickly: BigCommerce can meet the needs of your business in a number of ways, such as through omnichannel sales and multiple POS integrations.
Businesses that sell both physical and digital products: With BigCommerce, it's easy to start selling a mix of products without having to pay extra.
Sellers lacking coding skills: You don't need to know a lot about coding to get your store up and running.
Frequently Asked Questions on Bigcommerce Review
Is BigCommerce any good?
BigCommerce is a strong contender for the title of best e-commerce builder, and with good reason. Our investigation of ecommerce building platforms placed it in third place overall. It has the most built-in features of any builder, a huge inventory, and impressive data reports, all of which contribute to its status as a formidable opponent. It is ideal for huge companies that are experiencing rapid expansion.
Is BigCommerce popular?
BigCommerce is currently one of the most well-known and widely used e-commerce platforms available. It is utilised by organisations of varying sizes, from sole proprietorships to those ranked in the Fortune 500.
How safe is BigCommerce?
BigCommerce ensures that its consumers have a safe and secure purchasing experience by keeping all of its security systems current with the latest industry standards. The Payment Card Industry Data Security Standard, also known as PCI DSS, is a standard for information security that businesses are required to adhere to whenever they handle information pertaining to credit cards and debit cards.
Who is BigCommerce best for?
Small enterprises and people who are just starting out with their own online stores will find that BigCommerce's intuitive user interface and flexible pricing options are suitable for their needs. The Standard plan has a starting price of $29.95 per month, and it doesn't charge any transaction fees while having a wide variety of useful features.
Who is better Shopify or BigCommerce?
Shopify offers superior assistance to customers. It has an advantage over BigCommerce due to the fact that it can automatically direct users to the appropriate help sites. Both of these eCommerce builders offer a variety of support options, but Shopify goes one step further by also providing support through social media.
Which one is better BigCommerce or Shopify?
Shopify is best suited for use by larger enterprises, however BigCommerce shines when it comes to extremely large stores that conduct all of their business online. BigCommerce is better able to handle bigger scale omnichannel expansion, although both platforms offer robust solutions that can be customised to specific needs.
Was this article helpful?