There are ways to save money if your budget is tight. Stop ordering games before they come out. You could even go a step further and stop buying any new games.
Even though video games are one of the best ways to spend your money on entertainment, it can be expensive to play games. With all of these purchases, it's easy to spend more than $1,000 in a year.
I was looking for the best places to buy games online when I noticed that not a single article talked about websites that compare the prices of not just games but also platforms. For instance, if you want to buy NBA 2K23, you have to go to every website that sells it and compare the prices.
This makes the process hard and, even more important, takes a lot of time. What if there were platforms that did the comparing for you and just gave you the result?
But the best thing to do is to wait for deals. Video game deals can save you a lot of money, but you'll need to be patient and you might not always be able to play the games you want right away. You can find great deals on games by using websites that offer discounts on games.
So, here are the best sites to find cheap video games.
1. AllKeyShop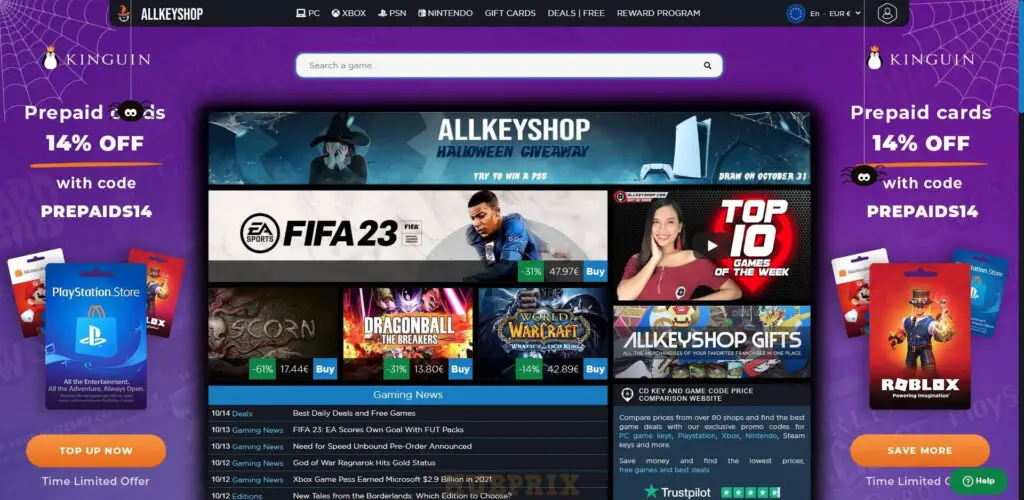 Allkeyshop has been around for more than ten years, and I've been using their website for purchasing for many years. To this day, I still can't believe how many different options they provide. It's not just that they carry pretty much every game for pretty much every platform (PC, Xbox, PS4, PS5, and Nintendo Switch), but also that they provide a large number of different storefronts to shop at.
In addition to this, they provide a browser add-on that, while you are perusing a game page on a website such as Steam, Origin, Uplay, and others, presents the best deals that are currently available.
I think it's incredibly cool that they offer a rewards programme, and one of the perks of that programme is a daily opportunity to win a prize by spinning a wheel of fortune.
To get started, all you need to do is link your Steam account. On TrustPilot, where it has been rated by a large number of customers, Allkeyshop currently holds an impressive rating of 4.8 out of 5 stars, based on approximately 800 reviews. The vast majority of consumers have expressed satisfaction with the services provided by the organisation.
Visit Website Here: AllKeyShop
2. IsThereAnyDeal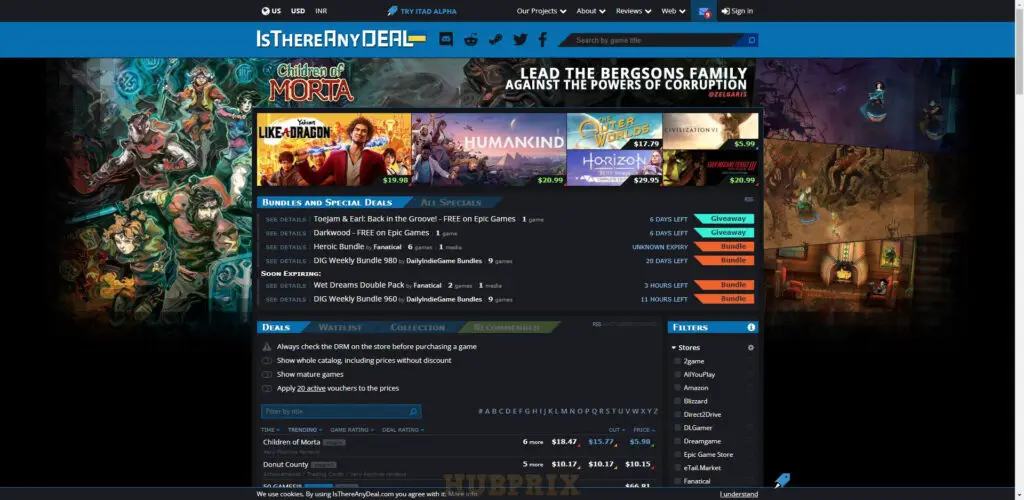 Is There Any Deal is a website that compares different deals pertaining to video games. It not only lists pretty much every video game deal that is currently available, but it also compares and contrasts the various offers and ranks them according to the amount of money you can save. Simply conduct a search for the video game of your choice, then examine the page that lists all of its available deals.
Other cool features include the following:
Hold out for a more favourable price: You can specify a price point and then receive an alert whenever the price falls below that threshold.
Check out the game's price history to see whether or not the current price is a good deal.
Examine the rate at which the game has been purchased.
If the price is the only factor you're considering, then you should use this site. But Is There Any Deal also lists a list of retailers offering the game for sale without any deals. This enables you to use the site as a tool to answer the question "where can I get this game?" regardless of any deals that may be available.
Visit Website Here: IsThereAnyDeal
3. CheapShark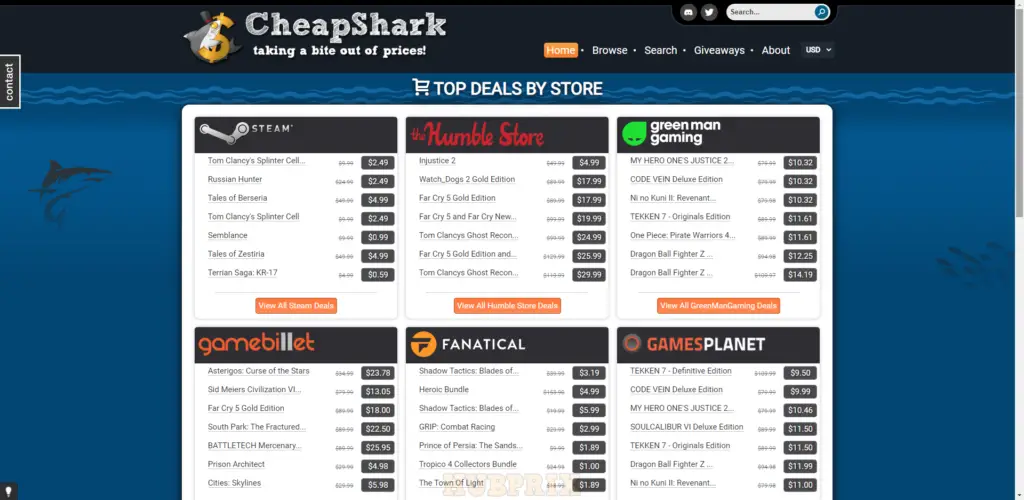 CheapShark is a price aggregator for video games; nevertheless, it lets you to search for any game and provides you with a rapid comparison of the game's price at a number of different online stores.
You will find the following features to be helpful: Cheapest ever displays a game's lowest price ever and the date that price was last seen. You are able to select a price point with price notifications, and you will be notified when the game's price decreases below that point at any of the tracked stores.
On the page that lists CheapShark's deals, there is a statistic called Deal Rating that provides an interesting sorting option. When calculating how good of a deal it is, it takes into account a number of aspects, such as the release date, the absolute price, the percentage off, and the Metascore. At first sight, that is very impressive!
Visit Website Here: CheapShark
4. Slickdeals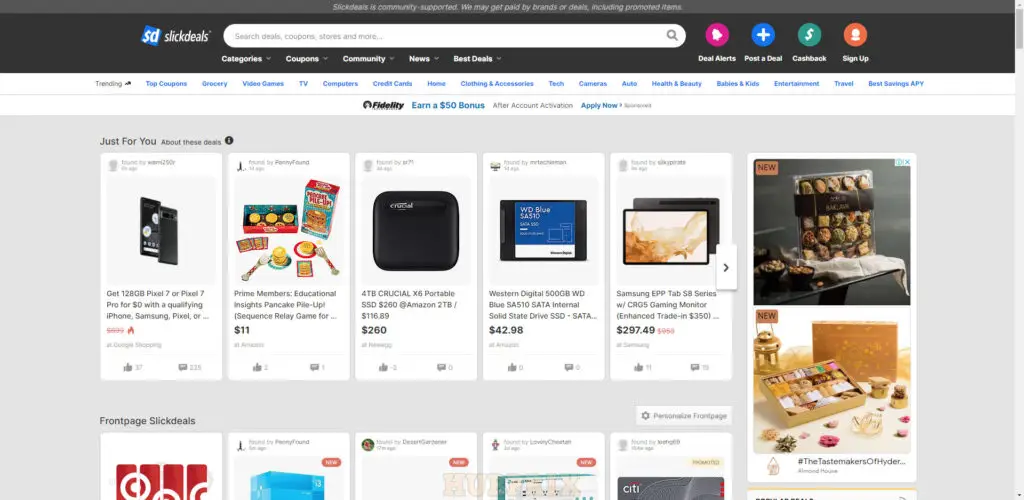 Slickdeals is not only one of the best sites for daily deals but also a great place for finding low-cost game games and other digital content. Users submit deals whenever they come across them on other websites, receive them in emails, or encounter them in other ways.
Slickdeals is an excellent option to consider if you are looking for a site that offers deals on a variety of deals and services in a variety of categories (for example, home, technology, and travel).
Visit Website Here: SlickDeals
5. GG.Deals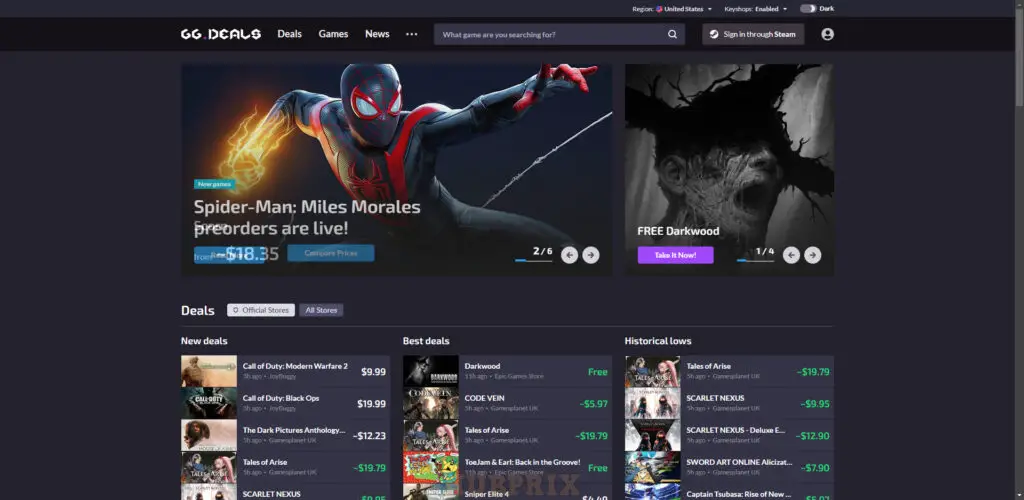 GG.deals is a website that allows you to compare the prices of different PC games, ensuring that you obtain the best possible deal. It does price comparisons among official retailers and other significant merchants, taking into account any currently valid coupon codes. It also lets you if the game is available through any subscription services, such as Ubisoft+ or Game Pass, which is helpful information to have.
GG.deals is a great place to compare prices because it has a lot of stores and makes sure that everyone can get these deals by having some of the highest coupon discounts I have seen (up to -25%, while most sites only go down to -14%). But they only compare games and a few gift cards, so this is not the place to go if you are looking for computer software.
The GG.deals voucher area makes it easy to find the coupon codes you want. You can look for things by category or look at all the offers at once. The coupons are easy to use and are often updated. The worst thing about them is that they don't have a rewards programme like Allkeyshop does.
GG.deals not only monitors the current price of a game, but it also tracks its previous prices, allowing users to verify that they are, in fact, receiving a deal. Because this site also informs you if a provider is providing a game for free, there are even instances in which it is possible that you will not be required to spend any money.
Visit Website Here: GG.Deals
6. Gocdkeys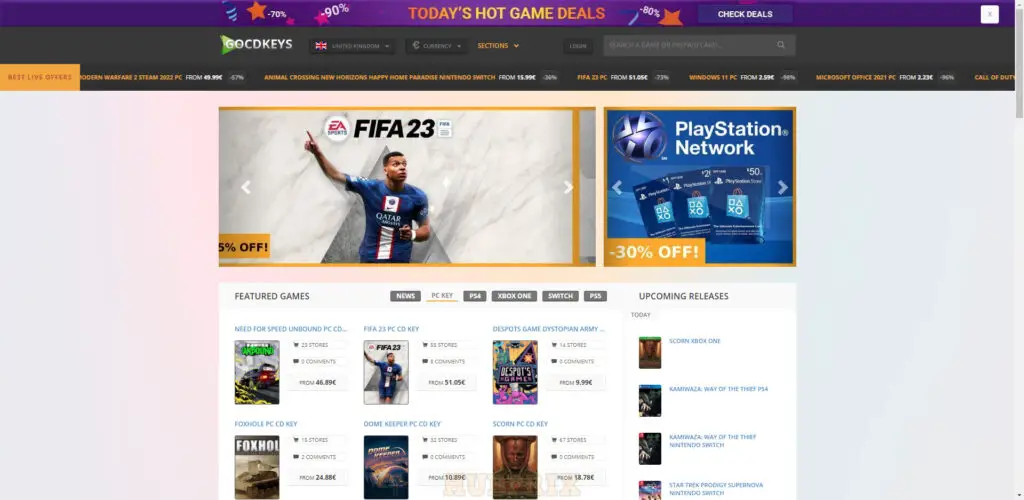 Gocdkeys provides a comparison of the games of game keys across a number of different platforms. It scans both large and small retailers and lets use the system to select by criteria such as supported payment systems or region availability.
Most websites that help gamers find deals are just about games, some software, and maybe gift cards. Gocdkeys lets you compare the prices of PC, Xbox One, PS4, and Nintendo Switch games, as well as hardware (yes, you read that right) and consoles, in some of the best online stores.
They have a huge selection of things, but I wish gocdkeys had some kind of rewards programme. They don't have many free games either, so you'll have to look for those on your own. I don't have any other problems. The site has a carousel of the best live deals, which change all the time depending on what the cheapest deal is. With a 4.1/5 rating, most of the reviews on Trustpilot are positive. Some people didn't like the Wheel of Fortune, so it was taken away.
Additionally, reviews for each of the site's merchants are presented here, allowing you to compare a store's trustworthiness in tandem with its price. As a result of this, you can have full assurance that the game you wish to purchase will not cost you an excessive deal of money.
Visit Website Here: Gocdkeys
7. DlCompare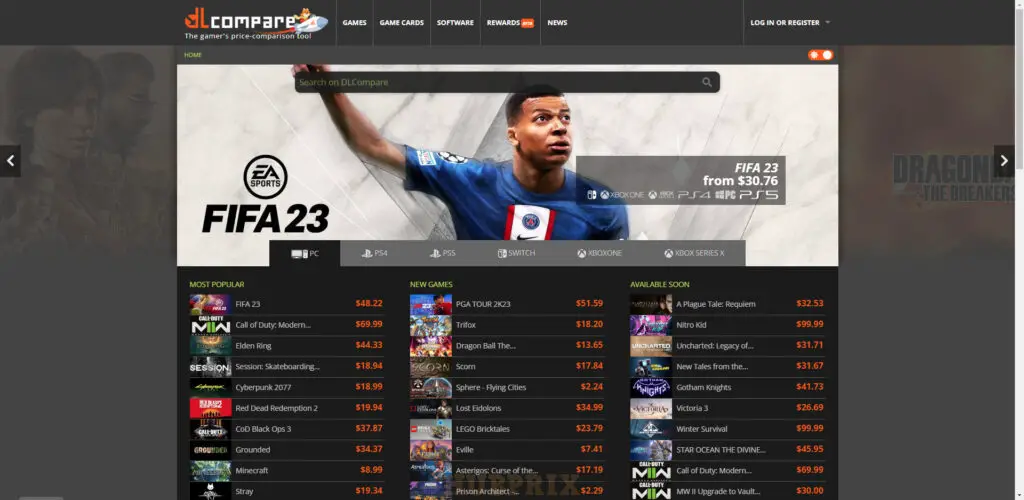 DLCompare has been around for more than 10 years, and I was really impressed by how many stores it has, like Eneba, Kinguin, and Gamivo. But DLCompare is also interesting because it does more than just compare games. It also compares software. So, if you are looking for the best prices on Windows or Antivirus, you should check it out.
But don't expect a lot of variety, as they only compare different versions of Windows, antivirus programmes, and other similar products. But if that is all you are looking for, it is a good choice. I also noticed that they have games for a lot of different platforms, including older ones like PS2 and even newer ones like 3DS and Wii-U. It also has a number of discount codes for games that can save you up to 14% off.
You might be open to playing a game on various platforms, particularly if you have access to both a gaming PC and a console in your home. If this is the case, DLCompare is the site for you because it analyses the price of a game on each of the available platforms. It is a highly recommended destination for acquiring games at a low cost.
This indicates that it will not be difficult for you to determine whether purchasing the game for the PS5 or the Xbox Series X will be the more cost effective option. You can also filter the results, if necessary, by the type of game, the platform they were purchased on, or the store they were purchased from (like "standard edition" or "season pass").
Visit Website Here: DlCompare
8. BestGamePrice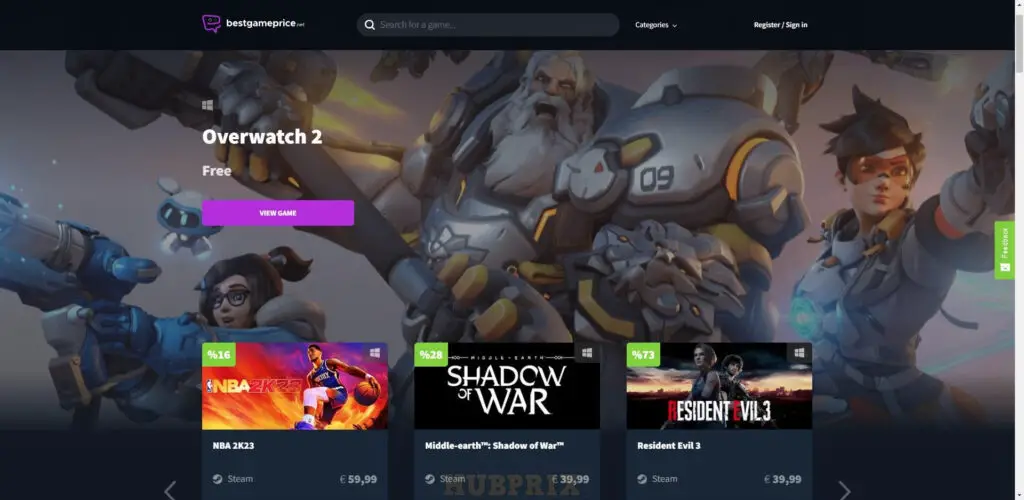 And finally, the website that comes in last on the list is called Bestgameprice.net. They do offer a highly polished user interface, though. The many categories may be navigated through in a snap thanks to the streamlined and easy design.
Because they offer a mobile application, there is no longer a requirement for you to visit their website solely through a web browser when you are outside of your usual environment. One more price that I like about them is that they offer a Freebies area, which is something that very few other websites that compare game prices have.
Within this category, there are a lot of free games that can be downloaded. In addition to this, they have a verified discord bot, which enables you to compare game pricing even while on your own discord server. They finally provide genuinely useful statistics for their games, such as the price history, the active player count, the average playtime, and other such metrics.
To tell you the truth, it is a really good platform, but it does have a few key drawbacks. Because they only compare authorised merchants, there is a lesser variety of stores to choose from. While this is beneficial in terms of reliability, it also makes the website fairly limited in terms of the possibilities that are available to users.
Visit Website Here: BestGamePrice
Final Words
You now have access to five of the most reliable websites that compare prices of video games. Try free to test them out for yourself. Over the past few years, price comparison sites have taken the internet by storm, delivering consumers many of the benefits of competition while shielding them from the trouble and headache of price shopping.
Instead of attempting to differentiate between titles or make value judgments about any one in particular, each site is evaluated from the standpoint of potential gamers as customers. Leave a comment below and let me know if you have any further questions or if you simply want to share your experience with any of these websites.
These sites will almost certainly help you get a sure bargain on the next video game that you wish to play. Signing up for their email newsletters and alerts is a feature offered by many of them; if you want to sign sure you don't miss out on a good bargain, you should definitely take advantage of this feature.
It is not always easy to decide which video game to purchase next. Do not forget to read reviews, play demonstrations, and use these discount sites to track deals in order to help you in making a decision.
Frequently Asked Questions on Video Games Price Comparison
1. Which is the cheapest site to buy games?
IsThereAnyDeal
GG Deals
DlCompare
CheapShark
BestGamePrice
2. What is the best site to buy video games?
EpicGamesStore
Steam
Fanatical
Origin
GOG
Green Man Gaming
Was this article helpful?