Coin.Network is a cryptocurrency ad network that helps publishers make the most money from ads and helps advertisers reach niche audiences. It was the first to let anyone pay for ads on Reddit with Crypto. Since then, it has grown into a trusted partner for some of the biggest Blockchain companies in the world, such as CoinGecko, BitPanda, WorldCoinIndex and many more.
Because of its high-quality network, targeted ad campaigns, and dedicated account management to improve performance, It is now one of the best places to promote crypto products.
Coin.Network is owned by BuySellAds, a privacy-focused advertising platform with years of experience in programmatic advertising and account managers who know a lot about how to manage and optimise campaigns.
Types of ads: Use different methods, such as native and programmatic display ads, to run successful campaigns.
Targeting: Crypto brands can reach global audiences or niche communities in regions with a lot of good traffic.
Audience: Using a network of trusted partners, advertisers can reach people who visit premium cryptocurrency websites.
For Publishers

In Order to join Coin.Network publishers have to fill out an application to join, but once they're in, the benefits start right away.
They have full control over where the ads go on their sites. They can choose to put display ads and native ads on the most relevant pages that don't get in the way of the user experience. On top of that, the platform's full-stack ad management suite and in-house ad operations team take care of managing ads and optimizing campaigns to get the most out of each placement.
For Advertisers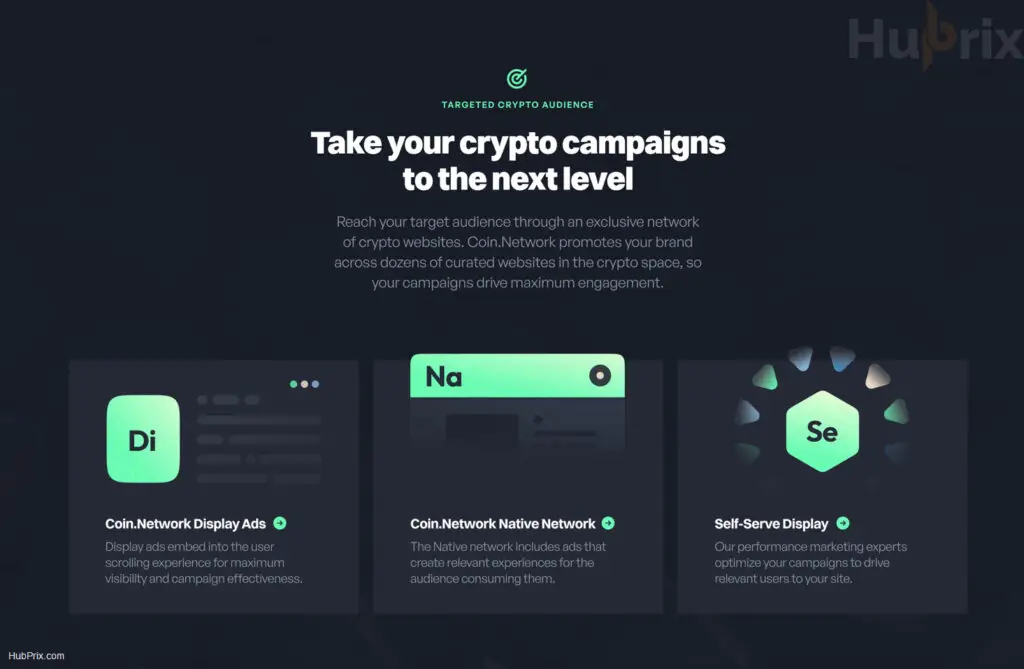 Advertisers who work with Coin.Network can choose which audiences see their ads based on where they are, what they've done in the past, and what they're interested in.
Advertisers can change their crypto campaigns in a lot of different ways.
Coin.Network lets you choose between traditional display ads (300×250 and 300×600) and popular leaderboard ad formats (720×90 and 970×250), as well as native ad styles like the Cryptobar and Sticky boxes that are made with crypto audiences in mind.
Revenue Growth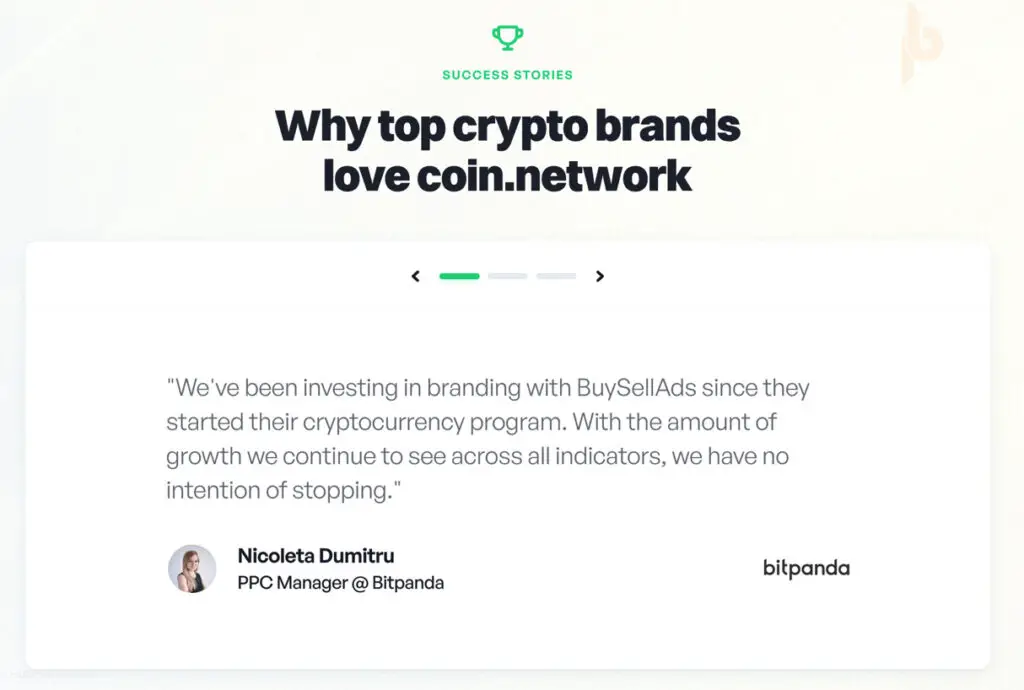 With more than a billion ad impressions served every month,Coin.Network continues to help brands and content creators grow quickly.
Curated publishers and Coin.full-stack Network's ad management suite make it possible for advertisers to make more money by focusing on crypto-interested audiences.
Advertisers can target audiences based on their location, interests, and industry on the platform. This lets them optimise campaigns to get the most out of every dollar they spend.
Other things, like showing relevant content and ads that are made to fit different screen sizes, improve the audience's experience and make it easier for them to use a publisher's website.
After you join Coin.Network, you should start seeing results that can be measured and compared within a few weeks. This is because Coin.team Network's of experts works around the clock to optimise ad performance.
All of these features make Coin.Network the main reason why so many global crypto brands are making more money.
Timeline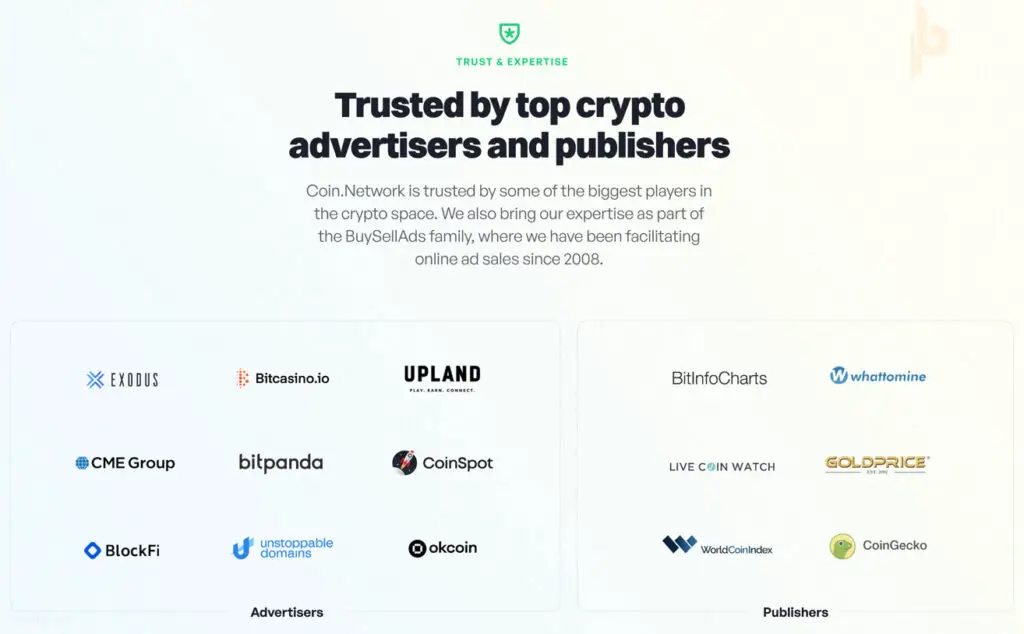 Coin.Network works with the most well-known publishers & Advertisers because it has industry partnerships and a good name in the crypto advertising space. Here are a few you might know.
In 2013, BuySellAds, the parent company, sold the first crypto ad.
Reddit.com began accepting Bitcoin as payment for ads in 2014.
Built an in-house direct sales team for crypto in 2015
The Cyptobar native ad format was released in 2017.
The Coin.Network platform was officially launched in 2018.
In 2019, we became Blockchain.com's only ad partner.
Sold the first sponsorship for a crypto newsletter in 2020.
Reached more than 1 billion impressions per month across all publishers in 2021
As of 2022, the biggest crypto brands in the world will trust it.
Advertisers who are well-known
CoinSpot
Bitpanda
Upland
Okcoin
Exodus
BlockFi
Some well-known publishers
WorldCoinIndex
WhatTomine
BitInfoCharts
CoinGecko
Live Coin Watch
Goldprice.org
Was this article helpful?