Beeketing is one of the best full package marketing automation tools for E-commerce which helps to convert your store visitors into revenue.
The Beeketing can track your visitors instantly when your customers enter your store. They offer several activities to find ways to convert your audience into loyal customers.
Beeketing is a marketing automation platform that is integrated with artificial intelligence (AI) that is aimed to assist businesses in tracking the behaviour of their customers and converting website visitors into revenue across many online marketplaces.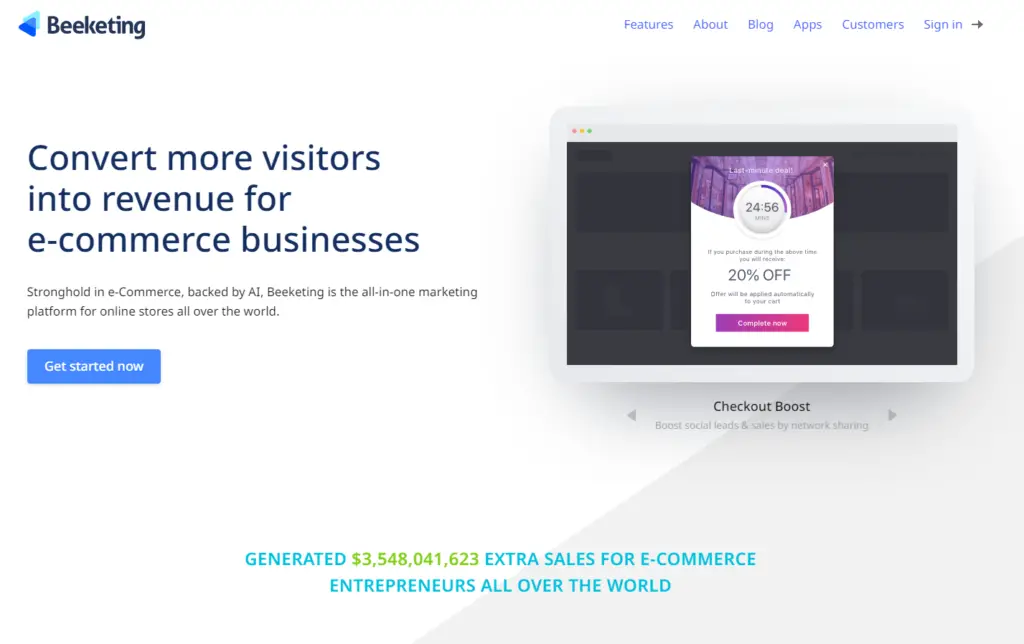 With the help of Beeketing, managers are able to keep track of a variety of client behaviours, such as email subscriptions, the fulfilment of purchases, and the addition of items to shopping carts. The software sends follow-up emails to customers in order to increase their level of interaction and offers product recommendations to buyers based on their preferences.
Beeketing makes it easy to integrate with a number of different third-party platforms, such as BigCommerce and Weebly, among others. Support is provided for the product through a knowledge base and several other online means, and it can be obtained for free or as part of a monthly subscription plan.
GameChanger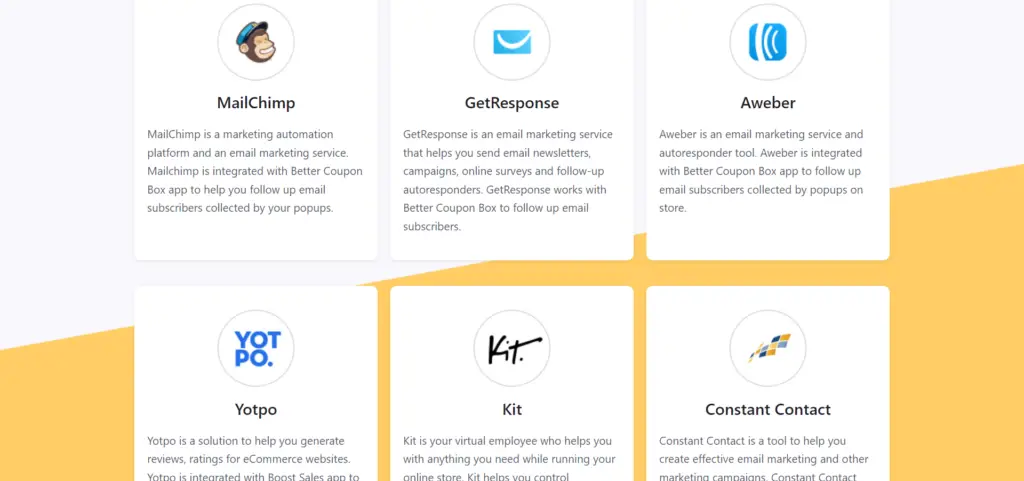 Beeketing is a game-changer for your E-commerce business. But is it worth the hype? Beeketing helps specializes in helping online sellers create campaigns effectively mostly through the automation of online stores.
Beeketing also has various inbuilt features or apps to boost sales, Mailbot, Sales pop, and many more..
Beeketing also provides the ability to sell on various online stores, like Amazon, eBay, and Walmart to further boost sales. It helps them to grow their sales effectively. It introduces products that match their personal interest to make them buy more through more effective marketing, which eventually leads to conversion.
Beeketing can be easily installed and integrated into various platforms, including in:
Shopify
WooCommerce
Weebly
WordPress
LightSpeed
Magento
Features
Quick Facebook Chat
Customer service and support is the best tool in the E-Commerce community to grow sales. Quick Facebook Chat allows users to communicate with the existing buyer via Facebook messenger.
Over 80% of online shoppers are frequently active on Facebook. And it makes sense to use Facebook chat to help the customer, thus using this to your own advantage will increase your store conversion.
Chat with Customers as Facebook Friends via creating tickets for support since they can easily chat with their Facebook account.
Happy Email
According to stats, welcome emails has the most open rate and click rate, and your email matters the most to a lot of customer for satisfaction.
It is an important step to create the right relationship with your customer, via sending them personalized emails to welcome them and warm them to your online store.
Chat
Beeketing provides its users with a Facebook chat widget that can be used in real time to provide customers with support. Customers are able to begin a dialogue with you through your online business and then continue the conversation on Facebook if they so choose. Putting this into practise will do wonders for improving your ability to serve customers.
Conclusion
Beeketing also proves various other features like Better Coupon box, Personalize recommendation, Recover cart pusher, Boosting sales, Checkout Boost, and many. Beeketing is a must try to be applied to your store commerce to test your online store to grow.
 Frequently Asked Question On Beeketing Marketing Tool
What is Beeketing?
Beeketing is an all-in-one marketing solution that interfaces with all of the major eCommerce platforms. It comes with a variety of free and paid features that are aimed to increase sales, improve conversion rates, and develop connections with customers.
What is automated Shopify store?
Shopify automation is centred on getting rid of as many of the manual processes and duties as possible that are associated with running an online store. This is accomplished through the automation of workflows and the unification of app connectors.
Can dropshipping be fully automated?
Automated dropshipping is not only feasible, but also has the potential to expand into other areas of your business, such as marketing. You will be able to manage a profitable business all by yourself if you concentrate on doing the kind of work that you are excellent at and automate the job that you are not as good at.
Was this article helpful?