Aweber is an email marketing tool that allows you to create a mail list and capture data, design a newsletter that can be sent to your subscribers on your list, automate your email marketing via autoresponders, and view and analyze statistics related to your email marketing campaigns and many more.
AWeber is the market leader in email marketing software for small businesses. AWeber has been around since 1998, and in that time it has helped over a million customers around the world connect with their prospects and customers in a reliable way using powerfully simple email marketing software.
Along with its award-winning, US-based customer service that is available 24/7, AWeber lets you quickly build responsive landing pages, load and manage contacts, send amazing emails, send instant push notifications, and analyse results without having to be a tech whiz. AWeber works with more than 1,000 partner software solutions. This lets customers easily connect to the apps and services they need to run and grow their businesses. AWeber is a privately owned business with its main office in Chalfont, PA.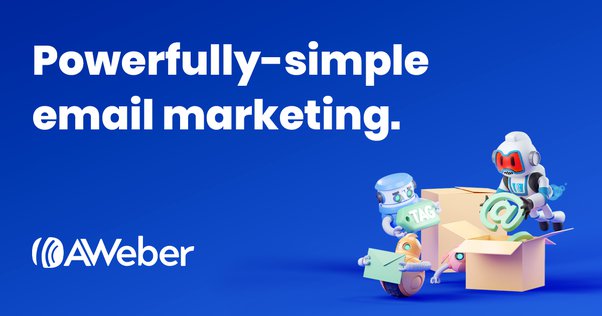 Features
Aweber being active for more than 4 years now, has upgraded itself by being more flexible to manage contact and customize your own email templates. It provides you with key features like:
Ability to import and host a mailing list
Wide Range of templates
Autoresponders
Basic marketing automation functionality
Responsive email designs
Reporting
split testing
RSS email functionality
segmentation functionality
Page Builder
Phone, Email, and Live chat support
Autoresponder is one of the famous features which follow up emails that are automatically triggered by either time or user actions.
For example, if you create a programmer
– when someone clicks on sign up, they are immediately greeted with a welcome message from your business
– 1 week later they also receive a discount code for your product.
Email analytics/reporting in Aweber shows in-depth, in addition, to being able to monitor starts such as clickthrough, bounces, and click hover. You can also have the ability to use some other features like
Growth of lists over time
Overview of sign-ups
History of individual activity
Conclusion
These are a few features that we have talked about, Aweber provides various other features, which is unique to its name. In our suggestion, Aweber is the best email marketing tool.
Was this article helpful?