The e-ecommerce platform provided by 3dcart is an all-in-one solution that, as stated on the site's website, "integrates every element you need for developing a complete eCommerce website, without the need to install software." It is a complete solution that was designed for more experienced users who desire full control over the experience of using the site.
The multi-channel e-commerce capabilities of 3dcart enable you to sell on mobile devices in addition to marketplaces such as eBay, Amazon, Google, Facebook, and Shopzilla.
You may sell both physical and digital products using 3dcart, and it has the ability to offer a variety of fulfilment methods, such as downloads, standard shipping, and drop shipping.
Features
3D Cart has partnered with various app developers to provide various forms of integration to the website, no matter what functionality you want to integrate into your online store, 3D Cart has your back with almost all apps in the 3D Cart store.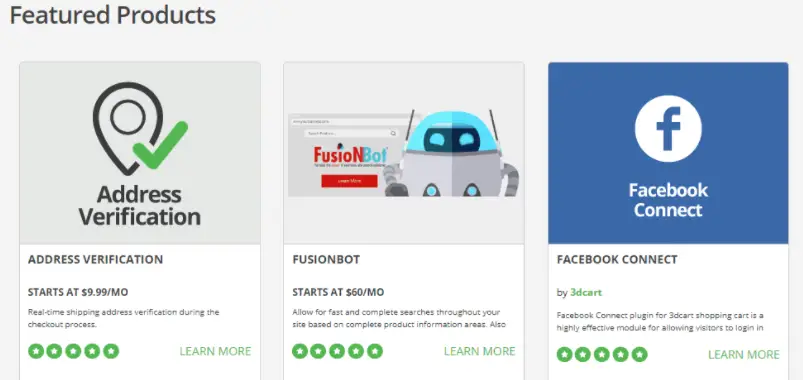 You get wide variety of range of addon to choose from to make your E-commerce site look more engaging to customers, like
Autoresponder – $15.00 – Customized automatic response messages for your support system
Multiple Distributors – $49/month – Administrative system for shipping from multiple distributors
Category Filters – from $199.00 – Categorization system, often used by top e-commerce stores
Around the world Autoship – free trial – Automatic processing of recurring orders and services
3d Live Chat – $15/month or $195 one-time – Speak to your customers live, online
Quickbooks – $15/month – Seamless integration for Quickbooks
Address Verification – $9.99/month – Live shipping address verification
Facebook Connect – Free – A free Facebook plugin, allowing customers to log in via Facebook
Fraud watch – from $9.99/month – Draws attention to suspicious activity during customer activity
These are just examples you can find a big library of plugins to choose from.
Pricing
You do receive a 15 Days trial, 3D cart won't pressure you for payments after signing up. So that you have a clear idea of how the website works for 15 days. If you feel comfortable you can proceed with the site.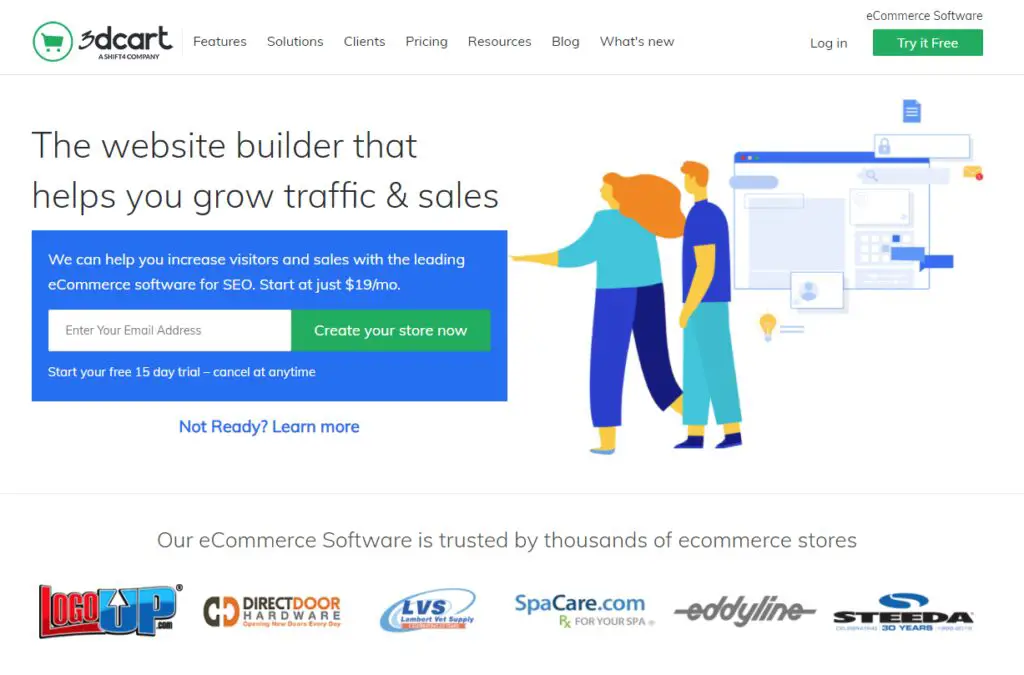 You can develop your own e-commerce store with the help of the sophisticated and feature-rich 3dcart platform, which subsequently enables you to publish your store for the benefit of customers all over the world.
They provide you with access to every possible e-commerce function, and they power more than 23,000 stores that are located in different parts of the world. To put it another way, using 3dcart, you can independently design a fully functional online store from the ground up all by yourself.
3dcart is a solution that is hosted online. This frees you from the responsibility of installing any software or handling any problems that are associated with the server on your own. You need only concentrate on running your shop and getting fresh items on the shelves.
Conclusion
The number of products that may be stored in your 3dcart account is not limited in any way, regardless of the size of your business or the number of online catalogues or stores that you operate. If you use 3dcart, your product storage choices are virtually limitless. Because of this, it is the perfect platform for reaching scale, which is excellent for companies who are undergoing rapid expansion.
Support for an Extensive Selection of Payment Gateways: Your customers will have a great deal of flexibility when it comes time to check out thanks to the fact that 3dcart is able to integrate without any problems with a large variety of different payment gateways. You should offer as many payment choices as you can to avoid turning away potential customers. This will allow you to cover all of your bases.
Strong Support Via Chat and Phone: When you are building up your e-commerce store on the platform of your choice, there are few things that are more frustrating than a lack of support when you need it. Strong support via chat and phone is essential. If you choose 3dcart as your shopping cart solution, you can have peace of mind knowing that you will receive adequate help thanks to the availability of dependable instant chat support as well as someone on the other end of the phone in situations where IM is insufficient.
Was this article helpful?