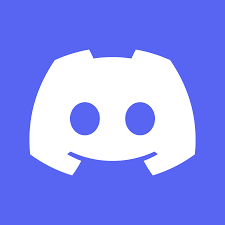 Add to wishlist
Added to wishlist
Removed from wishlist
0
Add to compare
Product is rated as #1 in category Discord
PROS:
Create as many servers - Unlimited
Create as many voice channels or text channels in servers
Easy to register and create account
Has personal messaging, group messaging, and server-based messaging.
Servers have a lot of customability.
Has in-browser and on-desktop capabilities.
There is a mobile version and it has cross-platform use.
Registration is free but there is also a premium mode for extra features.
It has dark mode
There are easy ways to make a group chat
If you need a specific person in a server you can "ping" them
The direct messaging system is very clean and tidy
You can organize where you specific servers are
You can make multiple chat channels and call channels for one server
Bots or robots can be added to make the servers more fun
You can tell when someone is typing
You can mute yourself, or turn some peoples volumes down if they are louder than the others in a call
CONS:
Access to your email, passwords and name and IP-address
Know your location and devices
Ban users for no reason, requires more transparency
No benefits for a bot developer
Abuse power from discord staff
Requires better Moderation Improvement
All delete message and accounts is still available on their side.
Too many restrictions on content and terms of service
Your accounts is easily hacked
Your group can easily attacked and raided your server
Many scammers and no protection from those scammer
Discord servers are free places where people can gather to chat about games or use voice channels to talk with friends as they play. You'll find there are all sorts of servers out there. For example, often have servers running for their games so like-minded gamers can get together and discuss the game and make new friends too.
What is Discord.com?
Discord allows users to communicate with each other regardless of their location or device. This makes it a great tool for gaming communities of all sizes. Additionally, Discord's server architecture makes it very stable and resilient.
Some of the features that make Discord a powerful communications platform are its rich user interface, voice and video chat capabilities, and its rich media support. Finally, Discord also has an extensive server bot system that allows developers to create custom bots for various purposes.
If you're looking for a communication platform that can be used by your community for gaming purposes, or for general chat purposes, Discord is a great option. It's free to use, reliable, and has many features that make it powerful and versatile.
Discord is about giving people the power to create space to find belonging in their lives. We want to make it easier for you to talk regularly with the people you care about. We want you to build genuine relationships with your friends and communities close to home or around the world. Original, reliable, playful, and relatable. These are the values that connect our users and our employees at Discord.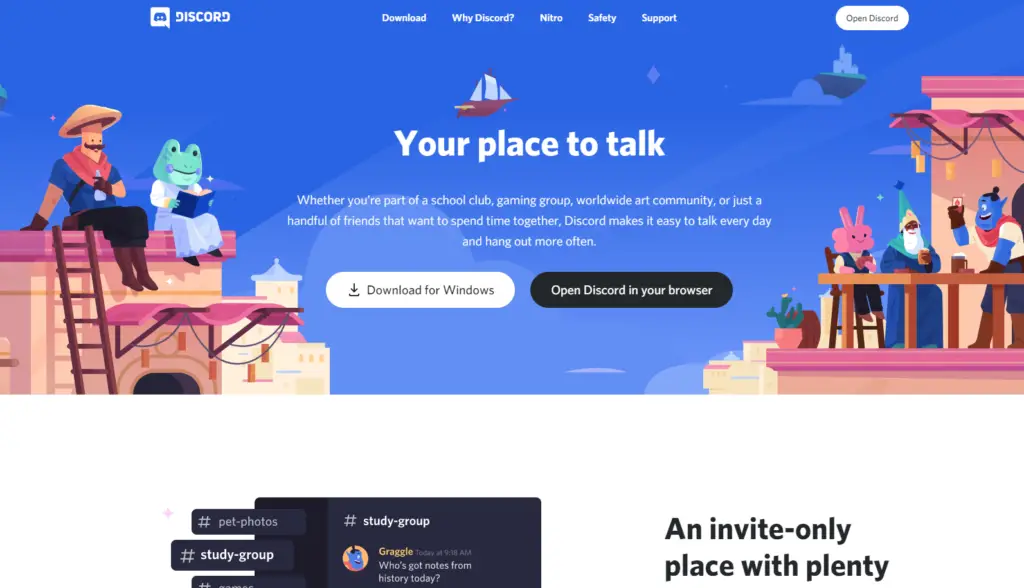 Discord is used by everyone from local hiking clubs, to art communities, to study groups. Discord has millions of people creating places for their friends and communities, talking for upwards of 4 hours per day on the platform. Discord is now where the world talks, hangs out, and builds relationships. Discord lets anyone create a space to find belonging—just like it did for Jason and Stan.
Discord lets you participate in themed servers which can be generated by anyone logged in on the application. As long as you are given the invite or participation link, you can access to join the same servers. The admin of the group can host either text, voice or video channels which are used by the members to communicate on a particular topic about the game. While Discord's target audience encompasses gamers generally, the free chat app is also enjoyed by other interest groups varying from music, entrepreneurship, art, etc.
History of Discord
Discord has made a long journey from its humble beginnings as a voice over internet protocol (VoIP) side-project to becoming the world's largest chat platform among gamers today.
The social gaming platform was founded by Jason Citron, who is also known as the co-creator of OpenFeint, a social network for gamers using iPhones. He eventually sold the OpenFeint technology to the giant Japanese social networking service, GREE, in 2011 for US$104 million, which the CEO used to build his studio, Hammer & Chisel.
In 2015, Citron and his staff released the Multiple Online Battle Arena (MOBA) game "Fates Forever," which was initially created to battle the success of League of Legends and similar games. It was well-reviewed, but it didn't do well in revenues.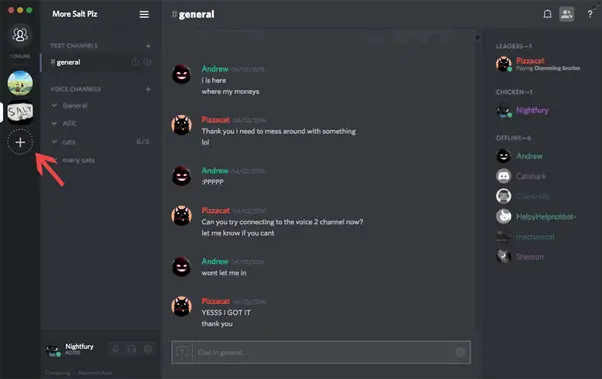 Stanislav Vishnevskiy, a game developer in Hammer and Chisel, noticed that most gamers are having difficulties working out gameplay concepts, particularly pointing to problems with the VoIP options available at that time. Some VoIP options required players to provide various IP addresses, while services like Skype or TeamSpeak were resource-heavy and had security issues. This dilemma eventually led to the idea of developing a friendlier chat program that would cater to gamers. The initial sideline project eventually became the main focus of the entire company to make Discord into fruition.
Since Fates Forever suffered a commercial failure, Citron has to take it off the market and focus on developing the chat program. Discord was born hereon with Citron taking the CEO and Vishnevskiy as the CTO. The company was able to grab funding from big-time market players, such are Greylock Partners and Benchmark capital who were known to have invested more than $70 million to date.
In May 2015, Discord was officially released to the public. According to Citron, Discord was created out of his passion for video games. Things might have turned a different direction when he suffered mishaps during the early years of his career, but he didn't quit. Citron said that Discord is here to stay for the long haul and will explore more possibilities in providing excellent service to keep their company strong.
In May 2018, Discord celebrated its 3 years in the playpen with an impressive number of 130 million users.
How Does Discord Make Money?
Aside from being a freeware VoIP application, the company is firm with its stand on not using advertisements on the chat platform (similar to Whatsapp).
Discord is also strongly against selling its users' data because this would mean breaching the relationship between the two parties involved (sigh, Facebook). With that said, you're probably wondering how this company stays afloat.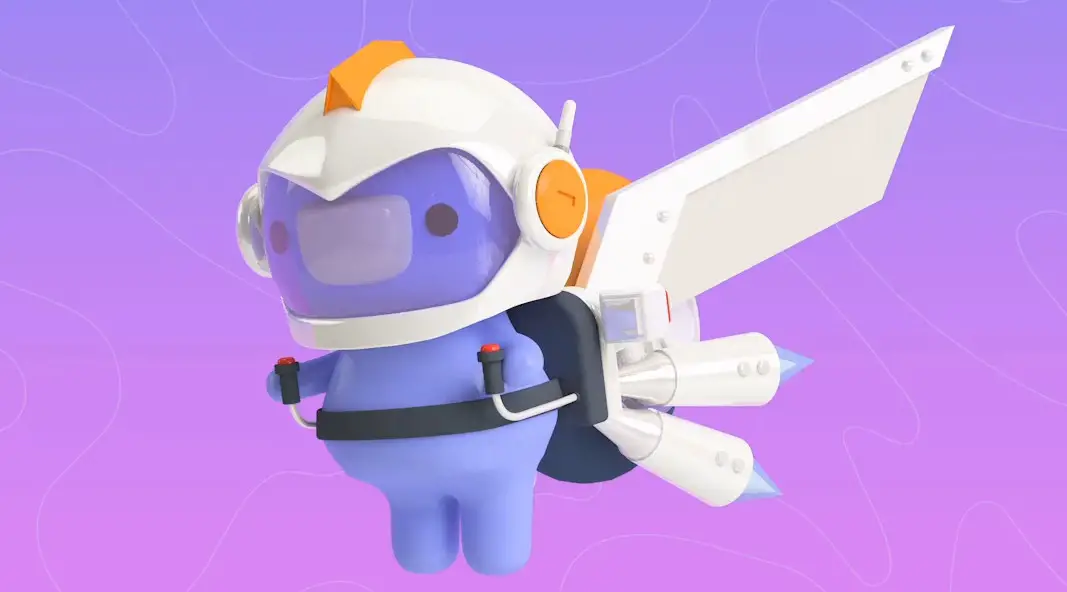 To answer that question, here's how Discord makes use of its monetization strategies:
Optional Cosmetic Items
Similar to the famous game League of Legends, Discord is also a free application although there are features that are available for purchase, such as sound packs, sticker packs, skins, and custom emojis. These items are optional for users to buy and it doesn't make a huge advantage for you as a player if you have chosen to purchase these items.
Discord Merchandise Store
Discord offers a variety of merchandise, including branded hoodies, hats, t-shirts, and sweatshirts. The company gains a little revenue from these items which is a delight for its devoted fans.
The company earns from its marketing strategy and its effective way of promoting its product. They don't charge any amount for using their app, but in return, they encourage their users to support the app by buying their merchandise and cosmetic items to support the company's operating expenses.
Discord Nitro
Discord offers a paid option for the app called the Discord Nitro. Discord launched its subscription plan for interested users worth $4.99/month, or $49.99/year. Nitro enables subscribed users to enjoy extra perks, which include the following:
Specification:
Discord.com
Advanced Features
Basic Details Of Website
| | |
| --- | --- |
| Founded On | |
| Language | |
| Operating Platforms | |
| Targetted Region | |
| Business Model | |
| Pricing Model | |
| Payment Method | |